TampaDawg on UGA vs North Texas
Dawgs Look Good Against North Texas in Tune Up for LSU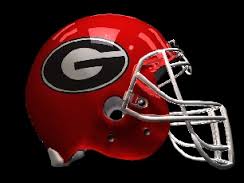 Ok, so I admit, doing a preview on an upcoming game between my beloved Hunker Down, GATA, Georgia Bulldogs and the .. wait for it .. North Texas Mean Green may have been a bit of a challenge. I mean seriously, you go look for great video of North Texas versus Ball State. But hey, who wouldn't want to study a team to preview with names like Mason Y'Barbo, D.Q. Johnson and (I am not making this up) Sir Calvin Wallace on the roster.
One thing to notice in watching some incredible Mean Green highlights is the defense is stacked with smallish defensive backs and defensive lineman. Only one, Richard Abbe, Sr. , stands out size wise and he uses that size (6-4, 315 lbs) to work the interior line. Aside from Abbe, the line typically goes between 230-265 lbs. UGA has linebackers bigger than many of their defensive line. This is a trench battle that UGA should win every time.
As for the aforementioned DBs, if there is anything really to watch here, it's Lairamie Lee, Jr., who seems to be everywhere and can be a problem stripping the ball and making big plays in coverage. But like the defensive line, this is not a group that is very big but they are fast, and like to play physical and without a doubt, it's the deepest position on the roster. That being said, look for (hopefully returning) Jonathon Rumph, Justin Scott-Wesley, Michael Bennett and Chris Conley to make plays when they want to in this area. These guys are much more experienced against bigger, more physical corners and safeties from the SEC and should be able to run clean routes and get open regularly.
The offensive side of the Mean Green, like many other teams, ours included, rises and falls with the quarterback. In this case, it's 6-4 226 lb Senior Derek Thompson who won't be compared to Andrew Luck anytime soon but he does have a big arm and on occasion will try to show it off. Watch for variations of the read option with Thompson though despite him not being a true mobile quarterback. He has been running more this year than last with almost half as many runs this year as he had all of last. He also racked up just as many INT's as TDs last year (14) so he is the generous type.
Who will he throw to you ask (I didn't think you did, but hey, gotta keep the flow going here)? Well, my guess is a pair of seniors, Brelan Chancellor and Darnell Smith, will get to challenge the Dawgs DBs. Personally, if I were a coach at UNT, I would make sure Sophomore Carlos Harris got as many touches as he could handle. He is like a mini-Percy Harvin and catching him is like trying to latch silly string on the back of a Mustang while in motion.
Much like our Dawgs, the backfield for UNT has a few options, namely Senior Brandin Byrd who is a bit shifty to say the least. They also like to send out Sophomore Antoinne Jimmerson and Junior Reggie Pegram as well. Byrd is their leading rusher from last year with 860 yards and can be a threat receiving with 18 catches last year to go with it.
So, there you have an overview of the Mean Green who come into this game 2-1 having beaten Idaho and the offensive juggernaut known as Ball St. Their only loss was to THE Ohio University Bobcats and in that game, the offense was held to under 300 total yards.
I don't mean this in a disrespectful sort of way, but I think Kosta Vavlas and Chase Vasser, who could probably start at LB for UNT, may see some time on the field during this game. This won't be Buffalo from last year. This is North Texas going against a Georgia team coming off a week of rest after battling two top ten teams to start the season.
Predictions:
Aaron Murray – 18-23 240 yards and 3 TDs (out by start of 4th quarter)
Todd Gurley – 14 Carries for 101 yards 1 TD (out by start of 4th quarter
Keith Marshall – 13 Carries for 90 yards 1 TD rushing; 3 catches for 35 yards 1 TD receiving (out middle of 4th quarter)
Brendan Douglas – 9 Carries for 62 yards
Michael Bennett – 6 Catches for 76 yards 1 TD (out by start of 4th quarter)
Arthur Lynch – 5 Catches for 70 yards
Justin Scott-Wesley – 3 Catches for 46 yards
I also predict we see Rumph and Blake Tibbs get some time in this game.
Defensively I am predicting one pic-6 among the 3 INTs I can see and add 5 sacks to the mix. Watch for the likes of Johnny O'Neal and (hint from Soc maybe) Quincy Mauger to start really seeing some action unless injury plays into it for them along with Tibbs and Rumph.
Score prediction – Dawgs 52, Mean Green 6