UGA vs Louisiana Monroe, Gameday Central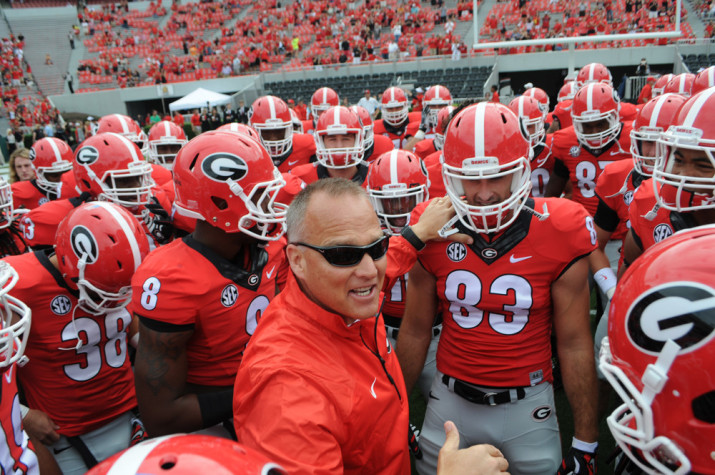 And now it is time to begin the longest week of your life. It's worse than the week before Christmas for a little kid. It's worse than the week before your 16th birthday knowing you're going to get a car. It's worse than the week before your prom. For some people it's even worse than the week before their wedding…………….the week before the first GAMEDAY! Georgiadogs.com has provided any information you can think of to help you on your gameday adventure. IT'S SATURDAY IN ATHENS!!!……………almost.
_______________________________
_______________________________
Georgia Online Ticket Office
Ticket Office Hours/Location
StubHub – Official Fan To Fan Marketplace
Prohibited Items
Student Ticket Information
Ticket Scanning
Will Call
Wheelcheer Accessible Seating
08:00 a.m. – Pregame Broadcast Begins
10:10 a.m. – Dawg Walk
10:30 a.m. – Gates Open
12:00 p.m. – KickoffFull Timeline (posted week of game)
Sanford Stadium (c 1929)
Capacity: 92,746
Stadium Maps: Stadium Diagram | Student Entries | Virtual Tour
Directions to Sanford Stadium
Bulldog Seatbacks
Georgia Traditions:
Uga | Between the Hedges | Silver Britches | The Georgia "G"
UGA Traditions:
The Arch | Ringing The Chapel Bell
Bulldogs Fan Guide
Athens Visitor's Guide
Hotels
Restaurants
Sanford Stadium Policies
In the case of an emergency, please report the situation to any of the stadium ushers. A Red Cross station also is located at Gate 7 of the upper level. If assistance is needed with a health emergency, please report the situation immediately to any of the stadium ushers, Red Cross volunteers or uniformed officers. Red Cross volunteers wear white shirts with the Red Cross emblem on the shoulder.
GAME PROGRAM
Game programs will be sold inside Sanford stadium as well as numerous locations outside the Stadium. The Program House is located at Gate 10 which is near the Main Gate.
GATE INFORMATION
All gates open 90 minutes prior to kickoff.
HELP
Spectators are urged to arrive at their seats well in advance of kickoff. Excessive movement on the part of spectators during the game is a common complaint to our Game Administration officials. As a courtesy to other patrons, please remain in your seat until the play has ended.
INFORMATION STATIONS
Look for the Bulldog Information Stations outside and throughout Sanford Stadium for event, stadium and public information. Located at Gates 2, 4, 6, 7 and 9, these customer service stands are the best source to answer your game day questions.
PATRON SERVICES
Event service personnel are authorized to conduct an inspection of patrons upon entering the stadium for the sole purpose of eliminating hard objects and containers of any type from entering the stadium. Crowd control officers and stadium ushers are available to handle any inconveniences you may experience in the stadium.
PROHIBITED ITEMS
Stadium security has the right to inspect any item at any time for the purpose of spectator safety. Prohibited items must be returned to cars or disposed of before entry. Prohibited items include:
• Large Bags • Thermos Bottles • Infant Seats • Artificial Noisemakers
• Weapons of any kind • Hard Surfaced Materials • Ice Chests
• Cameras with detachable lenses • Laser pointers • Food/Drink Containers
• Umbrellas • Strollers • Bottles & Cans • Ice Bags
RESTROOMS
Ladies and mens restrooms are located on all concourses. Additional restrooms are located underneath the West End stands. Family restrooms are located in Reed Plaza and the 600 Level of the North Side of the stadium.
SIGNS
Signs, banners, pictures, etc. that are offensive to individuals and teams, that are not in good taste, that block the view of spectators, or create a safety hazard will not be allowed. The hanging or displaying of signs on stadium walls, bleacher areas, ramps or an area of proximity to the stadium is prohibited as a safety precaution. In the event of a special banner day being conducted, all signs and/or banners will be admitted through Gate 10 and must be pre-approved by game administration personnel.
TICKETS
All persons must have a ticket regardless of age.
No re-entry is permitted at any gate. If you leave the stadium, you must have a new ticket to be admitted.
Holder of the ticket is restricted to section, row and seat of ticket held.
All sales are final.
Tickets cannot be refunded nor replaced if lost, stolen or destroyed.
The University of Georgia Athletic Association reserves the right to revoke tickets by refund of purchase price.
Holder of tickets to the University of Georgia athletic events agrees to abide by stadium and university policies.
When available, reserved tickets will be on sail at the East End Ticket Windows (East Campus Road) the day of the game.
Cash, Visa and Mastercard are the only forms of payment that will be accepted the day of the game. Tickets cannot be left for pickup at the WILL CALL Window unless paid for in advance. If tickets are ordered on Monday prior to the game, tickets paid for in advance may be placed at the WILL CALL Window. If tickets are not picked up, no refunds will be made.
ANY TICKET HOLDER APPREHENDED IN THE STADIUM WITH AN INTOXICANT WILL BE SUBJECT TO EJECTION WITHOUT REFUND.
TOBACCO PRODUCTS
In accordance with the University of Georgia policy, the Georgia Athletic Association has declared all areas of Sanford Stadium smoke/tobacco free. Anyone violating this policy will be subject to removal from the stadium.
ARTIFICIAL NOISEMAKERS
Any artificial noisemakers (air horns, cowbells, etc.) are not permitted in Sanford Stadium. Be considerate and allow your neighbor to enjoy the game. Please keep portable radios at a low volume.
ATMS
Locations include Sections 105, 109, 320, 606 as well as Gates 6 & 9.
DISABLED SERVICES
Wheelchair seating is located in the West End of Sanford Stadium, three locations at the top of the lower level, as well as the 600 level. All spaces are reserved and must be purchased at regular price through the Ticket Office.
EMERGENCY PROCEDURES
In case of emergency, the public address announcer will notify fans of developing situations in order to make informed decisions concerning their well-being. Please familiarize yourself with the nearest exit points of the stadium.
GENERAL INFORMATION FOR GAMEDAY EMERGENCIES
Monitor the weather prior to the game. Take the necessary precautions to protect your family and friends should severe weather be encountered before, during or after the game.
In the event of an emergency inside the stadium, remain calm at all times, assist others and, if necessary, leave in an orderly fashion.
During any emergency inside the stadium, follow the directions of the announcer, event staff and emergency responders. Assist individuals who may not be able to hear the emergency announcements.
Always designate a pre-determined location both inside and outside the stadium to meet friends and family in case you get separated or in the event of an emergency.
Upon arriving at your seat location, first find the nearest exit/emergency exit and then locate an alternate exit in case of an emergency.
Specific emergency instructions are provided for the guests in the sky suites and other private areas. Patrons at those locations should read and be familiar with the emergency evacuation instructions located there.
Do not use elevators in the event of a fire evacuation or power failure.
Listen to AM 1650 for gameday traffic updates and other updates in the event of an emergency
If you see or become aware of any activity that is unusual, suspicious or causes you concern, please report the activity to the nearest police officer or event personnel.
Remember, text messaging may be an option when voice phone calls do not work.
FACULTY GATES
Faculty members are encouraged to use Gates 6, 7, 8 and 9. Each person is required to show proper UGA identification along with faculty season tickets.
FAN TEXT MESSAGE SYSTEM
The Athletic Association has implemented a text messaging system that allows fans to communicate directly with the stadium's command post if assistance is needed in dealing with any special needs inside the stadium. Should fans need assistance while inside the stadium, they will be able to contact event management staff by sending a text message from their phone. Simply text "DAWGS the Issue and Location of incident" to 69050. Please note that standard SMS rates apply. Be sure to include the problem and location of the incident, including section row and seat number (if applicable) in the message.
FIRST AID INFORMATION
First Aid Room Locations:
Section 119
Section 138
Section 202 (Club Level)
Section 229 (Club Level)
Paramedics, Nurses, Respiratory Therapists and Physicians are stationed in all First Aid Rooms. Red Cross volunteers also are located throughout the concourse.
__________________

Georgia Football Tailgating Information
DON'T FORGET A POWER SOURCE
Pregame festivities have become increasingly high-tech in recent years. Televisions, satellite dishes and sound systems are now common sights in the midst of parked cars, lounge chairs and grills. Fans who want to watch television or use any other entertainment devices must provide their own power and video sources.
ENJOY THE GAMEDAY ATMOSPHERE
A UGA football Saturday should be safe and fun, even for fans who never set foot in Sanford Stadium. Portable toilets are placed all around campus, alleviating long lines and making the day more comfortable for all. In addition, permanent restrooms are available at multiple buildings on campus – Tate Center, Student Learning Center, Georgia Center and East Village Commons. We have also added a designated area for corporate tailgates, allowing more space in traditional areas for regular fans. Rest assured, legal and responsible consumption of alcohol will not be affected by these regulations, so be smart and enjoy the day.
NOTE: Deep fryers and low country boils are NOT permitted on campus. Hot oil and large boiling pots are an unsafe cooking method with large groups of people (or others throwing a football) not paying attention to their surroundings. Also, grills are not allowed to be used inside of nor on top of parking decks, nor on North Campus.
GRAB A SNACK OR MEAL ON CAMPUS
Don't feel like preparing a meal on gameday? Whether it is just a snack or a full meal, a host of dining options, convenient to parking areas, are available to fans on campus. UGA Foodservices serves hearty fare at multiple locations on gameday, including East Village Commons, the Georgia Center for Continuing Education, Snelling Dining Commons, Oglethorpe Dining Commons and the Tate Student Center.
NOTE: For safety reasons, certain items are not allowed on campus during gamedays, including:
Deep fryers and low country boils
Grills inside of or on top of parking decks
Golf carts and ATVs
NORTH CAMPUS TAILGATING
Tailgating on North Campus will be allowed beginning five hours before kickoff.
Tents and tables up to six-feet long are allowed on the grounds of North Campus.
Kegs, generators, TVs, amplified music, grills or cookers of any type and household furniture (folding chairs not included) are not allowed on North Campus at any time.
North Campus is defined as the area bounded by Broad Street, Lumpkin Street, Baldwin Street and Jackson Street (including, but not limited to, the quadrangle between Broad Street and Old College, the quadrangle between Old College and the Main Library, and Herty Field).
BRING TRASH BAGS
Following games, students and local residents are left to face the aftermath of the previous day's festivities. On an average gameday, more than 39 tons of garbage are collected from the campus. That number can swell to more than 100 tons after a night game! Many fans leave town after the game unaware of the effort involved in restoring the campus and community to its picturesque state. To help control this, there are hundreds of trash receptacles placed in heavy-traffic areas around the campus. We ask that you please bag your trash and either take it with you or leave it at your tailgating area. The UGA clean-up crew will gladly remove it for you. Placing trash in bags makes the postgame cleanup faster and more effective.
For more information on gameday tailgating, parking, dining and transportation, please visit www.gameday.uga.edu. Gameday Game – plan is your source for gameday planning information with interactive maps, tips for a fun and safe tailgate and answers to all of your gameday questions.
_______________

Georgia Gameday Traffic Information
AREA DIRECTIONS
No one likes to sit in traffic, but when morethan 100,000 people descend upon the smallest county in Georgia on a Saturday, crowded roadways are inevitable. To ease the congestion, extra police and gameday staff work before and after games to assist the flow of traffic.
PREGAME TRAFFIC MANAGEMENT
On gameday, some roads surrounding Athens – most notably SR 316 – become overcrowded because of the large number of vehicles headed to the game from the Atlanta area. We want to remind you that there are many other ways to enterAthens, including US 129, US 29, US 441, SR15 and US 78. While these routes may seem a few miles out of your way, they may save you significant time and less traffic congestion.
Once in Athens, we recommend you head toward East Campus, unless you have passes for other lots. The highest concentration of public parking on gameday is available on East Campus, surrounding the Ramsey Center off College Station Road. In addition, there are more than 1,500 overflow spaces at the intramural fields to help accommodate cars and make the postgame exit as simple and expedient as possible.
GAMEDAY PARKING
Public access parking lots open at 7 a.m. on gameday. There are shuttles available in the East Campus District (Ramsey Center and Intramural Fields) to transport you to and from the stadium. If you need to park on the intramural fields, we ask that you be extra conscientious about not leaving any litter, glass or sharp objects on the ground. All public access parking on campus is first come, first served, which means no saving places for friends coming later. When parking on campus, we ask fans to follow two simple guidelines:
Do not park on sidewalks, grass or landscaped areas unless otherwise directed by UGA personnel.
One vehicle, one space – this will allow for the maximum number of cars in a lot and will facilitate free flow of traffic through the lot.
NOTE: For safety reasons and to free parking spaces for fans, golf carts and ATVs are not allowed on campus on gameday. For information on gameday, please call ourhelpline at 706-425-3052.
COMPLIMENTARY SHUTTLE SERVICE
Complimentary shuttle from Ramsey Center/Rec Sports Complex to Gate 6 before and after games is available. UGA Campus Transit will again offer free shuttle service to fans on gameday from the East Campus Parking Deck/RamseyCenter bus area. If overflow parking is needed at the Intramural Fields, then shuttles also will pickup fans at the Intramural Fields parking area off College Station Road. Shuttles will run continuously for 51⁄2 hours be-fore the scheduled game time and will drop fans off at Gate 6 of Sanford Stadium until 15 minutes after kickoff. Keep in mind that the gates to Sanford Stadium do not open until 90 minutes prior to the scheduled game time. Return service will run continuously for two hours after the game ends.
POSTGAME TRAFFIC MANAGEMENT
When planning your departure, keep in mind that vehicles that arrived on campus over the course of several hours will be trying to leave in a much shorter time. The large influx of vehicles onthe roadway can quickly lead to traffic gridlock. To alleviate this, the University of Georgia Police Department, the Athens-Clarke County Police Department and other local law enforcement agencies have produced a traffic plan that is implemented on gameday. The plan allows a largenumber of vehicles to move as efficiently as possible. Please work with officers directing traffic to ensure that this plan runs smoothly. Once the game ends, staff will direct cars to the Georgia 10 Loop, which circles Athens and provides the easiest access to all routes out of town. Staff may send you in a direction you are not used to going, but please don't turn around in the median. Remember, the Loop is a circle. Instead, follow the signs, and you will eventually get to your desired destination – probably faster than you think. When in doubt, stay patient, find the Loop and drive safely – we want to see you at the next home game!
Visit www.gameday.uga.edu for interactive maps and alternate routes to your destination.
________________

Coaches and student-athletes of an SEC member institution, as well as individuals employed by or associated with that institution, including alumni, fans, patrons and boosters, shall conduct themselves with honesty and good sportsmanship.
Their behavior shall at all times reflect the high standards of honor and dignity that characterize participation in the collegiate setting. For intercollegiate athletics to promote the character development of participants, to enhance the integrity of higher education and to promote civility in society, coaches, student-athletes and all others associated with these athletics programs and events should adhere to such fundamental values as respect, fairness, civility, honesty and responsibility.
These values should be manifest not only in athletics participation but also in the broad spectrum of activities affecting the athletics program.
In the spirit of sportsmanship, fans shall:
Conduct themselves in a manner that represents Georgia, the SEC and the NCAA with honor, dignity and respect
Demonstrate qualities of civility and sportsmanship at all times
Not use vulgar, abusive, racist, sexist, demeaning or intimidating language at any time
Support the players, coaches and officials in a positive manner
Treat the visiting team, coaches and fans with courtesy and respect at all times
Not engage in cheers that are vulgar, crass or demeaning
Refrain from throwing objects onto the field for any reason
Not become inebriated or belligerent
Refrain from entering playing and team areas at any time, including the conclusion of the game
Be a positive role model for those around you by treating others with courtesy and respect!