UGA Women's Basketball: Georgia Travels to No. 3 Mississippi State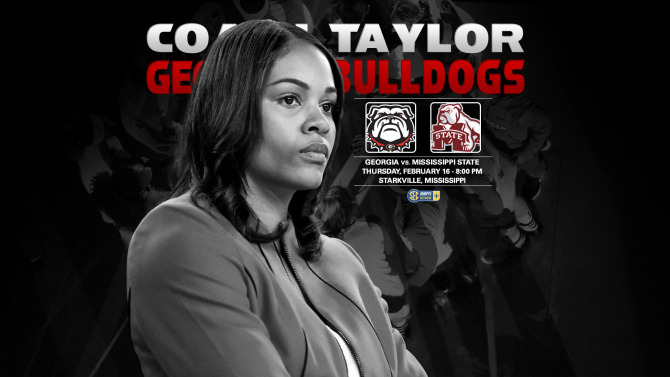 Feb. 15, 2017
Georgia Basketball Game Notes
Lady Bulldog Info
GAME & BROADCAST INFO
Opponent:

 

Mississippi State Bulldogs
Records:

 

Georgia (13-12, 5-7 SEC), Mississippi State (25-1, 11-1 SEC)
Rankings:

 

Georgia NR, Mississippi State No. 3
Tipoff:

 

Thursday, Feb. 16, 2017 – 8 p.m. ET
Location:

 

Humphrey Coliseum // Starkville, Miss.
TV:

 

SEC Network + (Bart Gregory – play-by-play; Charlie Winfield – analyst)
Video Stream:

 

SECN+
Radio:Georgia Bulldog Network by IMG // Jeff Dantzler (PBP) // In Athens: WRFC-AM 960 |

 

Affiliates
Audio Stream:

 

Georgiadogs.com

 

|

 

Mobile
Live Stats:

 

View
RELATED LINKS
Buy Tickets
Follow @UGAAthletics
Follow @UGA_WBB
SEC Network
GEORGIA LADY BULLDOGS
MISSISSIPPI STATE BULLDOGS
Opening Tip
Georgia treks to No. 3 Mississippi State for a Thursday night battle at Humphrey Coliseum. The contest is available on SEC Network + via WatchESPN.
The series with the Bulldogs from Starkville has been back-and-forth lately, with the teams splitting the last 10 meetings, 5-5. Georgia upset 10th-ranked Mississippi State last season, using a strong defensive effort to take a 47-43 win in Athens.
Georgia enters Thursday's matchup having won three of its last four games this season, including a pair of road victories at Arkansas and at Auburn. The Lady Bulldogs also knocked off 25th-ranked Tennessee in double-overtime — Georgia's first win against the Lady Vols since 2010.
A big reason for Georgia's hot streak lately has been the play of sophomore forward

 

Caliya Robinson. In the last four games, Robinson has averaged 20.0 points and 8.8 rebounds per contest. Last week's ESPNW National Player of the Week is the SEC's leading shot blocker, averaging 2.6 per game.
The Lady Bulldogs' successful four-game stretch occurred after the team inserted freshman

 

Stephanie Paul

 

into the lineup before the Arkansas game. She took

 

Caliya Robinson's

 

spot, allowing her to come off the bench. Paul averaged just 2.2 ppg in non-conference action, but has upped that to 5.3 ppg in SEC play.
Series Information
Overall: Georgia leads, 28-15
In Athens: Georgia leads, 16-3
In Starkville: Tied, 10-10
Neutral Sites: Tied, 2-2
Current Streak: Teams have split last 10 evenly
Last Meeting: Georgia 47, #10 MSU 43 – Jan. 21, 2016 – Athens, Ga.
Scouting Mississippi State
Mississippi State enters Thursday's game as one of the top teams in the nation with a No. 3 ranking and a 25-1 overall record. The Bulldogs' only loss this season came at the hands of South Carolina — 64-61 in Columbia. MSU is led in scoring by Mississippi native and 2016 Honorable Mention All-American Victoria Vivians, who scores 16.8 ppg. The Bulldogs lead the league in both scoring offense and scoring defense and are No. 3 in rebound margin, holding a +7.8 edge over their opponents. Head Coach Vic Schaefer is in his fifth season in Starkville and owns a 115-47 record since becoming head coach at MSU.
Last Time Out
Caliya Robinson recorded her fourth-straight double-figure scoring game with a team-high 13 points to lead the Georgia Lady Bulldog basketball team to a 57-51 road victory Sunday afternoon at Auburn Arena.
Playing in front of over 200 Georgia fans who made the trip to The Plains, the Lady Bulldogs (13-12, 5-7 SEC) have now won two-straight games on the road and three of their last four overall. Meanwhile, Auburn fell to 15-11, 5-7 in the SEC.
"I am so proud of this team tonight," head coach Joni Taylor said. "To win on the road is a huge deal in this league. We made big plays when we needed to and were so resilient down the stretch. To look up and see that many Georgia fans in the crowd was so encouraging. I can't say enough thanks to Bulldog Nation for showing up and helping us pull out this win."
The only other Lady Bulldog in double figures on the day was Mackenzie Engram, who finished with 12 points and 10 rebounds — her second double-double in the last three games. Georgia overcame 22 turnovers thanks to a strong showing on the boards, outrebounding the Tigers, 47-30.
Next Up
Georgia will host LSU on Sunday in the Lady Bulldogs' Play4Kay Pink Game. Tip time is set for 2 p.m. ET inside Stegeman Coliseum. Before the game, there will be a special presentation honoring three Lady Bulldog seniors – Shanea Armbrister, Pachis Roberts and Halle Washington.
Lady Bulldogs Look to Keep Hot Hand
Georgia is 3-1 in its last four games this season heading into Thursday's battle against No. 3 Mississippi State. Caliya Robinson has led the Lady Bulldogs in scoring in all three wins, while the team owns a +3.0 rebounding margin during the current four-game span. On Sunday, Georgia outrebounded Auburn, 47-30, overcoming 22 turnovers in the win.
Georgia has recorded wins against Tennessee and Auburn in the same season for the first time since the 2009-10 campaign. The Lady Bulldogs (second), Lady Vols (first) and Tigers (fourth) rank at the top of the league in the all-time standings.
ESPNW National Player of The Week … Caliya's Rare Feat
For only the second time in school history a Lady Bulldog has won National Player of the Week honors. Georgia sophomore Caliya Robinson established herself among some of the top players in the nation with back-to-back 20-point performances — one coming on the road at Arkansas and the other against Tennessee. The 6-foot-3 sophomore not only averaged 24.5 points and 7.5 rebounds per contest, she also recorded a career-high seven blocks in the win against the Razorbacks. The only other Lady Bulldog to garner the prestigious honor was Kedra Holland-Corn in 1997. She won the award after scoring 24 points against No. 12 Virginia and 30 against No.4 Tennessee.
Tennessee Win The First Since 2010
The Georgia vs. Tennessee rivalry is seen by many as the best in SEC women's basketball. Last Sunday's meeting will go down as one of the most intense between the two programs, with the Lady Bulldogs taking an 81-78 win in double overtime. The victory marked Georgia's first against the Lady Vols since 2010, breaking a streak of 10-straight losses.
Georgia trailed by six, 58-52, with 1:42 remaining in regulation, before Pachis Roberts drilled a 3-pointer with 1:01 left in the game. Caliya Robinson then scored on a tip-in with 14 seconds on the clock to make it 58-57. After Tennessee split a pair of free-throws, Haley Clark then drove coast-to-coast to score with two seconds remaining to send the game into overtime.
Close Games No Problem for Lady Bulldogs
Georgia boasts a 5-1 record in games decided by five points or less, including an impressive 3-1 mark in SEC play, with the only loss coming in a 66-63 road defeat at No. 5 South Carolina. Georgia has hosted a pair of thrillers at Stegeman Coliseum, using a buzzer-beater by freshman Stephanie Paul to take down Vanderbilt, before a double-overtime, back-and-forth game against Tennessee on Feb. 5.
Pachis' Production Up In Senior Season
Just one glance at the stat sheet and it is easy to see Pachis Roberts' improvement in her senior season. She is averaging 14.2 points per game (15.8 per game in conference play) and has started all 25 contests. In the previous three years combined, Roberts averaged just 5.0 ppg and started a total of 13 games.
Engram Showing Consistency
Junior guard/forward Mackenzie Engram, who missed the last 16 games last season due to an illness, is starting to show glimpses of 2015, when she placed on SEC All-Freshman Team. The Powder Springs native has recorded a double-double in two of the last three games and has reached double figures in five of the last seven contests. Engram scored 18 points against Florida, 10 vs. #5 South Carolina, 19 at Ole Miss, 18 against #25 Tennessee and 12 at Auburn.
Georgia Takes No. 5 South Carolina To The Wire
Georgia came within seconds of breaking South Carolina's then 26-game SEC win streak on Jan. 12. In what was a back-and-forth game, the fifth-ranked Gamecocks never led by more than five points in the fourth quarter, with Georgia taking the lead at 55-53 with 4:51 remaining. The Lady Bulldogs had a chance to tie the game with just five seconds remaining, but Haley Clark's second free-throw fell just short as USC held on for the win.
Freshman Clutch At The Buzzer
In a game that featured eight lead changes and four ties, Georgia overcame a 13-point deficit in the first half to take down Vanderbilt. Freshman Stephanie Paul played a crucial role, not just in the final seconds, in the win against Vandy. She scored eight points in the third quarter, including the go-ahead shot at the beginning of the second half that gave Georgia its first lead since it was 2-0 in the early going.
Defensive Numbers Carrying Over
Georgia led the Southeastern Conference in most major defensive categories last season, pacing the league in field-goal percentage defense, 3-point field-goal percentage defense and scoring defense. Even though the team is mostly different from a season ago with the departure of four senior starters, some of those numbers have carried over. Georgia has held 17 opponents at or below 40-percent shooting this season, including a season-low 35.9 percent shooting effort from Texas A&M and a 27.8 percent performance from Arkansas. In the Joni Taylor Era, Georgia has held 45 of 56 opponents to the 40-percent clip.
Robinson Puts Her Name Among Georgia Greats
With her 24-point, 11-rebound effort against Samford on Dec. 22, Caliya Robinson became just the fourth Lady Bulldog since 2000 to record three or more 20-point, 10 rebound games in their careers, joining an elite group of former Lady Dogs – Tasha Humphrey, Christi Thomas and Kara Braxton. Robinson already has 18 double-figure scoring efforts and seven double-doubles.
Caliya Robinson became the first Lady Bulldog since Tasha Humphrey in 2008 to score 30 points in a single game. Robinson had a career day against Minnesota on Nov. 24, scoring 30 points off a 14-for-27 shooting performance. Humphrey scored 32 points against Florida on Feb. 24, 2008.
Short Bench, Starting Five Shift for The Lady Bulldogs
Georgia's roster features just eight scholarship players and one walk-on this season. The Lady Bulldogs lost four senior starters off last year's team and lost incoming freshman Kortney Eisenman due to a heart condition before the start of the season. Georgia has used eight different starting lineup combinations so far with the most recent being Haley Clark, Shanea Armbrister, Stephanie Paul, Pachis Roberts and Mackenie Engram.
Joni Taylor Gives Birth To First Baby Girl
Head coach Joni Taylor and her husband Darius welcomed their first child, Jacie Elise Taylor, into the world Nov. 3. She weighed 6 pounds, 5 ounces and was 20 inches long. Associate head coach Karen Lange took over head coaching duties in the interim through the first six games. Taylor was on the bench for each of those games, except when the team played in the Bahamas on Nov. 24 and 26. Jacie has made one appearance at a Georgia home game this season and takes a seat beside her father, Darius, behind the Georgia bench.
Kelly and Coco Miller Join UGA's Circle Of Honor
Kelly and Coco Miller, twin sisters from Rochester, Minnesota who rank No. 4 and No. 5 respectively on the Lady Bulldogs' all-time career scoring list, were a dynamic duo that dazzled Georgia fans and helped the team to several remarkable accomplishments during their time in Athens. The duo will add to their impressive list of honors and will be enshrined into the University of Georgia's Circle of Honor at a ceremony on Feb. 11.
The Miller twins were each four-year starters for the Lady Bulldogs from 1997-2001 and helped Georgia advance to the 1999 Final Four, capture the 2000 SEC Championship and win the 2001 SEC Tournament title. Kelly (2,177 points) and Coco (2,131 points) are two of only five Lady Bulldogs to score more than 2,000 points. They also rank among Georgia's top-10 career leaders in field goals made and attempted as well as steals.
Georgia's 2017 Signing Class Ranked Top-10 Nationally
The Lady Bulldogs' 2017 signing class currently ranks among the top-10 in the nation according to ESPN.com's Hoopgurlz. Georgia signed four highly-touted recruits, including five-star guards Que Morrison and Gabby Connally, four-star guard Maya Caldwell and four-star forward Malury Bates. Each player is ranked in the top-15 at her position nationally, with Morrison coming in as the No. 7 ranked overall guard, Connally the No. 8 point guard, Bates the No. 8-ranked forward and Caldwell the 15th-ranked wing prospect nationally.
FOLLOW THE LADY BULLDOGS
For more information on the Georgia Lady Bulldogs, follow the team on Twitter (@UGA_WBB), Instagram (@uga_wbb), Facebook (Facebook.com/UGAWomensBasketball) and Snapchat (@uga_wbb).