UGA Women's Softball: No. 10 Bulldogs Take Two From Presbyterian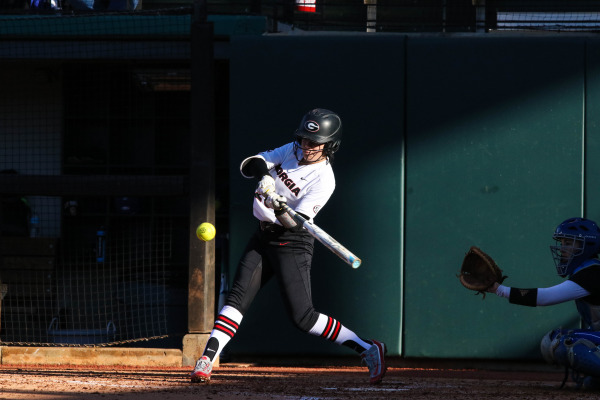 Feb. 15, 2017
Final Stats (G1) | Final Stats (G2) |  Photo Gallery 
ATHENS, Ga. — The 10th ranked Georgia (6-0) offense dispatched Presbyterian (1-5) 10-1 and 8-0 in Wednesday night's doubleheader at Jack Turner Stadium.
Combined for the two games, senior Maeve McGuire led the Georgia hitters, going 4-for-5 with three doubles and five RBI. Sophomore third baseman Alyssa DiCarlo followed with a 3-for-5 performance, including a home run in each game, totaling up to five on the season.
In the first five-inning game, freshman right hander Mary Wilson Avant (1-0) picked up the first win of her college career, pitching the first, second and fifth innings, while freshman Amanda Ablan provided two perfect innings of work in between with four strikeouts.
On the offensive side, Cortni Emanuel and Sydni Emanuel collected two base hits apiece at the top of the lineup. The duo scored the first two Georgia runs in the first inning on a McGuire double. In the second inning, a pair of Emanuel stolen bases and another McGuire double made the score 7-0.
To seal the 10-0 final, freshman catcher Mahlena O'Neal and DiCarlo each powered two-run home runs over the right field wall in the second and fourth innings, respectively.
In the second game, junior Brittany Gray (4-0) and Avant each pitched three innings of scoreless work. Gray surrendered only one hit and struck out five in the first half of the game, while Avant gave up two with two strikeouts.
The Bulldogs gathered two more runs in the first inning courtesy of the Emanuel duo. They were driven in by a double from DiCarlo, whose two-run home run in her next at-bat capped a five-run second inning for Georgia. The scoring paused until the sixth inning when pinch runner Jordan Doggett scored from second on an error from Presbyterian.
This weekend, Georgia welcomes Northern Kentucky, Louisiana-Monroe and Dayton to Athens for the 14th annual Georgia Classic. The Bulldogs kick off the tournament on Friday with a doubleheader against Northern Kentucky and Louisiana-Monroe at 3 p.m. and 5:30 p.m. ET. Admission is free at Jack Turner Stadium.
HOW TO FOLLOW GEORGIA SOFTBALL: For complete information on Georgia softball, follow the team on its social media channels via @UGASoftball on Twitter and Instagram and UGASoftball on Facebook.