UGA Men's Tennis: Georgia Falls to No. 1 Wake Forest, 4-3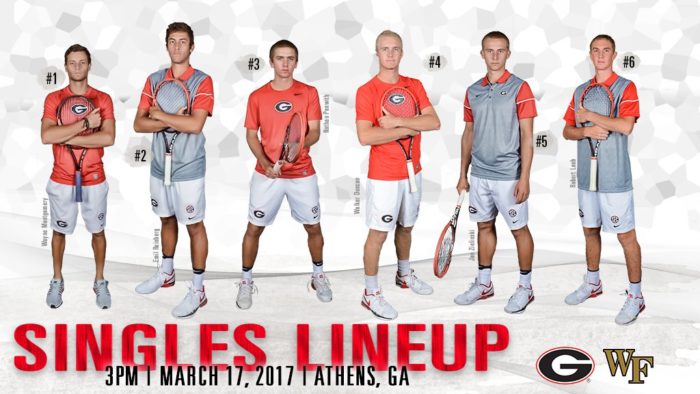 March 17, 2017
ATHENS, Ga. — Down 6-3, 4-0 at the No. 2 singles court and his team locked in a 3-3 battle with No. 1 Wake Forest, Emil Reinberg's heroics came up just short in Georgia's 4-3 loss on Friday.
In front of an impressive and often loud St. Patrick's Day crowd at the Dan Magill Tennis Complex, Reinberg clawed back from an early deficit and was able to force a second-set tie-breaker to give Bulldog fans in attendance quite the match to watch down the stretch.
The tiebreaker started sluggish for Reinberg, who found himself down 4-0 in the early going. He was able to even it up at 6-6, before winning the next two for the 8-6 victory. Then, in the decisive third set, he went up a break and took a 4-2 lead. Wake Forest's 76th-ranked Borna Gojo was resilient and stormed back to take the match, 6-3, 6-7 (6-8), 6-4, en route to the 4-3 win.
"It was just a heartbreaker today, but credit Wake Forest for showing great resiliency," head coach Manuel Diaz said. "They definitely proved why they are one of the best teams in the country. Emil was cramping there at the end and he showed a lot of heart in his match. But again credit Wake Forest who really played like a veteran team today."
There was high drama on the doubles courts as the point came down to dual tiebreakers at the top two positions following a 6-4 win from Walker Duncan and Wayne Montgomery at the third spot.
The top two Bulldog tandems brought the green-cladded crowd to its feet with a pair of back-and-forth battles. At first it looked like the 60th-ranked duo of Nathan Ponwith and Reinberg might be the ones to deliver the clincher as they jumped out to a 4-2 lead in the tiebreaker, with the 30th-ranked pair of Jan Zielinski and Robert Loeb down 5-1 at No. 1.
Zielinski and Loeb mounted a furious comeback against the nation's No. 2-ranked duo Skander Mansouri and Christian Seraphim. The Georgia tandem won five-straight games to take a 6-5 lead before Wake Forest tied it up at 6-6. The Bulldogs then won two consecutive, with Zielinski delivering the final shot to give his team the early 1-0 lead and the pair's third-straight win over a ranked opponent.
With a 1-0 advantage following doubles play, Georgia fell behind early on the singles courts with five first-set losses.
Second-ranked Petros Chrysochos tied the match at 1-1 with a 6-2, 6-2 win against 26th-ranked Montgomery at the No. 1 position. No. 5-ranked Mansouri then lifted the Demon Deacons to a 2-1 advantage with his 6-4, 6-2 victory against 99th-ranked Ponwith.
Down 2-1, Duncan delivered a much-needed win for the Bulldogs as he took down 37th-ranked Seraphim at No. 4 to tie the match at 2-2.  Loeb then fell at No. 6, 6-3, 6-4 to WF's Gadjev to put the match at 3-2 in the Demon Deacons' favor.
Zielinski tied the match at 3-3 with his 3-6, 6-1, 6-4 win over Dennis Uspensky at No. 5, setting up Reinberg's back-and-forth thrilling match at No. 2.
Georgia now hits the road to face Tennessee on Sunday at 1 p.m. ET.
FOLLOW THE BULLDOGS
For more information on the Georgia men's tennis team, follow the team on Twitter (@UGATennis), Instagram (@ugatennis) and Facebook (UGA Men's Tennis).
Tennis Match Results
Wake Forest vs Georgia
March 17, 2017 at Athens, Ga.
(Dan Magill Tennis Complex)
 #1 Wake Forest 4, #12 Georgia 3
Singles Results
1. #2 Petros Chrysochos (WF) def. #26 Wayne Montgomery (UGA) 6-2, 6-2
2. #76 Borna Gojo (WF) def. #46 Emil Reinberg (UGA) 6-3, 6-7 (6-8), 6-4
3. #5 Skander Mansouri (WF) def. #99 Nathan Ponwith (UGA) 6-4, 6-2
4. Walker Duncan (UGA) def. #37 Christian Seraphim (WF) 6-3, 6-3
5. Jan Zielinski (UGA) def. Dennis Uspensky (WF) 3-6, 6-1, 6-4
6. Alan Gadjiev (WF) def. Robert Loeb (UGA) 6-3, 6-4
Doubles Results
1. #30 Jan Zielinski/Robert Loeb (UGA) def.  #2 Skander Mansouri/Christian Seraphim (WF) 7-6 (6)
2. #60 Nathan Ponwith/Emil Reinberg (UGA) vs. Borna Gojo/Alan Gadjiev (WF) 7-6 (4) uf
3. Wayne Montgomery/Walker Duncan (UGA) def. Petros Chrysochos/Dennis Uspensky (WF) 6-4
Match Notes:
Wake Forest 14-1; National ranking #1
Georgia 8-6; National ranking #12
Order of finish: Doubles (3,1); Singles (1, 3, 4, 6, 5, 2)