UGA Swimming and Diving: Lady Bulldogs Stand Fourth At NCAAs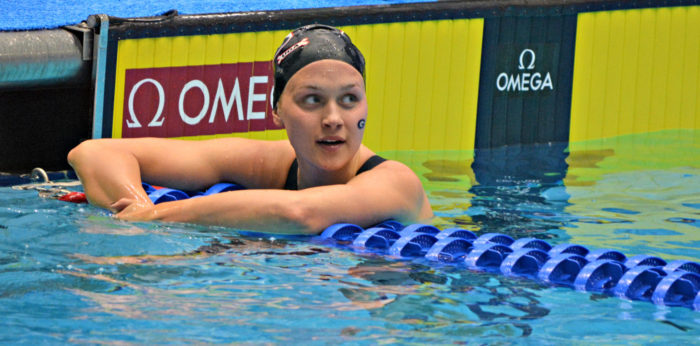 March 17, 2017
INDIANAPOLIS, Ind. — Olivia Smoliga came in second in the 100-yard backstroke and twice lowered her own school record on Friday in the 2017 NCAA Women's Swimming and Diving Championships at the Indiana University Natatorium.
Heading into the final day of competition, the Lady Bulldogs stand fourth with 170 points. Stanford has the team lead with 374.5, followed by California in second with 255, Texas A&M in fourth with 209, Georgia, and Texas in fifth with 168. The Lady Bulldogs have finished in the top five for eight straight years, including national titles in 2013, 2014 and 2016.
"The kids are doing a job," Georgia head coach Jack Bauerle said. "We had a really good night tonight. The young ladies competed with a lot of pride. We're scrapping for every single point. We've got one more day with some work to do, and our young ladies are fired up and ready to battle some more."
Smoliga earned silver in the 100 backstroke finals as she touched in 50.04, eclipsed only by Kathleen Baker of California's 49.84. During the prelims Thursday morning, Smoliga went 50.31 to break her school record of 50.58. She then shaved off more than half of a second Friday evening to park the record at 50.04.
Emily Cameron placed 10th in the 400 individual medley with a time of 4:05.11.
In the 100 butterfly, Chelsea Britt and Veronica Burchill took 11th in 51.54 and 13th in 51.89, respectively.
Meaghan Raab came in 11th in the 200 freestyle as she reached the wall in 1:43.98.
The 200 medley relay of Smoliga, Cameron, Britt and Chantal Van Landeghem won the consolation final for ninth as the quartet stopped the clock in 1:35.99.
The NCAAs will conclude on Saturday with the 1,650 freestyle, the 200 backstroke, the 100 freestyle, the 200 breaststroke, the 200 butterfly, platform diving and the 400 freestyle relay. Prelims start at 10 a.m., followed by finals at 6 p.m.