UGA Track and Field: Bulldogs Record 14 Top Finishes In Opener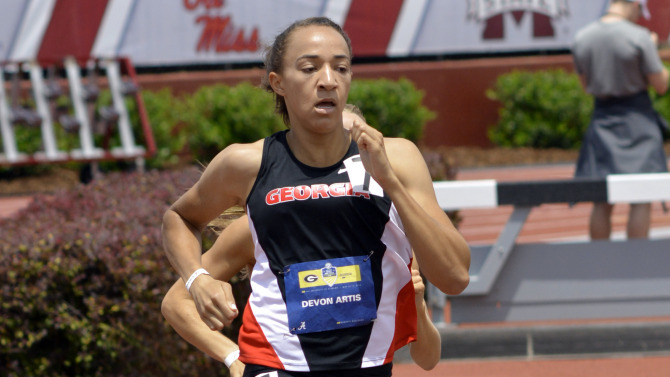 March 17, 2017
ATHENS, Ga. — Georgia's track and field teams posted 14 top collegiate finishes to highlight the start of the outdoor season at the Yellow Jacket Invitational in Atlanta on Friday.
Tossing an 8kg hammer in the opener, senior Alex Poursanidis lifted his final throw 204 feet, 11 inches to edge sophomore Denzel Comementia (201-0) for the win. Comenentia is coming off a runner-up performance in the shot put at the NCAA Indoor Championships.
Comenentia returned in the discus and opened with a mark of 180-10 to win by 20 feet.
Senior Asianna Covington worked up to a final toss of 194-7 to complete the sweep in the hammer for Georgia. Sophomore Hayden Merrick finished fourth with a career-long throw of 171-4.
Merrick then returned late in the afternoon to win the discus after her final toss traveled 153-1.
In the women's javelin, true freshman Tairyn Montgomery worked up to a last attempt of 164-9 and won by 33 feet.   Montgomery is No. 8 on the school's all-time top-10 list. For the men, sophomore Joe Kimura Smith finished his series in the javelin with a 185-9 to top the nearest collegiate competitor by nearly four feet and take second overall.
Another true freshman and her first-year teammate finished 1-4 in the 1500 meters. Jessica Drop completed her laps in 4:27.73 to win in her outdoor debut while Yanely Gomez registered a 4:33.31 for fourth place.
To complete the 1500m sweep, junior Bryan Kamau edged the nearest competitor by less than a second with a 3:52.16.
Junior Devon Artis tallied another victory for the Bulldogs after running the 800m in 2:10.17. Freshman Amber Tanner was the second collegiate finisher (third overall) with a 2:11.45 in her outdoor debut.
In the 400m hurdles, freshman Chelsea Zoller ran the fastest time for Georgia since 2001 with a 1:02.40 to finish third and take control of the No. 10 spot in the school record books.
The Bulldog 4x100m relay ran away with a victory thanks to a 40.6 with Jonathan Raines, Reggie Glover, Gabe Blackman and Maurice Freeman combining in the race.
Junior Anna Machovec managed a fourth-place finish after reaching a career-best distance of 47-4.50 in the shot put.
On the track, Freeman was the only sprinter to break 47 seconds with a 46.18 to win the 400m. Glover crossed the finish line as the second collegiate finisher (third overall) with a 47.41.
Junior Katie Stone started her outdoor season by recording an 11.75 to take second in the 100m.
Freshmen Micaiah Ransby (52.94) and Catherine Reid (55.36) finished second and fourth in the 400m. Asics' Candace Hill was the overall winner with a 52.94.
With Tanner leading off, Artis, Reid and Ransby picked up top honors in the 4x400m relay as well after leaving the track with a 3:42.50.
The men's 4x400m relay also finished as a Bulldogs' win as Glover, Freeman, senior Ayrian Evans and Blackman passed the baton to a 3:10.81 finish.
Also, freshman Jonathan Pelham finished second in the 2000m steeplechase with a time of 6:05.00 and his freshman Tyler Jones clocked a 6:05.78 for fourth.
This marks the first of five scheduled regular season outdoor meets, including the annual Spec Towns National Team Invitational and Bulldog Decathlon/Heptathlon on April 5-8 and the inaugural Torrin Lawrence Memorial on May 6. The Southeastern Conference Championships will arrive in Columbia, S.C., on May 11-13 and the NCAA Outdoor Championships are scheduled for June 7-10 in Eugene, Ore.
Training through next weekend, the Bulldogs will travel to the Texas Relays in Austin, Texas, on March 29-April 1.
Updates from Georgia's track and field and cross country teams can always be found on Twitter/Instagram (UGATrack) and Snapchat (ugatrack).