UGA Men's Golf: Bulldogs In Eighth In Linger Longer Invitational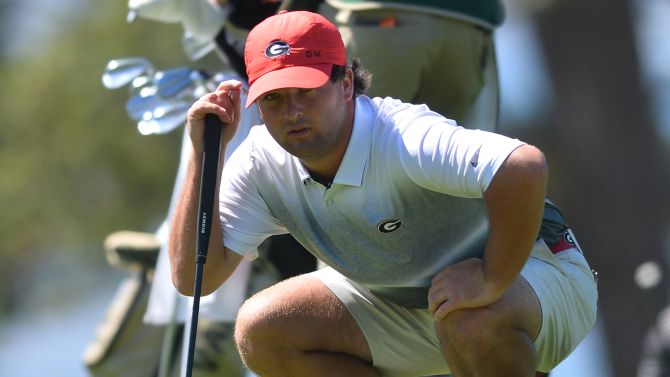 March 19, 2017
EATONTON, Ga. — The 20th-ranked Georgia men's golf team stands eighth after one round of the Linger Longer Invitational at Great Waters Golf Course.
On Sunday on the par-72, 7,073-yard layout, the Bulldogs fired a 3-under-par 285. Baylor has the team lead at 14-under 274, followed by Michigan, Troy and UNC-Greensboro all at 8-under 280, and Virginia, Kennesaw State and Augusta each at 5-under 283.
Senior Greyson Sigg paced the Bulldogs with a 5-under 67, and he is one shot back of Michigan's Kyle Mueller, Troy's Luke Moser and Kennesaw State's Chris Guglielmo.
Sophomore Tye Waller signed for an even-par 72, while junior Zach Healy and freshman Trevor Phillips each recorded a 1-over 73. Freshman Spencer Ralston had the Bulldogs' non-counting score of 2-over 74.
Playing as individuals, senior Jaime Lopez Rivarola is 13th at 3-under 69, followed by sophomore Jack Larkin Jr. at even-par 72 and freshman Will Chandler at 4-over 76.
The Linger Longer Invitational will continue on Monday and will conclude on Tuesday. Live results can be found at Golfstat.com.