UGA Men's Tennis: Bulldogs Take Down Tennessee, 4-3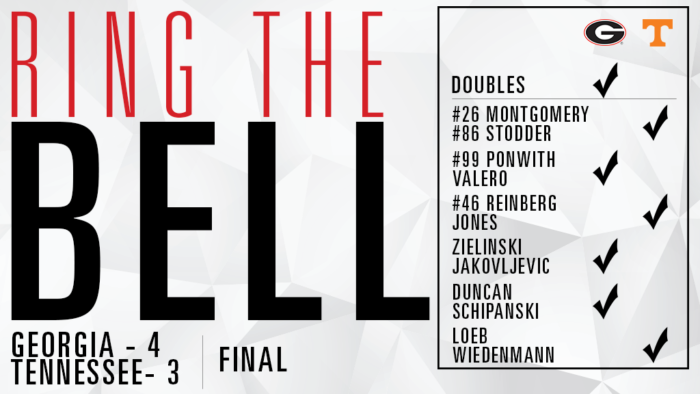 KNOXVILLE, Tenn. — The 12th-ranked Georgia men's tennis team improved to 5-0 in conference play with a 4-3 victory over No. 43 Tennessee Sunday afternoon at Barksdale Stadium.
The Bulldogs (9-6) took the first two decisions in doubles and Nathan Ponwith later clinched the match at the second singles position. Tennessee falls to 9-8 overall, and 1-4 in conference.
"We fought hard," Georgia head coach Manuel Diaz said. "We weren't playing with a full tank of gas, as our guys played a big match Friday against Wake Forest. After a good doubles point, we probably didn't play as well as we could have, but they're a good team and they certainly fought us hard. It's a good sign when you don't play your best and you survive, so I'm proud of our team as a whole."
The doubles point went to Georgia after wins at the third and first courts.
Walker Duncan
and
Wayne Montgomery
made quick work of Srdjan Jakovljevic and Luca Wiedenmann on No. 3, winning a 6-2 match and giving Georgia the early advantage. The 30th-ranked pair of
Robert Loeb
and
Jan Zielinski
then clinched the doubles point for the Bulldogs at No. 1, taking down Tennessee's Luis Valero and Jack Schipanski, 6-4.The win gave Loeb and Zielinski their fourth-straight victory over a ranked opponent, as the Volunteer pair currently sits at No. 23. The Bulldogs have now won seven-consecutive doubles points, and the top tandem has clinched the point in each of the last five matches.
Duncan struck first in singles, putting Georgia ahead 2-0. The sophomore from Atlanta earned a 6-4, 6-3 victory against Schipanski at No. 5 and is now 4-1 in conference matches this season, and has won six of his last seven completed matches.
The Bulldogs went ahead 3-0 after Zielinski defeated Jakovljevic on the fourth court, 7-5, 6-2. Zielinski is now 6-1 this season when playing at No. 4. Tennessee got one back at No. 1, as No. 86 Timo Stodder defeated 26th-ranked Montgomery, 6-1, 2-6, 6-4.
Following Friday's match against top-ranked Wake Forest in which Emil Reinberg forced a third set despite being down 4-0 in the second-set tiebreaker, Reinberg fell in a second-set tiebreaker. Scott Jones put the second Tennessee point on the board with a 6-4, 7-6 victory over Reinberg and Georgia led 3-2 with two singles matches still in play.
Nathan Ponwith and Loeb, the two freshmen in Georgia's lineup, were each in a third set with the Bulldogs needing just one more win to earn the victory. Ponwith delivered the clincher at the second position with a 6-4, 4-6, 6-2 victory over Valero. The win gives Georgia a ninth-straight victory against the Volunteers.
The Bulldogs return home for matches against LSU (Thursday) and Alabama (Saturday) next week. The match against LSU, as part of the USTA's College MatchDay series, will be streamed live on WatchESPN and the ESPN app.
Tennis Match Results
Georgia vs. Tennessee
March 19, 2017 at Knoxville, Tenn. (Barksdale Stadium)
Georgia 4, Tennessee 3
Doubles
1. #30 Robert Loeb/Jan Zielinski (UGA) def. #23 Luis Valero/Jack Schipanski (TENN), 6-4
2. #45 Timo Stodder/Scott Jones (TENN) vs. #60 Nathan Ponwith/Emil Reinberg (UGA), 6-5, unfinished
3. Walker Duncan/Wayne Montgomery (UGA) def. Srdjan Jakovljevic/Luca Wiedenmann (TENN), 6-2
Singles
6. Luca Wiedenmann (TENN) def. Robert Loeb (UGA), 4-6, 6-4, 6-2
Match Notes
Order of finish: Doubles (3,1); Singles (5,4,1,3,2,6)