UGA Baseball: Georgia Wins Home Finale Against Furman, 10-6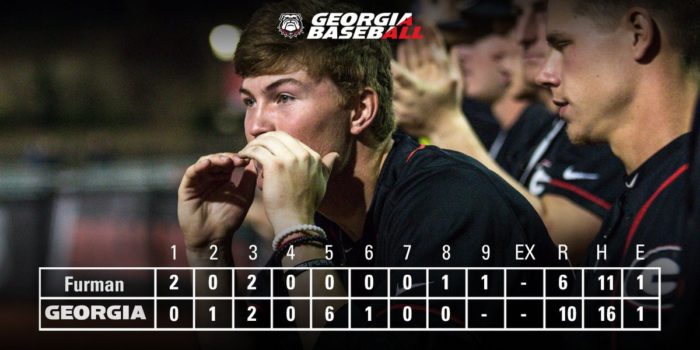 ATHENS, Ga. — The Georgia baseball team scored six runs in the bottom of the fifth inning for a come-from-behind win over Furman, 10-6, in the season finale at Foley Field on Tuesday night.
In a designated staff night, Georgia used seven pitchers to defeat Furman as freshman Justin Glover was credited with his first career win.
Trailing 4-3 to start the bottom of the fifth inning, Georgia bats came alive with bases loaded and two outs on the board. Adam Sasser came to the plate and singled to first base, allowing the tying run to score.  Will Proctor hit a single to left field, bringing two more runs home to give Georgia its first lead of the game. With runners at first and second, Tucker Maxwell hit a home run over the right field wall extending the Bulldogs' lead to five runs.
Furman (27-25) got on the board early, scoring two runs in the first inning, before Georgia (23-30) brought a run home in the bottom of the second inning.  Sasser singled to left field before advancing to second on a wild pitch.  After two outs, Tucker Bradley singled to center field, bringing Sasser home.
The Paladins scored two more in the top of the third with the Bulldogs tightening the gap once again in the bottom of the frame.  With Cam Shepherd at third and Keegan McGovern on second, Mitchell Webb hit a triple to center field, bringing the runners home.
The Bulldogs added a run in the sixth before the Paladins scored one run in each of the final two innings.
Georgia will close out the regular season on the road at South Carolina in a Thursday, Friday, Saturday series.  The first two games are slated to begin at 7 p.m., with the series finale beginning at 3 p.m.
Dawg Tracks
– First triple of the season for Mitchell Webb, second of his career.
– Georgia ties season-high 16 hits
Coach's Corner
On winning the final home game of the season…
"We needed to keep our momentum.  We've played really well these past couple weekends, winning two series against top-10 teams.  Our kids are feeling a lot better about themselves and playing really hard.  Furman is a really good club. The last 20 games they've been playing really well.  We knew it was going to be a tough test, but we needed to keep the momentum going as we head to Columbia this weekend to play South Carolina."
On looking ahead to the weekend series against South Carolina…
"The biggest thing is that we fell behind early and our guys didn't quit. We had some really good at-bats with the bases loaded.  We picked each other up.  Tucker Maxwell hit a big homerun.  Justin Glover came in and gave us two big innings and got the win. He has a huge future for us.  When things didn't go right we picked each other up."
Player's Perspective
"It's so important that we got a final win tonight. Not only because it was in front of a home crowd but also to keep up with the momentum going in to South Carolina. Every game is a must win at this point. This is probably a game we would have lost at the beginning of the season. We were down early and at the beginning of the season we would have given up but as you can see we were able to come back."
Freshman CF Tucker Maxwell
"Winning this game was really important for our season and we needed the momentum going in to South Carolina because we have to win there in order to get to Hoover. We need to keep swinging the bat and our defense needs to keep up with this momentum because our pitchers are really staying on track."