UGA Women's Tennis: Bulldogs Ready for Round of 16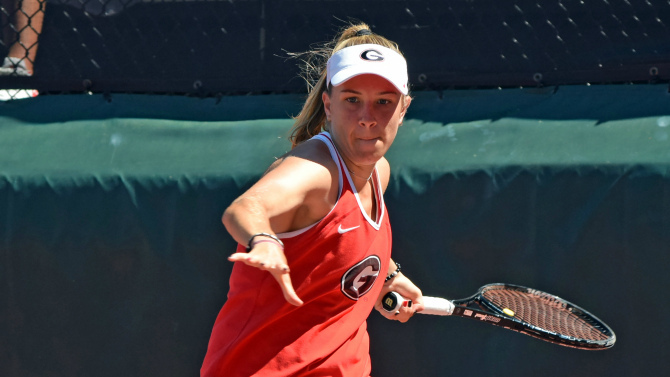 May 18, 2017
ATHENS, Ga. —- The fifth-ranked Georgia women's tennis team battle No. 12 Pepperdine in Friday's Round of 16 of the NCAA Championships at the Dan Magill Tennis Complex.
The Bulldogs (19-5) and the Waves (23-4) each played host in the first- and second- round matches prior to advancing to the Round of 16. Georgia blanked South Carolina State and North Carolina State 4-0, whereas Pepperdine shut out LIU Brooklyn and moved past UCLA 4-1.
This marks the second time this season the Bulldogs and the Waves have played each other with the first coming in February at the ITA National Team Indoors. After dropping the doubles point, Georgia stormed back in singles to win 4-1. Mariana Gould, Ellen Perez and Elena Christofi powered past their opponents for wins, before Marta Gonzalez clinched the victory in the third set. The Bulldogs hold the all-time record over Pepperdine 4-0.
"We are really looking forward to playing our match against Pepperdine on Friday night," Georgia head coach Jeff Wallace said. "It was a great match earlier this year when we played them in the National Team Indoors, but they were without their No. 1 player. She is back for this match and it will be super exciting. Regardless, every match is a new match and every day is a new day. It's the NCAA Tournament and everyone will be bringing it."
Pepperdine's No. 1 singles player, Luisa Stefani, is ranked 14th in ITA singles and holds a 25-8 record.  She reached the final four in last year's NCAA Singles Championship after beating Kennedy Shaffer in the quarterfinals. The Waves fell to California in the Round of 16 of the 2016 NCAA Championships.
Georgia defeated Pepperdine 5-1 in the quarterfinals of the 1991 NCAA Championships, which is the only other time the two teams have met in postseason action.
For all the latest on Georgia women's tennis, follow the team on Twitter (@UGAWomensTennis), Instagram (@ugawomenstennis) and on Facebook (Georgia Women's Tennis), and keep checking georgiadogs.com.