UGA Football: Former Dawg Great Terrell Davis Enshrined Into Pro Football Hall of Fame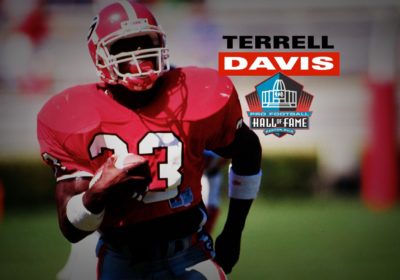 ATHENS — Former University of Georgia running back Terrell Davis was officially enshrined into the Pro Football Hall of Fame Saturday night in Canton, Ohio.
He was one of seven in the Class of 2017.  Davis joined two other Bulldog greats who were previously inducted into the Pro Football Hall of Fame:  Charley Trippi (inducted in 1968) and Fran Tarkenton (inducted in 1986).  He was joined at the ceremony by several Georgia Bulldogs including former head coach and director of athletics Vince Dooley, former head football coach Ray Goff, former running back coach Willie McClendon, Executive Director of Athletics Alumni Relations Mark Slonaker, and former Bulldog teammates James Cornelius and Preston Hughes.
Davis played three seasons with the Bulldogs, 1992-94.  Then-rookie head coach Mike Shanahan used the Denver Broncos' sixth-round pick to draft Davis in the 1995 NFL Draft.  Given long odds at even making the team, he impressed coaches and teammates alike during pre-season camp.  Davis earned the starter's job at running back for the '95 season opener, a job he kept for 14 games.  He became the lowest-drafted running back in NFL history to gain over 1,000 yards (1,117) in his rookie season.
Over the next three seasons, Davis seemed to play his best in the biggest games. With the Broncos winning back-to-back Super Bowl titles, he set an NFL playoff record with seven consecutive 100-yard rushing performances in 1997-98.  Davis was Super Bowl MVP in Super Bowl XXXII after rushing for 157 yards and three TDs against the Packers.
Davis' career was cut short by a knee injury suffered in his fifth season. Before that, Davis led the league in rushing touchdowns twice and rushed for 2,008 yards in 1998, his last healthy season. He won the MVP that year and was a two-time NFL Offensive Player of the Year.
A native of San Diego, Calif., Davis originally attended Long Beach State, for which he played in five games as a redshirt freshman in 1991.  He transferred to UGA after the 49ers disbanded their football program, and in his first year for the Bulldogs in 1992, he rushed for 388 yards, playing mostly as a backup to All-American tailback Garrison Hearst.
With Hearst gone to the NFL, Davis enjoyed his best year as a collegian in 1993, leading the Bulldogs in rushing with 824 yards and five TDs, highlighted by a 177-yard effort against Arkansas.  A hamstring injury in the second game of his senior season limited his production in 1994.  He finished with 445 yards and scored six TDs.  Davis finished his Bulldog career with 1,657 rushing yards, which currently ranks 19th on the all-time list.