UGA Football: John Frierson Chats With Roquan Smith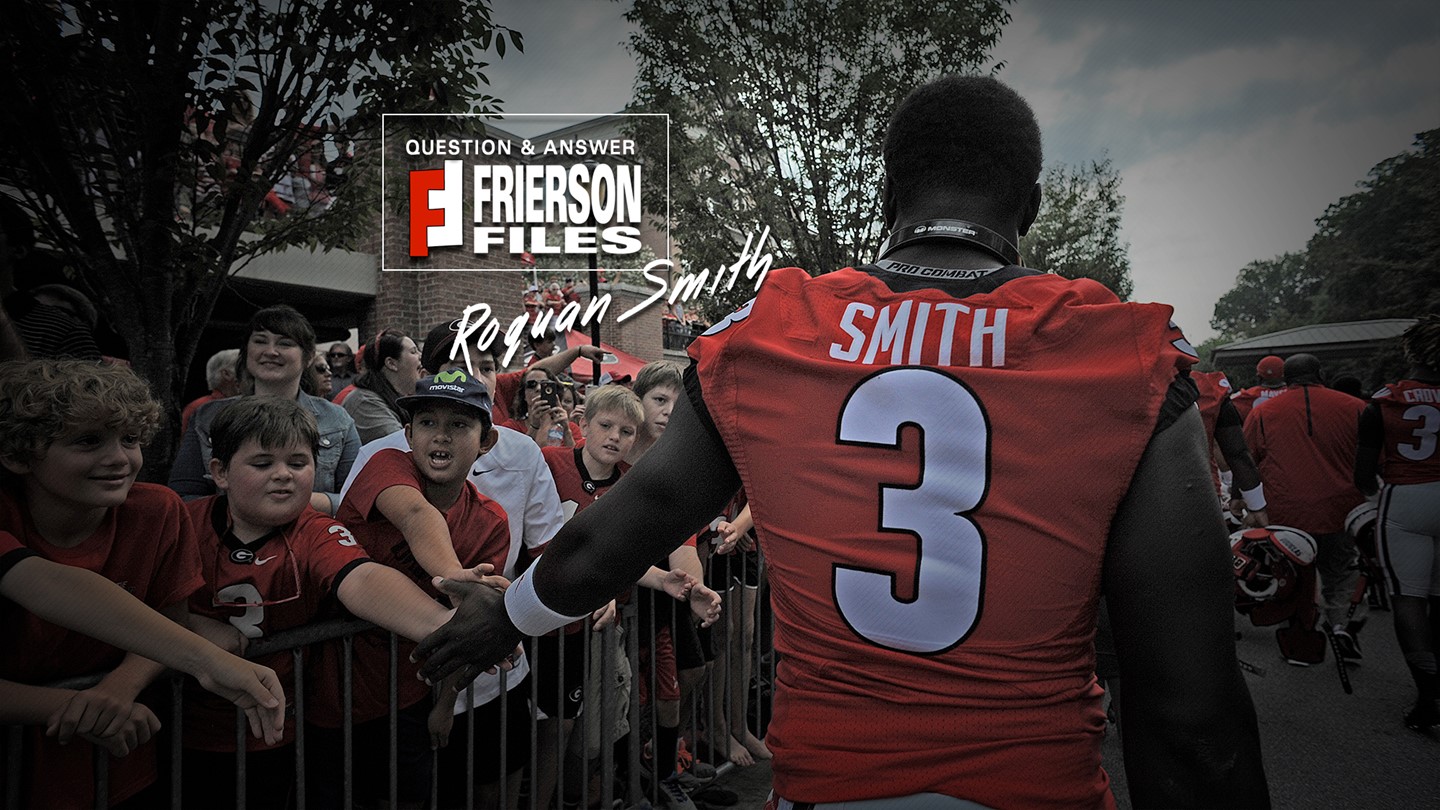 By John Frierson 
UGAAA Staff Writer
To look at Roquan Smith and to talk to the Georgia linebacker, it's easy to come away with the impression that this junior from little Montezuma, Ga., has it all together. And when he tells you that he has really good penmanship, you're not at all surprised.
After making 20 tackles in a reserve role as a freshman in 2015, the 6-foot-1, 225-pound Smith led the Bulldogs in tackles last season, making 95 stops as a sophomore. In the 2016 opener against North Carolina, he set a career high with six tackles. By the end of the season, Smith had 13 tackles in each of Georgia's final two games.
On Monday, Smith sat down for a not-too-serious, wide-ranging chat. We discussed dreams, cooking, that good penmanship and more. Here's some of what he had to say:
Frierson: What's the most exciting or unusual thing you did this summer?
Smith: Maybe riding Jet Skis up on the lake. That was pretty fun, actually, because I haven't ridden them in some years, so just getting back out on the lake and riding around was a lot of fun.
Frierson: If you could be among the best in the world at anything, in sports or something completely different, what would it be?
Smith: I would be the best in the world at making a positive impact on others, and being able to help others.
Frierson: Wow, that's a very noble answer. … Do you dream about football? I mean when you actually go to sleep at night, do you dream about the game?
Smith: I don't really dream about much, like on a daily basis or anything like that I don't dream about football. I have my little weird dreams and stuff, but not usually about football.
Frierson: What's the best skill you have that isn't really a skill of any value?
Smith: Just being able to write neat (laughs) and being able to write neat in cursive, but it doesn't really pay off in any way.
Frierson: So every teacher you've ever had has commented on how neat your handwriting is?
Smith: They always think that a female wrote it, like "Who wrote this for you?" I guess it looks like a female's handwriting.
Frierson: When did it click for you, putting the pieces together in life and sports and school? It doesn't surprise me that your penmanship is really good because you seem like someone that has it all together.
Smith: As I thought about it, once I first got here during the summer (as a freshman), I was getting adjusted to things and I realized how blessed I was being in this position. And I've seen so many things and heard so many stories about guys that are in this position and don't take full advantage of it.
I feel like it would be a waste of my time and I feel like I would be letting a lot of people down that helped me out in my past if I didn't take full advantage of every opportunity while I'm here.
Frierson: Where would you go if you were given all the time and money you needed to travel anywhere in the world?
Smith: I would probably say Dubai.
Frierson: Interesting. Why Dubai?
Smith: I've just heard that it's a beautiful place and you said that someone else would be picking up the check, so I wouldn't have to pay for it. I know it's a very expensive place. … I've seen a lot of pictures and it's very beautiful.
Frierson: What's the greatest play or athletic feat of your life?
Smith: It was probably my senior year (at Macon County High), playing for the region championship, and we were playing this team, Lamar County, that we hadn't beaten in my years in high school.
There were like four minutes to go in the game and we were up by eight or nine and I got a toss and took off for a long touchdown to lock up the game. I could have taken a knee and used a lot of the clock, but I tried to put the icing on the cake and finish them off.
Frierson: Do you miss having the ball in your hands?
Smith: I don't like getting hit, so I don't really miss it. (Laughs) I'd rather deliver the blow than actually take it.
Frierson: What are you like in the kitchen — do you cook or can you cook?
Smith: I can definitely cook. I like steak, I like casseroles, I like green-bean casserole; I also like chicken-and-rise casserole and broccoli casserole. I'm also a big pork tenderloin guy. I'm a big food guy; I can't cook all those things, but I can definitely eat them up. …
I cook steak and potatoes and stuff like that, baked chicken and grilled chicken. Or I'll do something like mac-and-cheese, but I haven't done anything big like a casserole or a roast. I've been craving a roast lately, though.
(This Q&A was lightly edited for length and clarity.)
John Frierson is the staff writer for the UGA Athletic Association and curator of the ITA Men's Tennis Hall of Fame. You can find his work at: Frierson Files. He's also on Twitter: @FriersonFilesand @ITAHallofFame.