UGA Football: john Frierson Chats With Tyler Clark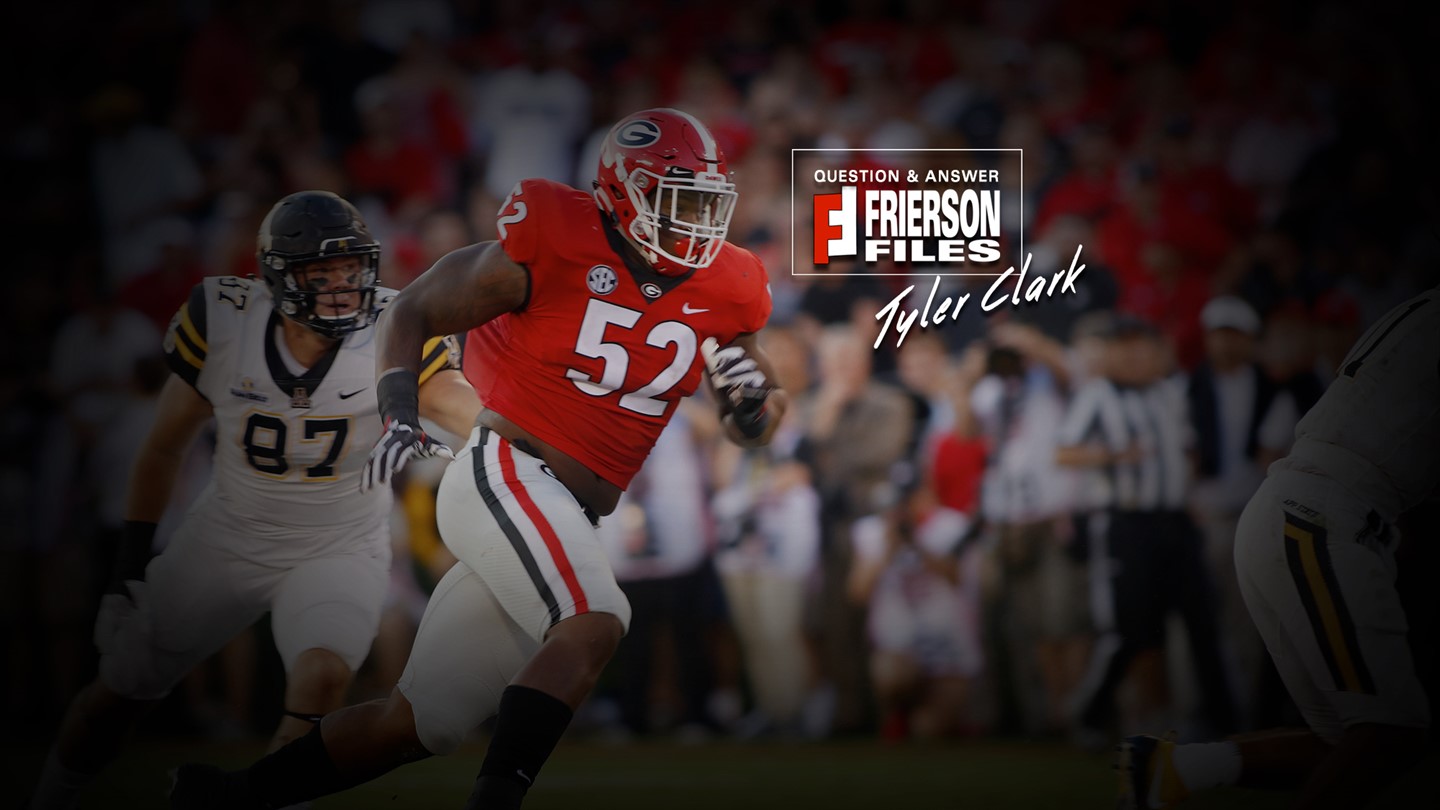 By John Frierson 
UGAAA Staff Writer
Tyler Clark describes his hometown of Americus, Ga., located about 40 miles north of Albany, as "country." For sure, the 6-foot-4, 305-pound Georgia nose tackle says it with affection.
Americus produced a former Bulldog great in tight end Leonard Pope, as well as accomplished football coaches Dan Reeves (also a great player) and Chan Gailey. For a town of about 17,000 folks, it has a pretty strong football legacy.
During a recent quick chat, Clark talked about home, fishing, the big Americus tornado in 2007 and much more. Here's some of what he had to say:
Frierson: What was the best or most interesting summer?
Clark: Lifting weights and working out with the team, that's about it.
Frierson: How do you make that exciting or fun, doing it day in and day out?
Clark: I just tell myself that we're onto something, that we're trying to win. When I say that, my mind just goes to, oh, yeah, I'm ready.
Frierson: What's something creative you do or wish you could do?
Clark: I wish I could paint. At home, my uncle, he paints and I wish I could do that.
Frierson: Tell me about home — when you think of home, what comes to mind?
Clark: Country, being in the country.
Frierson: It's a place that's produced some good football players, though. What's it like being part of that group?
Clark: It feels good. Not too many people come from where I'm from.
Frierson: What do you remember about the big tornado that came through there about 10 years ago?
Clark: I was really young then, so I don't remember much. I remember I was at an after-school program and all the lights had gone off while we were learning, doing an activity, and I remember my momma coming to get me.
I went home, was scared, and went to sleep. I remembered I was scared because I didn't really know what was going on.
Frierson: Who's the funniest guy on the team?
Clark: I'd have to say John Atkins. Have you heard his laugh? On my God, every time he laughs it does something to me.
Frierson: Do you get excited for these big road trips, like going to a place like Notre Dame?
Clark: I do get excited — my first experience flying was for an away game that we had last year.
Frierson: What's something you could eat every day for the rest of your life and not get tired of it?
Clark: Gummy worms — sour gummy worms.
Frierson: What's a food that could disappear forever and you wouldn't mind?
Clark: Collard greens. Not a big fan. … I'm not a big fan of anything green, to be honest.
Frierson: What's the best live performance you've ever seen?
Clark: The only concert I've ever really seen was the G-Day one they had with Ludacris.
Frierson: If you could play any other sport for Georgia, what would it be? Regardless of if you're actually good enough to do it.
Clark: I'd play basketball.
Frierson: Are you any good?
Clark: I'm pretty good. I play a little pickup game, but nothing too serious.
Frierson: I know you don't have much free time, but what do you do when you have it?
Clark: I like to fish. … When I'm home I'll go fishing with my uncle. His boss has got a little private pond and we'll go out there. It relieves some stress. It's nice just being out there where it's quiet.
Frierson: Do you watch much stuff on Netflix or anything like that?
Clark: I don't watch much of anything on TV. The only time I watch is the NFL on Sundays. That's it.
Frierson: In the time you've been at Georgia, what have you learned about yourself?
Clark: I've learned that I can really do stuff that I didn't think I could, before I got here. I didn't think I could wake up early and go to workouts at 6 in the morning, then go to class, then work film, then practice and studying. I didn't think I could do all that in one day. That changed when I got here.
(This Q&A was lightly edited for length and clarity.)
John Frierson is the staff writer for the UGA Athletic Association and curator of the ITA Men's Tennis Hall of Fame. You can find his work at: Frierson Files. He's also on Twitter: @FriersonFilesand @ITAHallofFame.