UGA Football: John Frierson Chats With Aaron Davis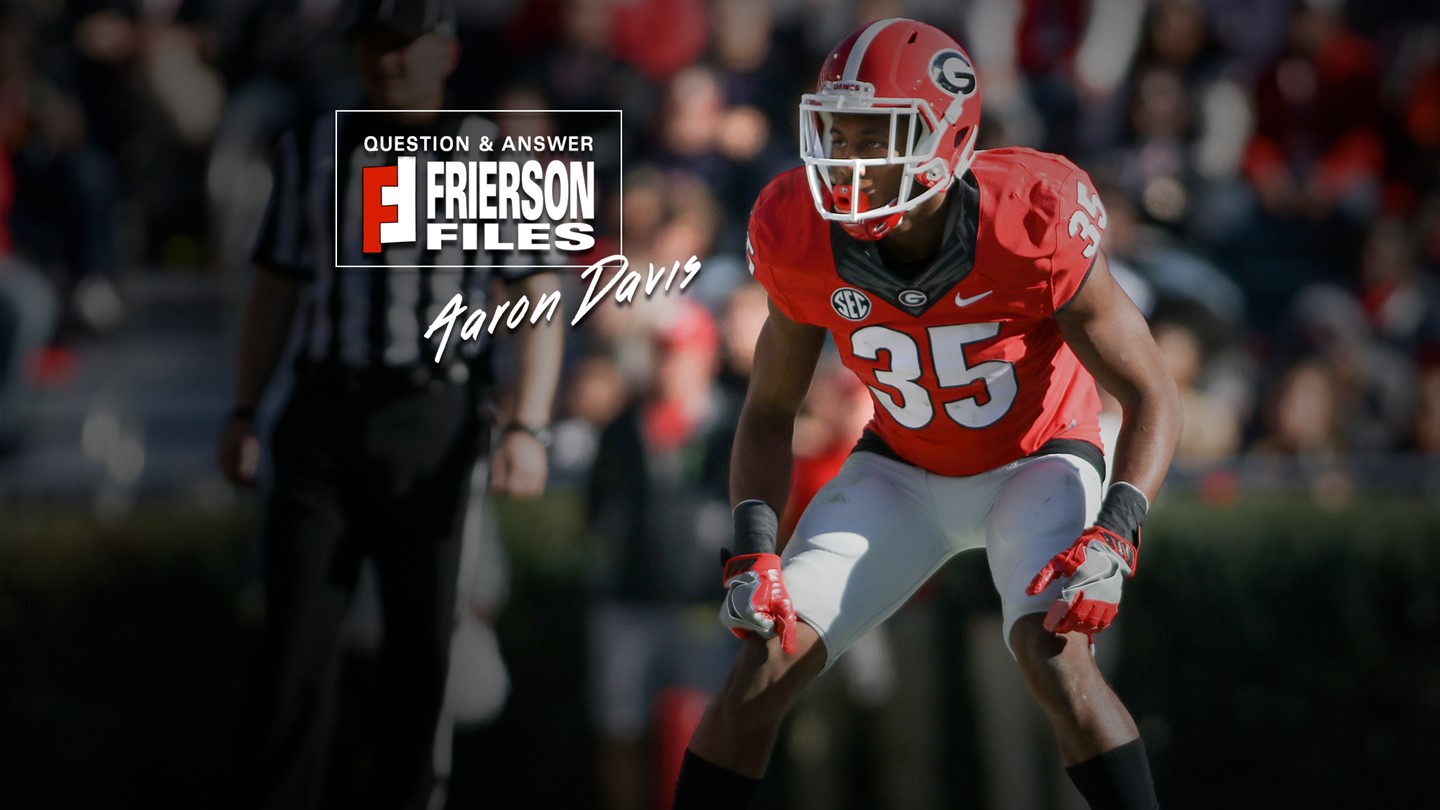 By John Frierson 
UGAAA Staff Writer
Aaron Davis is always an interesting interview, for the simple reason that he's a very thoughtful, curious person. We sat down for a fun Quick Chat almost a year ago to the day, which you can read here: http://gado.gs/7yj.
The fifth-year defensive back already has a finance degree and a few "entrepreneurial" ideas for the world of business once he's done with football — but he's understandably not going to give away any big ideas during a Quick Chat. We'll just have to wait and see what the future holds for him..
In the meantime, during our conversation Monday Davis did talk about his initial plans for college, his love of pizza, his desire to see Egypt and much more. Here's some of what he had to say:
Frierson: I remember you once telling me that when you came to Georgia, you came with the intention of being a surgeon. What led you in that direction?
Davis: A neurosurgeon. In high school I was taking some chemistry and biology classes and I really enjoyed those, and I would watch videos and things. I think when I had surgery on me knee, I started being fascinated with medical things, like surgeries, injuries and other medical phenomenon. I think that's where it stems from.
Frierson: What made you change your mind and major in finance? And where do you hope it takes you, once you're finished with football?
Davis: Biology 1107 — I walked out of that final exam not a happy man. It wasn't too bad, I just felt like it didn't interest me like I thought it would. I realized that whenever I did anything math-y, I felt a lot more interested and connected, so that's what led me to finance — finance is all about numbers, the numbers of the world, really, so who knows where that will take me. Hopefully something that I definitely enjoy.
I have some entrepreneurial ideas in my head, but I won't share them right now.
Frierson: Halloween's a few weeks away, so what's your favorite candy and did you have a  favorite costume as a kid?
Davis: Reese's peanut butter cup is definitely my favorite candy. After Halloween I look for those sales, to try to get as many as I can. And when I was young, it used to be me, my brother and my cousin, we were always the Power Rangers. We were the Power Rangers and that was probably my favorite costume.
Frierson: Which Power Ranger were you? I don't remember if they even had names but I remember that they wore different colors.
Davis: I'm pretty sure I was the red one. It's been a while, but I think my brother was white, I was red and my cousin may have been black or blue.
Frierson: What's the best live performance you've ever seen?
Davis: I don't really go to too many concerts or plays, unless I'm forced to for school, but probably it was when I redshirted here my freshman year and I went to the Georgia versus LSU game. That was an amazing game; we won, like, 44-41, and it went down to the wire.
Frierson: What food or dish could you eat every day and never, ever get tired of it?
Davis: Pizza — I'm an avid pizza fan. I don't know what it is about it, but pizza, I really like pizza. Whether it's just pepperoni or I try to fool myself and put some veggies on there, and say, "oh, yeah, I'm eating healthy; it's pizza but it has veggies on it."
Frierson: What's a food that could disappear from your plate forever and you'd be happy?
Davis: Mushrooms, man. I don't know, I can't deal with the texture or the taste. I'm not a mushroom fan at all.
Frierson: If you could go anywhere in the world and someone else was picking up the tab, where would you go?
Davis: I'd probably have to say Egypt. I really want to visit Egypt and see those pyramids and the Sphinx, and all the great treasures that they have out there.
Frierson: Based on that answer, I wonder, is there an area of interest which has changed dramatically during your time in college? Is there an area where your tastes have changed dramatically?
Davis: One would be food. Born and raised in Georgia, I grew up on Southern cooking — I've always been a fan of it. Since I've gotten to college, I've explored a lot of different foods, I've eaten a lot of different foods from different places, as far as going to authentic restaurants of different regions of the world. I've come to find out that I really like food from different places and I can eat other things besides just Southern cooking.
Frierson: What different types of things have you discovered you like? I know I really like Vietnamese, Thai …
Davis: Thai food is one of the best; Indian, Indian is great. I go to Taste of India downtown.
Frierson: Their garlic chilly naan is one of the best things in Athens.
Davis: I get the garlic naan, but I haven't had the chilly naan.
Frierson: What's the best present you've ever received?
Davis: How old was I? Maybe 9 or 10, and my parents got me and my brother these electric scooters for Christmas. We used to drive those things all over the neighborhood; we'd drive it till the battery ran dry and then we'd charge it up and we couldn't wait 30 minutes for it to charge, and then we'd be right back on it.
Frierson: As a follow-up, what's the best present you've ever given someone? When you knew you'd nailed it.
Davis: It was probably this past Mother's Day. I was trying to think of what I could get my mother and me and my brother came up with this idea that we would do this — normally she wears a lot of athletic gear and we'll get her some shoes or Nike clothes or something like that. This Mother's Day we went with something more sentimental.
I graduated in December and my brother graduated in the spring, so we got her a double-sided picture frame with my brother there and me on the other side, and she loved that.
(This Q&A was lightly edited for length and clarity.)
John Frierson is the staff writer for the UGA Athletic Association and curator of the ITA Men's Tennis Hall of Fame. You can find his work at: Frierson Files. He's also on Twitter:@FriersonFiles and @ITAHallofFame.