UGA Football: Run Game in High Gear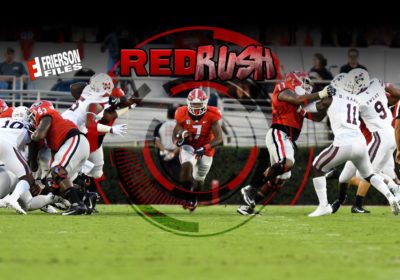 By John Frierson 
UGAAA Staff Writer
Few things in all of college football are performing as well at the moment as fourth-ranked Georgia's run game. The unbeaten Bulldogs have the past few weeks been chewing through defenses and amassing a lot of yards and touchdowns. It's not easy, what they're doing, not at all — but they're kind of making it look easy.
Teams, as they have for years and years, know Georgia (6-0, 3-0 SEC) wants to run the ball, that it's a priority, especially when you have a true freshman quarterback. And even though Jake Fromm has played well, every team the Bulldogs play is way more worried about Nick Chubb and Sony Micheland the damage Georgia can inflict on the ground.
Defenses may be focused on stopping Georgia's rushing attack, but actually stopping it, or even slowing it, is a very different thing. Some squads might contain the Bulldogs a little early, but a steady supply of quality run blocking (look at the size of the hole in the photo at the top of the page) and strong, agile running backs will eventually lead to good things.
"I think it's what they do in terms of wearing down the secondary guys," Georgia coach Kirby Smartsaid this week. "I think the game, you'll see it on film, they go in and in the first quarter, they're ready to go after it, and towards the fourth quarter, they're like, 'I don't know if I want to hit these guys anymore,' and that's a testament to what they do, and that's something we need to keep up, and not expect, but try to make happen every week."
After so-so rushing performances in the first two games — 221 yards on 44 carries in the opener against Appalachian State and 185 on 43 attempts in the nail-biter win at Notre Dame — Georgia has rushed for more than 200 yards in the past four games, and more than 280 in three of the four (284 on 54 runs against Samford; 294 on 55 runs at Tennessee and 444 yards on 54 runs at Vanderbilt).
The past four games, all blowout wins, also have produced 13 rushing touchdowns, including four two weeks ago at Tennessee and four last Saturday at Vanderbilt.
Georgia is second in the SEC and 11th in the nation in rushing, with 268.3 yards per game. As a team, the Bulldogs are averaging about 5.6 yards per carry — and that's with four straight blowout wins that have put a lot of starters, backs and blockers, on the sideline in the fourth quarter. Chubb leads the Dogs in rushing with 618 yards and eight touchdowns on 91 attempts and Michel has 406 yards and four scores on 59 attempts.
The two seniors have been stars their whole careers and they're certainly finishing strong, with Chubb averaging 6.8 yards per rush and Michel 6.9. Chubb's 103.0 yards per game is second in the SEC, but imagine what his numbers could be if he was needed late in games. In five of Georgia's six games, Notre Dame being the exception, both Chubb and Michel have a total of one carry each in the fourth quarter.
Also strong has been freshman D'Andre Swift (264 yards on 36 carries), whose yards-per-rush is a team-best 7.3. The Bulldogs also have been getting the ball to Elijah Holyfield (22 carries, 130 yards) and Brian Herrien (39 for 138) with some regularity. With such backfield depth, Smart said who plays when and how much is largely based on what's happening in the game.
"We are big on getting a back lathered up, getting him going and playing," he said. "Unfortunately, that does not get to include everybody unless you are in a special circumstance, which does not happen all the time. We want our best runners in there to run. We want our best protectors in there to protect. We want our best pass catchers in there to catch the passes. The best players are going to play to the point of exhaustion and then we we've got to be able to play other guys."
Chubb and Michel, smiling and laughing on the sidelines of recent blowouts, with neither carrying the ball more than 16 times in a game this season, haven't really had to approach exhaustion recently. That's a credit to them and a tremendous credit to Georgia's offensive line, which was a question mark coming into the season, and maybe after a game or two, but it has been very effective lately.
You don't rush for 444 yards at Vandy without a line dominating up front. With Isaiah Wynn locked in at left tackle, Kendall Baker at left guard, Lamont Gaillard at center and Andrew Thomas at right tackle — three have started every game and Baker the past five — and Solomon Kindley and Dyshon Sims having split the starts at right guard, the Bulldogs have played better up front week after week. Add in the blocking of a deep group of tight ends and you've got a bunch of guys capable of creating a lot of running lanes.
"It's blast when you make a pancake block and you look up and see Chubb taking it to the house," tight end Isaac Nauta said. "It's a really good feeling. It's a lot of fun when you put so much work in during the week and then you see it come to fruition on the field.
"Running the ball is a very rewarding deal, because you work so hard on it and it's so physical. When it breaks your way, it's a good feeling."
Georgia ranks 118th out of 129 teams in the FBS in passing offense with 145.7 yards per game, but that doesn't matter at all. When the Dogs have needed to make plays in the passing game, they've done so — just think back to the win at Notre Dame. There's been little volume in the pass attack, but Georgia does rank 22nd in passing yards per completion (14.10). And the potential for big plays in the passing game only increases as the run game continues to dominate.
The Bulldogs host Missouri (1-4, 0-3) on Saturday night at Sanford Stadium.
John Frierson is the staff writer for the UGA Athletic Association and curator of the ITA Men's Tennis Hall of Fame. You can find his work at: Frierson Files. He's also on Twitter:@FriersonFiles and @ITAHallofFame.