UGA Men's Basketball: Juwan Parker Can't Lose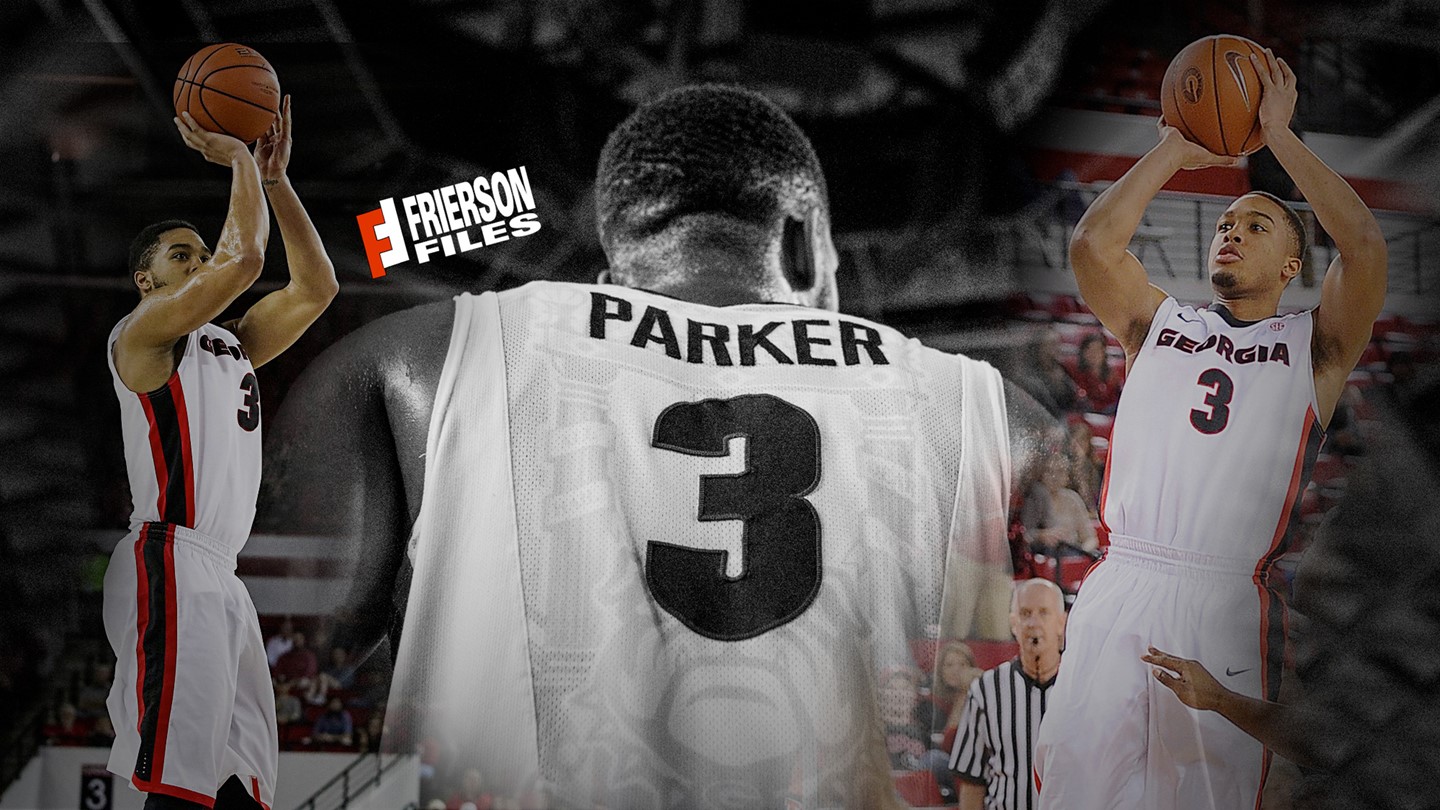 By John Frierson 
UGAAA Staff Writer
Juwan Parker draws a variety of descriptions when you ask his Georgia men's basketball teammates and friends about him.
"He's kind of like the older guy on the team, everybody looks up to him, respects him and he's a great guy to have on the team," junior guard Christian Harrison said.
"He's pretty goofy, actually," senior forward Pape Diatta said, with affection.
"I mean, he definitely studies when he has to, like when he has tests and exams and whatnot, but other than that he's playing video games," said Georgia track senior triple jumper Aliyah Johnson, Parker's fiancée.
It's easy to look at Parker's basketball career at Georgia and think about what might have been. Multiple Achilles injuries have caused the 6-foot-4 wing to miss one full season and parts of two others.
But don't think for a second that Parker's time at Georgia has been anything short of hyper-productive. There might not be a Bulldog student-athlete in history that's made more of his or her time in Athens.
Based on what he's done academically, Parker, from Tulsa, Okla., hardly seems like a guy that's had time for basketball, what with his nose surely in one book after another for the past four-plus years. The very notion of Parker doing nothing but studying prompted a smile from Johnson.
"He's a really laid back person, and he's not always very expressive of his goals, but if he has something in mind that he wants to do, he'll go about doing it without having to show or tell — I don't know anyone who has two-and-a-half degrees at this stage," said Johnson, from Brisbane, Australia. "He just achieves what he wants to achieve, and he's quiet about it."
"He's really mature in terms of knowing what he needs to do and getting it done, and then having time to just hang out," Diatta said.
After missing the 2015-16 season, Parker came back last season and started 31 games, averaging 9.3 points and 5.3 rebounds a game. His free-throw percentage for the season. 85.6 percent, was the sixth-best in school history.
Parker and the Bulldogs open their seasons Friday night against Bryant, at the newly renovated Stegeman Coliseum. It's the final stretch in Parker's phenomenal run at Georgia, some of which was actually planned, he said.
"When I got here I was planning on graduating in two-and-a-half, three years, originally, and with the redshirt and being here an extra year, it's afforded me the opportunity to get a Master's and start a second one," said Parker, whose father, Johnny, is a law professor at the University of Tulsa. "That wasn't planned, but the graduating early part was definitely planned."
Parker got his Bachelor's degree ages ago (December 2015), in Business Management, after arriving in Athens in the fall of 2013 with 18 credit hours already to his name, thanks to AP exams and dual-enrollment classes at Tulsa. He's already got a Master's in Sports Management and he's presently working on another, in Financial Planning.
He's said more than once that ideally he'd like to one day be a collegiate director of athletics, so ADs of the SEC and beyond better keep an eye on him. As Johnson said, and nobody knows him better, Parker "just achieves what he wants to achieve."
Parker said his work on his degrees has been important throughout his collegiate experience, but he also knew there's a lot more to college than just books.
"It's just balance," he said, "you've got to make time for other things. I've got to have a happy life outside of [basketball and school]. It doesn't make any sense to sit alone reading books all night, so you just find a way to make things work."
Johnson said one of the reasons she and Parker connect so well is their shared experience as student-athletes. Time demands, determination, competitive highs and lows — who can understand all that better than someone else going through the same things?
"He claims in high school that he was a high jumper," Johnson, a second-team All-American last spring, said, "and he claims that he could beat me in a sprint right now, but I've seen him run on the court and I don't know (laughs)."
Regardless of how Parker's final season with the Bulldogs goes, or any future footrace against his charming and super-athletic fiancée, he's won and won big at the University of Georgia. May the wins continue in the months and years to come.
John Frierson is the staff writer for the UGA Athletic Association and curator of the ITA Men's Tennis Hall of Fame. You can find his work at: Frierson Files. He's also on Twitter:@FriersonFiles and @ITAHallofFame.