UGA Football: Roquan Smith Leading in Multiple Ways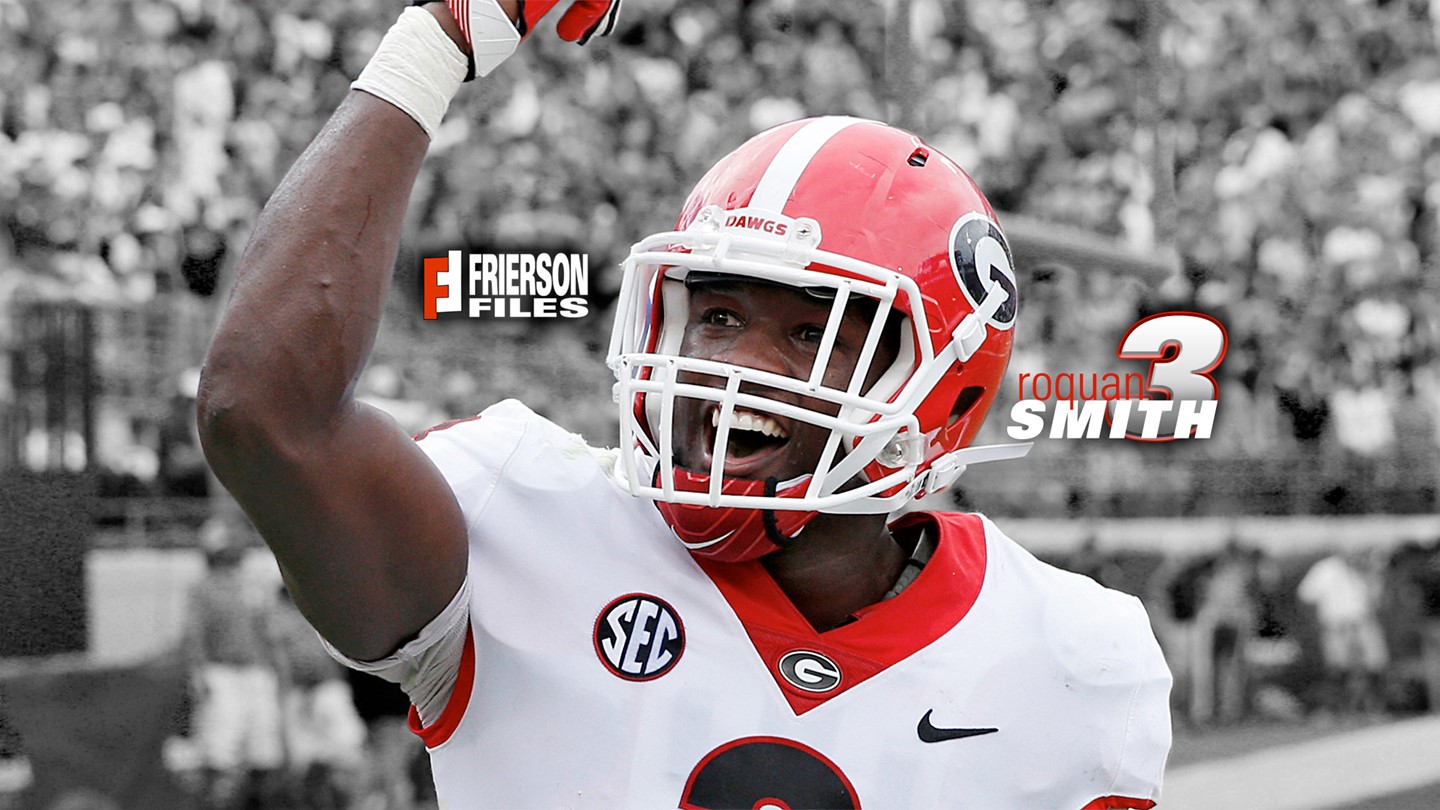 By John Frierson 
UGAAA Staff Writer
There are many reasons why Georgia's defense is enjoyable to watch. The Bulldogs play with energy and emotion, they play fast, and as their numbers reflect, they put guys on the ground quickly.
No single player reflects all of that better than junior linebacker Roquan Smith, who is leading Georgia in tackles for the second straight season. The Bulldogs (9-0. 6-0 SEC), No. 1 in the College Football Playoff rankings for the second week in a row, play at No. 10 Auburn on Saturday.
"During camp his freshman year he didn't know the playbook as well [as he does now], but he showed flashes of a whole bunch of athletic stuff he did, and I knew from there he was going to be a great player with his work ethic and his ability to learn and focus," senior linebacker Reggie Cartersaid. "He has speed, but Roquan is smart. He's a student of the game. People don't really know that, but he's a student of the game. He's always watching film, he's always asking questions to get better."
Smith is listed in the media guide at 6-foot-1 and 225 pounds, which is almost identical to what Georgia football (and track) legend Herschel Walker was listed at in the 1982 track and field media guide (6-1, 222). They are built very much alike and while Smith might not quite have Walker-level speed — Walker was an All-American in track, after all — Smith goes from sideline to sideline about as quickly as anyone in college football.
"He's quick and he's fast and he's able to get the job done," senior defensive back Aaron Davis said.
You'll hear Smith's name and the word "fast" together an awful lot. You'll also hear "smart" or "inquisitive" to describe him, both on and off the field.
"On the field, he's definitely about business, he's very physical and he's very fast," senior left tackle Isaiah Wynn said. "Off the field, he's just a great all-around guy. He's one of those guys that outside of football you would want to be around him, just because of the vibe he gives off.
"He's always speaking to somebody — we may be walking on campus and somebody who I least suspect him to know, he'll stop and have a whole conversation with them. He's just a great guy."
Georgia coach Kirby Smart was asked for one or two areas in which the typically soft-spoken Smith has noticeably improved this season. Smart's response didn't include anything about his speed or tackling technique.
"'I would say his understanding of the defense is much [greater], but his leadership is even greater than that," Smart said. "He has not been afraid to speak when he felt strongly about something, and I think that's a rare trait in a junior. He's not worried about what other people think about him, and that's what leaders have to be. He's been that."
As a freshman in 2015, Smith played as a backup in 12 games, making 20 tackles. The former four-star prospect from little Montezuma, Ga. — population around 3,400, according to Wikipedia — played behind a bunch of veterans that season and learned a lot, particularly, he said during SEC Media Days, starter Jake Ganus.
What he learned he put into practice as a sophomore, starting with the opening game against North Carolina. In the opener, his first career start, he set a new career high with six tackles. He kept resetting that mark during the season and had 13 in the Bulldogs' final two games.
"I think I can only go up from here, definitely," Smith said during SEC Media Days, when asked about improving on a great sophomore season.
Smith finished with 95 tackles, 36 more than anyone else on the team. Through nine games this fall, Smith has 70 stops — 23 more than any other Bulldog on a defense that ranks No. 4 nationally in total defense (254.1 yards per game) and No. 3 in scoring defense (11.7 points per game).
Despite getting to sit out quite a few fourth quarters during Georgia's many blowout wins this season, Smith is averaging 7.8 tackles per game, which is slightly above his 7.3 average last season when every Bulldog game seemed to come down to the wire.
Smith was named a midseason All-American by multiple outlets — the only Georgia player to make any of their lists — and he and senior Lorenzo Carter two weeks ago were among the 15 semifinalists for the Butkus Award, which goes to the nation's top linebacker.
With his speed and size, it doesn't take a lot of imagination to picture Smith as a devastating tailback in high school. He said he played it some, but it wasn't for him. He liked delivering the hits much more than receiving them.
Smith said he takes "great pride" in beating the opposing ball-carrier to the edge on runs out wide. On how much of his success is based on physical gifts, great instincts and intent film study for his inquisitive mind, he said it was very much a mix of all three.
"I have a lot of God-given ability, but I feel like I have a lot of instincts, as well," he said. "I actually watch a lot of film, with the help of the coaches and whatnot and they help me prepare and set up a nice game plan for us and the defense. I credit those guys a lot, as well."
A triple threat, Smith is the Bulldogs' leading tackler and a leader with his words and actions.
John Frierson is the staff writer for the UGA Athletic Association and curator of the ITA Men's Tennis Hall of Fame. You can find his work at: Frierson Files. He's also on Twitter:@FriersonFiles and @ITAHallofFame.