UGA Men's Basketball: Dawgs Continue Homestand Against USC Upstate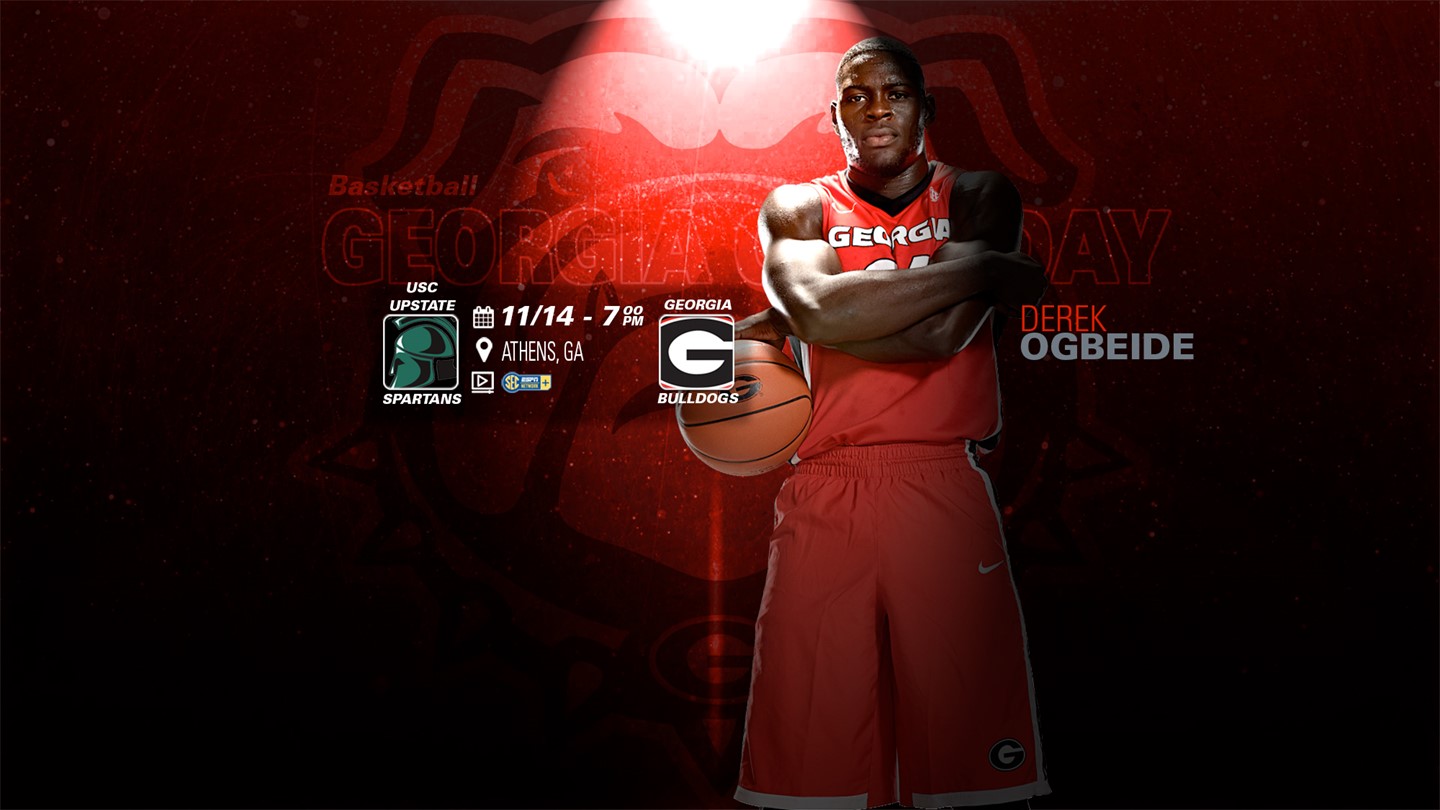 Georgia Basketball Game Notes
Georgia Bulldogs (1-0) vs. USC Upstate Spartans (1-1)
Tuesday, November 14, 2017 at 7:00 p.m. ET
Stegeman Coliseum (10,523) in Athens, Ga.
Radio: Georgia Bulldog Sports Network. Flagship: AM 750 (Atlanta); (Scott Howard, play-by-play; Chuck Dowdle, analyst; Tony Schiavone, producer)
Video: SEC Network+ (Jeff Dantzler, play-by-play; Jarvis Hayes, analyst)
USC Upstate Spartans
Coach: Kyle Pery
1-1 in 1st season at USCU
1-1 in 1st season overall
Pos
No.
Name
PPG
RPG
G
1
Mike Cunningham
12.5
2.5
6-0; 185; R-Jr.; Washington, D.C.
G
3
Jure Span
18.0
4.0
6-4; 175; Jr.; Litija, Slovenia
F
4
Ramel Thompkis
9.0
11.0
6-7; 202; Sr.; Vidalia, Ga.
F
0
Malik Moore
20.5
7.0
6-6; 190; Jr.; Asheville, N.C.
F
13
Carson Smith
5.0
4.0
6-6; 194; Sr.; Fort Mill, S.C.
The Starting 5…
Yante Maten was ranked as one of the nation's top-25 players by CBS (22), ESPN (23) and NBC (24).
Juwan Parker is the only active D-I MBB player who has already earned a master's degree.
Rayshaun Hammonds became the first UGA freshman to start an opener since KCP in '12.
Mark & Cindy Fox will donate $1 to charity for every fan at UGA's 3 Nov. home dates.
Stegeman Coliseum underwent $8 million in renovations during the summer.
Bulldogs Continue Homestand Against USC Upstate
Georgia hosts the USC Upstate Spartans on Tuesday night at 7:00 p.m. in the middle outing of a three-game, 10-day homestand to open the 2017-18 season.
Last Friday, the Bulldogs built a 40-17 halftime lead and cruised to a 79-54 victory over Bryant. On Sunday, Georgia hosts Texas A&M-Corpus Christi before embarking on a road trip to compete in the Wooden Legacy in Fullerton, Calif., over Thanksgiving.
Yante Maten led the Bulldogs with 21 points and 12 rebounds versus Bryant. That represented the SEC Preseason Player of the Year's 63rd double-digit scoring output, 18th double-figure rebound count and 17th double-double in his Georgia career.
Rayshaun Hammonds celebrated his birthday by becoming the first Bulldog freshman to start a season opener since Kentavious Caldwell-Pope in 2011 and then went on to post 17 points (on 7-of-9 FG shooting) and seven rebounds in his UGA debut.
Turtle Jackson rounded out the double-figure scorers with a career-high 11 points.
USC Upstate arrives in Athens with a 1-1 record. The Spartans dropped a 92-77 decision at No. 15 Minnesota last Friday but bounced back to top Allen, 85-66, on Sunday.
Malik Moore leads four Spartans averaging 10-plus points at 21.5 ppg, while Jure Span adds 18.0 ppg, Mike Cunningham chips in 13.0 ppg and Deion Holmes contributes 10.5 ppg. Ramel Thompkins is posting just under a double-double at 9.0 ppg and 11.0 rpg.
Keeping An Eye On…
Entering the 2017-18 season, among UGA's career Leaders
Yante Maten is…
3 points from No. 21 Charles Claxton
53 points from No. 20 Kenny Gaines
15 rebounds from No. 15 Ray Jeffords
2 FTs from No. 8 Bob Lienhard
5 FTs from No. 7 Sundiata Gaines
13 FTs from No. 6 Jimmy Pitts
27 FTAs from No. 12 Terry Fair
15 blocks from No. 3 Terrell Bell
Series History With Upstate
Georgia won the only previous meeting between the Bulldogs and the Spartans, 72-48, in the season opener for the 2008-09 campaign on Nov. 14, 2008.
Travis Leslie and Zac Swansey both scored 11 points and Ricky McPhee and Terrance Woodbury added 10 points apiece to lead a balanced Bulldog offensive attack.
A 15-2 run midway through the opening period supplied Georgia with a 24-12 lead, and the Bulldogs led by double digits for the final 14:14 of the contest. The final score also was Georgia's largest lead, 24 points.
Last Time Out…
Yante Maten's opened his senior season with a double-double and Rayshaun Hammonds scored 17 points in his collegiate debut to lead Georgia in a 79-54 victory over Bryant last Friday night.
Maten posted 21 points, his 23rd 20-point outing in his career with the Bulldogs, and grabbed 12 boards. Hammonds' output was the most by a Georgia freshman in an opener in a decade and one day, since Jeremy Price scored 18 points against Jacksonville State on Nov. 9, 2007.
"It always feels great to start the season with a win," Mark Fox said, "And we had a terrific turnout from our fans. There was a lot of energy in the building, and I think that really showed in our defense. There was a lot to be pleased with, but also a lot to correct. Overall it was a great first game for us."
A crowd of 7,387 was in attendance, the largest for a season opener since 7,446 came to the aforementioned contest against Jacksonville State in 2007.
Ratin' Maten A Popular Task
Preseason recognition was consistent and plentiful for Yante Maten.
Maten was ranked as one of the nation's top-25 players by three different online ledgers. CBSsports.com put him at No. 22, ESPN.com listed him at No. 23 and NBCsports.com tabbed him at No. 24 .
Maten was tabbed the preseason SEC Player of the Year by the Blue Ribbon College Basketball Yearbook and a panel of SEC and national media. The media poll named Maten, Texas A&M's Robert Williams and Missouri's Michael Porter, Jr. as co-players of the year.
Maten was included on various watch lists. Most notably, he was featured on ledgers for both the Oscar Robertson Trophy and the Naismith Trophy for the National Player of the Year. Maten also was on the list for the Karl Malone Power Forward of the Year Award and the Lute Olson Award, which is awarded to the nation's top Division I player who has played at least two seasons.
He also received preseason All-America recognition. Jay Bilas, in an obvious plot to prove he's the wisest college hoops analyst in the nation, included Maten on his first-team All-America ledger. Among others, Maten also earned All-America props from the Blue Ribbon Yearbook (third team), www.collegesportsmadness.com (fourth team) and NBCsports.com (honorable mention).
Hammonds Gets Nod For Opener
Rayshaun Hammonds became the first Bulldog freshman to start a season opener since Kentavious Caldwell-Pope.
Hammonds was expected to do so after he started both of Georgia's preseason exhibitions, including a double-double of 17 points and 11 rebounds versus Valdosta State.
Hammonds enjoyed an impressive debut. He scored 17 points on 7-of-9 shooting from the floor and grabbed seven rebounds. FYI, Caldwell-Pope, who signed an $18-million contract to play for the Lakers this season, put up a game-high 15 points to lead Georgia in a 62-49 win over Wofford on Nov. 11, 2011.
While Hammonds became the first freshman to start an opener in six years, freshman starters is nothing new for Georgia during Mark Fox's tenure.
Six members of the Bulldogs' 10 returning letterwinners this season also started as freshmen – seniors Yante Maten and Juwan Parker, juniors Mike Edwards and Derek Ogbeide and sophomores Tyree Crump and Jordan Harris.
Foxes Donating From Nov. Games
Head coach Mark Fox and his wife Cindy are donating $1 to charity for every fan who attends the Bulldogs' three November home games. The amount will be split equally between the Boys and Girls Club of Athens and the Clarke County Mentor Program.
Fox announced their effort in an Oct. 12 tweet (to the right) and was later asked about his decision to make the donations.
"I just think that no matter where you turn somebody's complaining about something," he said. "I meant what I said. People in positions like I have, we have an obligation to try and make things better. We're fortunate to have great opportunities to impact the world and we should do that, we should try to do that. I think we have too many people complaining and not enough people trying to make a difference, if you want my honest opinion."
Cindy Fox is on the board for Clarke Mentors, which recruits community volunteers to mentor children who attend the Clarke County School District. Derrick Floyd, director of operations for the Athens Boys and Girls Club, was a letterwinner for the Bulldogs from 1980-83 and today serves as the official scorer for Georgia basketball games and the SEC Tourney.
"Those groups are working to try and make the next generation better and to make society better," Mark Fox said. "If we can give them a little help, that's great."
Georgia's crowd of 7,387 for the season opener against Bryant – the Bulldogs' biggest attendance figure for a season opener in a decade – means the Foxes have already pledged $3693.50 to each organization with two more games to go.
Bulldogs Flip Popular Script, Move To Four-Forward Lineup
Four-guard lineups are a relatively common fixture in college basketball. To start the season, Georgia is utilizing a four-forward starting quintet.
Point guard William "Turtle" Jackson is the only starter from the season opener against Bryant with a "G" featured by his name on the Bulldogs' roster.
In addition, Georgia started the opener with 6-6 E'Torrion Wilridge at the '2,' 6-8 Rayshaun Hammondsat the '3,' 6-8 Yante Maten at the '4' and 6-8 Derek Ogbeide at the '5.'
The athleticism of Wilridge and Hammonds allows them to handle the defensive challenges of guarding guards – not to mention their shooting range and passing abilities.
"I really think the way we flew around defensively was exactly what we needed to see, and I was very pleased," Mark Fox said.
Freshman Birthday Bonanza
Three-fourths of Georgia's freshman class will celebrate birthdays during the first dozen days of the season.
On Nov. 10, Rayshaun Hammonds not only played in his collegiate debut, he also celebrated his 19th birthday. Isaac Kante's birthday is Nov. 15, while Teshaun Hightower's is Nov. 21.
Hopefully, all four of Georgia's freshmen will enjoy in-season birthdays. Nicolas Claxton, the fourth member of Georgia's freshman quartet, has a March 17 birthday.
Maten Big-Time Vs. Top-10 Foes
Yante Maten poured in 33 points in an Oct. 29 exhibition game against No. 2 Michigan State. While those numbers won't count, that would have equaled his career-high scoring output established against Belmont in the opening round of the 2016 NIT.
Maten has displayed a knack for playing extremely well against top-ranked opponents throughout his career in Athens.
All told, Maten has averaged 17.8 ppg and 7.2 rpg in five "games" versus top-10 opponents while at Georgia. In those contests, he has connected on 61.2 percent of his shots from the floor and converted on 76.5 percent of his trips to the line.
A year ago, he poured in 30 points and grabbed 13 boards against No. 5 Kansas in the championship game of the CBE Hall of Fame Classic in Kansas City.
In three outings against top-10 foes his freshman year – one versus No. 10 Gonzaga and two against No. 1 Kentucky in the regular season – Maten was a combined 10-of-17 (58.8) from the field and 6-of-9 (66.7) at the charity stripe.
Bulldogs Are HomeGrown
More than half of Georgia's ros­ter – eight of 15 Bulldogs to be exact – played high school hoops in the Peach State. That list features Tyree Crump (Bainbridge High School), Rayshaun Hammonds(Norcross High School), Jordan Harriss (Seminole County High School), Christian Harri­son (Woodward Academy), Teshaun Hightower (Collins Hills High School), "Turtle" Jack­son (Athens Christian), Connor O'Neill (Blessed Trinity School) and Derek Ogbeide (Pebblebrook High School).
SEC Hoops Moving Forward
SEC Basketball enters the 2017-18 season attempting to continue its upwardly trending national reputation.
The SEC received five bids of any conference to the 2017 NCAA Tournament, the fifth-most of any conference. The league then proceeded to tie the ACC (which had nine NCAA teams) for the most wins during "March Madness" with 11.
Three league schools reached the "Elite Eight," including an All-SEC East Regional final between South Carolina and Florida.
Homecoming With A Cause
Georgia's October 29 exhibition game against Michigan State was a homecoming for Yante Matenand Mike Edwards. The Spartans topped the Bulldogs 80-68, but the real winner was the Red Cross.
While Michigan State hosted the game, the two teams split the proceeds evenly to donate to their charities of choice – Georgia to the American Red Cross of Georgia and Michigan to the Red Cross – International Services.
"When you do something for a cause greater than yourself, you need help to really make an impact, and this couldn't have happened without Michigan State University and the great support that their fan base and the city of Grand Rapids provided," Mark Fox said. "I thank you from the bottom of our hearts from the Deep South."
The contest came together in less than a week when the NCAA approved a waiver to allow teams to play a charitable exhibition.
A pregame presentation included a check for $339,447 for Hurricane Irma relief efforts by the Red Cross in front of a sold-out crowd of 10,699 at Van Andel Arena in Grand Rapids. That amount eventual grew slightly to $368,111.61, and Georgia held a second presentation for its proceeds at the season opener against Bryant.
Maten was the 2014 Gatorade Player of the Year at Bloomfield Hills High School. He averaged 19.8 ppg and 15.2 rpg in leading the Black Hawks to a runner-up finish in the Michigan A state tournament in the school's first year of existence. BHHS was formed by the merger of Lahser High, which Maten attended for three years, with Andover High.
Edwards was named captain of the Detroit Free Press' Class A All-State team in 2015 after averaging 18.8 ppg and 10.3 rpg as a senior at John Glenn High School.
Strong Ties To The Spartans
Yante Maten and Mike Edwards both have strong family ties to Michigan State.
Maten's mom, Toiya, is a State alum, as are both of Edwards' parents, Michael Edwards and Jill Edwards. Edwards' dad was a defensive end for MSU from 1990-92 and tied for team-high sack honors in 1992.
In addition, Matt Bucklin, Georgia's operations coordinator, is the nephew of Michigan State head coach Tom Izzo. As a matter of fact, Mark Fox jokingly gave Bucklin's mother, Mary, credit for getting the exhibition between and UGA and MSU done.
"We knew if we were going to do this we would have to play on the road," Fox said on the Wednesday before the game. "But if we were going to play on the road, we wanted to make sure it would be a game that would really challenge us and give us a great measuring stick. Coach Izzo's nephew is on our staff and Coach Izzo's sister probably deserves the most credit for putting this together."
Dogs Debut Renewed Stegeman
Stegeman has undergone thorough renovations in the last few years, receiving a 21st Century face lift of at a cost of more than $20-million.
This summer, the arena received a massive center-hung scoreboard, new black seats, an improved LED lighting system, a state-of-the-art sound system and graphics above the horseshoe end celebrating past teams and retired jerseys. All told, the Coliseum went from having roughly 1,000-square feet of HD/LED signage to more than 4,000-square feet as broken out below.
The renovations in 2017 followed work in the summer of 2016 which provided a dramatic mural covering the Coliseum's distinctive end wall.
"Obviously, we're extremely excited about Stegeman not only for our fans, but also for our players," head coach Mark Fox said. "This is going to have a tremendous impact on our program and our university. It's beautiful inside. It's very well done. I have to compliment the architects and the construction companies. They did a terrific job. I think it will change the energy in the building because we have more tools to create atmosphere. I was in there with Dominique Wilkins and his statement was pretty good. This is now an arena, and it feels like an arena."
In 2010, Stegeman's concourses received a similar makeover, upgrading the graphics, enhancing spectator access to concessions and restrooms and adding 5,000-square feet of concourse space on each side of the arena. That work won awards from the American Institute of Architects and the Illuminating Engineering Society of North America.
Center-hung scoreboard
1008 square feet of HD video
1054 square feet of LED sections
Additional LED features
800 square feet on 3 ribbon boards
500 square feet over the 12 entry portals
50 square feet over 2 tunnels
375 square feet on 1 auxiliary board
Additional HD video
275 square feet on pre-existing board