UGA Football: Wims Soaring in Senior Season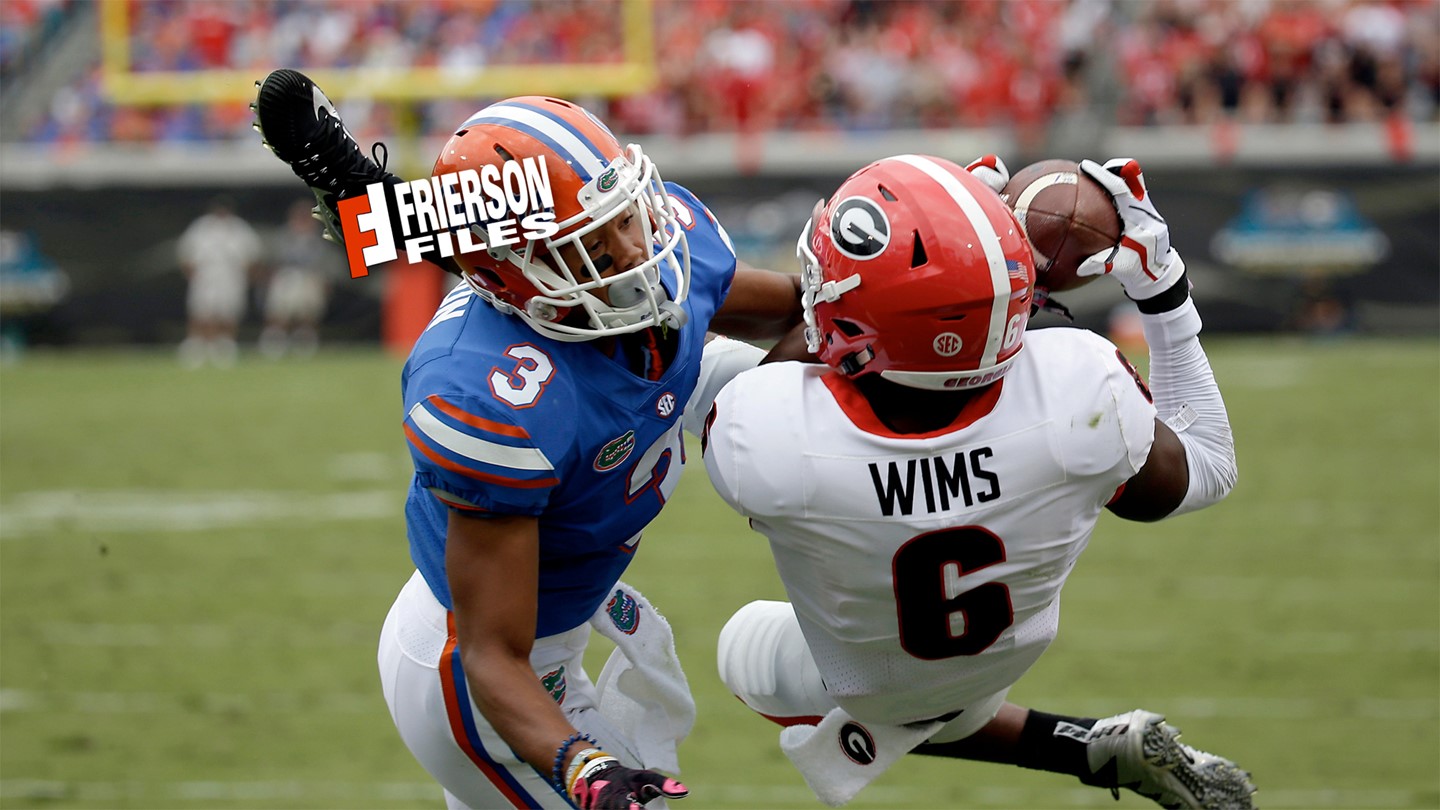 By John Frierson 
UGAAA Staff Writer
Is there a Georgia football player whose made more of a leap this season than wide receiver Javon Wims' has?
Last fall, in his first season with the Bulldogs after transferring from Hinds (Miss.) Community College, the big and sturdy (6-foot-4, 215 pounds) wide receiver caught 17 passes for 190 yards and a touchdown — and that touchdown didn't come until the Liberty Bowl.
Wims was a complementary wideout for most of last season, though he did have a huge game at Kentucky, catching five passes for 90 yards, including a 51-yarder and two critical receptions on Georgia's game-winning drive in the closing minutes.
Complementary a year ago has become indispensable this fall. Wims has a team-high 27 receptions going into Saturday's home finale against Kentucky, for 471 yards — a stout 17.4 yards-per-catch average — and four touchdowns.
"I think he's improved probably immensely at attacking the ball and not letting the ball get into his body," coach Kirby Smart said. "He's really become a hands receiver, which is what you want. He does a good job in the 50-50 ball.  He reacts, responds, snatches. Through a lot of the drills that Coach [James] Coley does with him he's been able to do that. "
In fact, the 50-50 ball may be Wims' specialty. Not that it's really 50-50 when you have a player of Wims' size and athleticism, a player that started playing basketball at age 7.
"When the ball's in the air just treat it like a rebound or an [alley-oop], just got to go attack it," Wims said.
Lining up on the left side and getting a back-shoulder pass from quarterback Jake Fromm has been an effective play throughout the season. Of Wims' big catches, and there have been a lot of them, most have come that way.
"During practice we have a section where we do one-on-ones with the [defensive backs]," Wims said. "We work fade catches against the DBs and get the real-life action, so we have the good timing down."
"That's been a big help for us because you take some of those 50-50 balls out of these games and there are some tight ball games that he's been able to win for us," Smart said. "We need some more of that."
Everyone will long remember Terry Godwin's remarkable one-handed touchdown catch in the right corner of the end zone against Notre Dame. It was among the best catches of the year in college football and it tied a tight game 10-10 in the second quarter.
In the fourth quarter, with the Bulldogs down 19-17, Fromm lofted a pass up the left side that Wims went up and grabbed over a defender for a 31-yard gain down to the Irish 17-yard line. A few plays later, Rodrigo Blankenship booted the game-winning 30-yard field goal for the victory.
That was maybe Wims' biggest catch in a season full of them — not that he has a favorite, he said.
"Whichever is the last one," he said, when asked about the best catch he's made this fall.
Wims and Fromm have only worked together since last spring, but it's clear that they have good chemistry and timing.
"It feels good for him to trust me like that and just throw the ball up there knowing I'm going to make the play — even when I'm not looking sometimes," Wims said.
Wims began his collegiate career at little Belhaven University, an NAIA school, then moved on to Hinds Community College before signing with the Bulldogs. On Saturday, he'll be one of 31 seniors recognized before the game.
"I came in last year, my first year, and they just embraced me and treated me as if I'm one of them," he said of his fellow seniors. "That meant so much to me — we're brothers."
Brothers still with so very much to play for, and hopefully there will be a few more big Wims catches to help them get there.
If you missed Wims' Quick Chat earlier this season, you can read it here: http://georgiadogs.com/news/2017/9/14/football-quick-chat-javon-wims.aspx.
John Frierson is the staff writer for the UGA Athletic Association and curator of the ITA Men's Tennis Hall of Fame. You can find his work at: Frierson Files. He's also on Twitter:@FriersonFiles and @ITAHallofFame.