UGA Football: SEC Championship Teleconference Transcripts – Kirby Smart and Gus Malzahn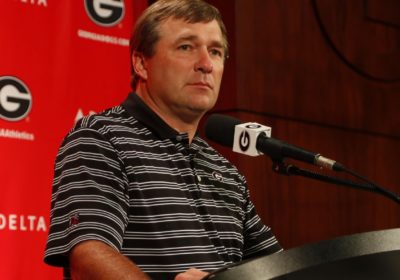 CHUCK DUNLAP: Good afternoon, everyone. Welcome to SEC Championship week. Today we'll have each coach participating in the game, Coach Smart and Coach Malzahn, with us for 30 minutes each.
With that, I believe we have Coach Smart on the line already. Coach, good afternoon. Thank you for being with us. Congratulations for officially making the game and being in championship week. Before we take questions, would you mind just discussing your season and your team as you enter the championship game in Atlanta.
KIRBY SMART: We've got a great group of seniors who have done a good job of setting the sail in the right direction. It's been a very eventful year. We're excited to get to play in what I consider to be one of the greatest venues and greatest games in all of college football. It's obviously had a lot of impact through the years on the playoff system and the BCS system. I think it's a great environment, very special, and we get the privilege of playing what I think is one of the hottest teams in college football right now in Auburn.
Gus has done a tremendous job regrouping his team and coming back after some early and midseason losses, and they're playing really, really well and beat a really good Alabama team yesterday afternoon.
Q. Kirby, I was wondering, what are the challenges or even the advantages of playing a team twice in one season? In this case, especially, in four weeks.
KIRBY SMART: I really don't see it as a challenge or an advantage for either team. We obviously know each other pretty well because we play each other every year anyway with them being a crossover rival. So just two times in one year is unique, but it's not really a challenge or an advantage in any way.
I think both teams just know each other, and a lot of carryover on both staffs, a lot of talented players on both teams. So I'm not sure that it really presents any advantages or disadvantages.
Q. I was interested in reading a couple of weeks ago how close you were possibly to going to Auburn, to taking that as your first head coaching job. Can you just bring us up to date a little bit on that. Do you ever give yourself pause to think of what if things had turned out differently? I'm sure you're happy with how things have turned out.
KIRBY SMART: Not really. I haven't thought about it that much. In the profession we're in, you worry about the here and now, and you try to be where your feet are. That's really all we've been thinking about since the arrival here is turn this program into the caliber program we think it should be and developing our team and these young men into better people. That's been the goal. So all the other stuff is really in the past.
Q. Were there some other times that you were close to a job?
KIRBY SMART: Yeah, there's been several other times close to a job, but I don't think — that's not really the important thing right now. It's getting this team ready to play what I consider to be a really good football team.
Q. If I can delve into the rematch thing really quick again, what do you remember about 2011 when you all played LSU again? Was there anything unique about that? I guess it was about a couple months difference rather than a few weeks here.
KIRBY SMART: The biggest difference was how far apart the games were. They were a big difference because we had that entire prep time. In this situation, you've got a game week, so it's really four or five days of prep, and you've got to go play. That was a month of preparing, it seemed, maybe even more than a month, that we knew we were going to play and still had to prepare. So it made it a little different in that regard. You had more time to do things and try to get things different. I don't think you can reinvent the wheel in a week. Really hard to do.
Q. You said in the Auburn game you weren't as good as tackling as you wanted. How do you see the Tech game? Maybe a little better tackling in this game yesterday? And I'd also like to ask you about playing inside the Dome, Mercedes Benz. I know you played in the Dome with North Carolina. How much does that help these guys? And the other ones, though, just have to rely on the practice they're going to get in there before the game.
KIRBY SMART: Yeah, that practice before the game won't help a whole lot because it's just really a walk-through and you kind of get to see the place. Yeah, I think the experience in the Georgia Dome in the North Carolina game was great. I think that was good for our kids, and some of them will benefit from that.
Ultimately, it's not really about where we're playing, it's about who we're playing and preparing the right way. We're just really worried about today right now and focusing on the things we've got to do today to get prepared.
As far as the tackling, there were less space tackles. There was a lot of sideline — it's just different when you play Georgia Tech. It's really hard to compare the tackling. I know for you guys a tackle's a tackle. But really for us, it's different because those kids are getting the ball either in a scrum, or they're getting it out on the perimeter right on the sideline. So it's just hard to measure that. We did tackle better yesterday, I agree with that, but they were not put in a lot of loose play situations that typically happen when you play a spread offense.
Q. Kind of out of curiosity without revealing too much, as far as film prep with this thing, do you look at the first meeting between you guys? Do you study 'Bama? Now that you already played them once, do you look at anything that happened before the first time you played them?
KIRBY SMART: Yeah, we have a breakdown system we use. We have a lot of games in it. We always do. We carry seven, eight games in a breakdown. We had that many the last time we played them. We'll have that many this time we play them.
Just over the history that, obviously, I have and the coaches on the staff have with Auburn — because a lot of our coaches have competed against Auburn in different places — we have a lot of information. That's not really what this game is going to come down to. It's going to come down to flat back, hat speed, playing physical, who can get all the blocks, and who can tackle. That's what football usually comes down to.
The breakdown information will be there, but they're going to run the plays they always run. Gus always has, and they're pretty good at it. We've got to run the defenses we run, and we've got to run the offense we run. At the end of the day, it will be a lot more about how the kids perform on the grass.
Q. As someone who has faced Auburn every year for a long time, I know they've had some unbelievable offenses and some Heisman Trophy winners and all that stuff, but if you look at offense, defense, and special teams, is this front to back the most sound Auburn team you've seen? Or how would you compare that to the others you've faced?
KIRBY SMART: They're really good. They're really good. When you've got a quarterback that's as smart as theirs, throws the ball with ease, very efficient in the passing game. They've got some really good weapons out there with their wideout, and obviously they've got one of the most physical offensive lines. I think they're playing at a really high rate right now on both sides of the ball and special teams.
So it would be right up there with one of the best Auburn teams that I've seen.
Q. Hey, Coach, you talked after the game at Auburn about the way they controlled both lines of scrimmage. What's going to be the challenge when it comes to shaking the memory of that in order to execute the way you're going to need to on Saturday?
KIRBY SMART: Well, I think the biggest thing is just being honest. I mean, you don't shake a memory. You put it in their face, and you challenge people. You play more physical. Strike people to get off blocks. If you're on offense, you've got to strike people to stay on blocks. Fundamentally we've got to play better than we played last time. And obviously, we've got to play with more discipline and composure to avoid the knucklehead decisions we had in the game.
You can't give good teams things. If you give them things, it makes it twice as hard. They're already good enough and talented enough that you don't have to give them anything. They can earn a lot, but you can't give them things on top of it. The physicality will be really important in this game.
Q. What's the biggest way your postseason experience and that of your assistants can help your team in a game like this?
KIRBY SMART: Just making sure the kids understand, trust, and believe in the process that we go through this week, that it's not larger than life. It's the next game. And each one of these games they've been playing have been really important, and this just happens to be the next one. So I think leaning on the fact that we've played in a lot of these tight games, you've got to lean on that, and the kids have got to be confident with it.
Q. To dovetail off the film prep and watching the loss at Auburn, do you have to almost make sure to remind yourself that for nine weeks you didn't play that way and you can almost overanalyze a game like that in this type of week preparation?
KIRBY SMART: Not really. I mean, it is what it is. Those were the match-ups that day. Those other nine weeks were different match-ups. It was a different kid on a different kid. For that day, that's the match-up we had. For whatever reason, whether it was they had a better match-up or they were more physical, that's what it was. It is what it is.
We've got to go out and try to change that by how we play and try to change, whether it's a match-up, or give ourselves our best chance to be successful and go out and execute and fundamentally play better. That's the number one thing you can do better is make better decisions on offense and tackle better on defense and play better on special teams.
Q. Coach, I'm assuming you've had a chance to meet with your players since you guys found out you're going to be facing Auburn. Was there any reaction from them of getting their second shot at them, or was it just business as usual?
KIRBY SMART: No, we don't meet with the players on Sunday. That's our players' day off. So it's not something we go in and meet with them or talk about. We visit with them on Monday. Obviously, they all know. I mean, we all know. But by the time we got back, that game was not decided yet.
Q. And then a followup to that, when you knew the two deep in the roster you're going to have coming out of camp, could you have envisioned that this outcome to this point of the season was possible?
KIRBY SMART: Yeah. I felt like we had a good two deep and we had a good team. Certainly, I thought that there would be more close calls, more tight ball games based on the year before, but I certainly envisioned that we could do this and that we had good enough players to do it. They all had to play good. They had to play better on special teams. We had to improve in a lot of places. I think we've done that to put ourselves kind of in the situation we're in.
Q. Hey, Coach, this is one of the reasons that Georgia fans wanted to make the change and bring you in was to get to this game. Do you feel that you're on track, or are you a little ahead of track on bringing the process that you learned at Alabama over here to Athens?
KIRBY SMART: Yeah, there's no track. Each team is independent of the previous one. Everyone wants to put a model up there of your one year, two year, three year. Every year is different. If you get complacent, then you can get yourself in trouble. It's a cutthroat league in the SEC, and you'd better be on top of it recruiting, on top of it developing your players, on top of it with your facilities at every moment. That's something that we're constantly working at.
We want to improve in every way the way we coach our players, the way we develop our players, the way we recruit our players. We want to improve in every way to give us the most chances to be successful.
But as far as where we are now or where we are as far as on a timeline, next year is starting over from scratch for us.
Q. Kirby, you mentioned about not shaking a memory, putting it in their faces. Is that kind of the way you approached things the week after the Auburn game, and how do you think they've responded? With Ben Cleveland and the offensive line, has it panned out like you wanted the last couple games?
KIRBY SMART: It's been okay. It hasn't been a major difference in regards to Ben. Ben's doing a nice job. He and Solly are still in competition. Each week it's that way at practice. We get after it pretty good at practice. We'll see how it turns out this week in some of the competitions across the board that are still going on out there. We got guys that are playing well, and the guys that play and practice well will be the guys that get to play the most.
We really didn't shake the Auburn thing in their face, guys, I'll be honest with you. That's not really my coaching style to throw it in their face. We're more technical and try to coach them on what they didn't do right. Not one kid went out there against Auburn and didn't want to do it well or didn't not play hard. I mean, we didn't have success as a team. A lot of that falls on me as the head coach and the rest of the staff. We're trying to find ways to help them, not rub their face in it. We just use it as teaching and learning so we can improve.
Q. And Kerryon Johnson's availability this game, health status, how much do you think that would change things for Auburn, do you think?
KIRBY SMART: I really have no clue on that. I don't have any — I'm a lot more worried about Nick Chubb's status for us than I am the other because I can only control what we can control. We're focused on trying to get our team ready to play.
Q. Kirby, you worked with Kevin Steele a good bit. Could you just talk about him, and do you see anything different in what he's doing now than what you've seen in the past?
KIRBY SMART: He's done a tremendous job. I'll tell you what, he's got a defense playing at a high level, and they are very confident. They get after it. They tackle well. They look fast as heck on film. A lot of players that have played a lot of SEC ball out there playing for them. They've got some DBs, it seems like they've been in the SEC forever, and they're playing at a high level. Big guys up front.
I remember when Will was there, he recruited a lot of those players that one year that he came over from Florida and they signed some of those guys. Kevin has come in and won those guys' confidence over and has really done a good job defensively.
As far as if you're talking about scheme-wise, yeah, there's some similarity because he and I have been together before and some similarity between what they do in Alabama and us and some others in the league, but they're playing really high level right now.
Q. Kirby, there's been some rematches before in long periods of time, 2011, but I wanted to ask you, what have you learned from 2006, when you were with the Dolphins, because it seems a bit more analogous as far as the fast turnaround and facing division opponents again, as you did that year. Just what did you learn from that experience of having to prepare for the same opponents three times in division opponents at the NFL level? And is there anything you could take from that experience and apply it this week?
KIRBY SMART: Well, you know, you always look back, and you have common themes and common cut-ups you use. You look back and try to figure out what worked, what didn't, what gives them problems, what you were able to do. When you have a game plan, you typically don't use all the game plan, just like when I'm sure Auburn played us, they had plays they didn't use. So you're able to go back, recycle those because you didn't necessarily use them.
It's the same way for us. You have some pressures you didn't use but you've been repping. So you're able to pull those out and get a little carryover with the team. I think that helps.
But at the end of the day, it really is not about the game before. It's really about the motivation in this game. Our kids understand that. They know that they've got an opportunity to go out and at least erase what they did last time. This is a fresh start to go out and play a new game.
Q. Also wanted to ask you about punt and kickoff returns. That was an area that you guys did quite well against Auburn, and they struggled quite a bit, not only in that game, but all season, particularly on kickoff returns. Obviously, this is in a dome. It will be easier for both kickers to get touchbacks. But if the opportunity presents itself, will you hope that your returners might even be more aggressive or willing to be more aggressive because Auburn struggled so much where maybe in a situation where they might ordinarily take a touchback, are you telling them to possibly be more aggressive against an opponent that struggled so much on kickoff return coverage?
KIRBY SMART: Well, you've just got to be smart. We make a decision each game how far we allow our returner to bring it out from. You've got to be careful in regards to that because just the law of statistics say a lot of times you're better taking it at the 25 than trying to return it because of the things that can happen.
I get where you're going with that, but we'll have a decision for our guy how far he can bring it out from, and that's always the case. I wouldn't be surprised if their guy doesn't kick it out every time in there, though. Really powerful leg.
Q. Coach, in the last game with Auburn, Jeff Holland was one of the team's leading tacklers and had three quarterback hurries. What type of lessons did you all learn in that game in terms of the challenges he presents in pass rush, and how do you all prepare for that this week?
KIRBY SMART: They've got a lot of good ones. That's the tough thing. As soon as you start worrying about one guy, another guy can beat you. Jeff is a really great get-off guy. He's got great pass rush ability. He's got speed, plays really hard, talented, talented player.
He was working on Andrew a lot of the game. I thought Andrew kept battling. He battled hard, and he got better as the game went along. Sometimes the best way to grow and develop as a player is you get to play more against the good players. Hopefully, that experience for Andrew will pay off some in this game.
But Jeff is a guy that I recruited out of high school, really good, and he's only gotten better. They're doing a really good job with him.
Q. You know you recruit against so many different schools at Georgia because of the Atlanta area and everything else. Would you say Auburn is a team that you run up against almost more than any other? I just wonder — I know how coaches are about losing games. You don't forget the losses, but what about recruiting losses when you look across the sideline and you know how close you were with this guy or that guy?
KIRBY SMART: When you say look across the sideline, are you talking about how close you are with the players that you recruited —
Q. How close you might have been to getting him? How close you might have been to getting that guy but he's on the other sideline rather than on yours?
KIRBY SMART: It happens a lot. I would say that, yeah, Auburn — between Auburn, Alabama, South Carolina, Tennessee, Florida, Clemson — I mean, those are the ones. I can't say that we go up against Auburn more than anybody else, but as much as certainly. There's a lot of overlap with them recruiting in the state of Georgia.
I think they do a great job. They've got a great program. And kids want to play in the SEC, so that's going to continue to be the case. That's kind of your life blood is your ability to go recruit the talented players. A lot of it is picking the right one to go recruit. A lot of times they might value one more than we do and vice versa, we may value one more than they do. You may get them based on how much you wanted them at the time.
Certainly, when you look across the field, you see guys that you know well and that you develop relationships with, but I'm not one of those people — I look at it as I enjoy getting to see those kids I've gotten to know. I enjoy seeing them grow up.
Stephen Roberts is a kid I recruited hard. He was committed to Alabama. He's become a really good player. Marlon Davidson, I had his brother in camp since he was in fifth, sixth grade. I've known Marlon and his family for a long time. Seeing him grow up. Tre' Williams. Those are all kids I had really close relationships with, and they're growing up and becoming good players. I'm happy for those guys that they've developed and become better people. I think that's part of the coaching profession. It's what we do.
I want to pull to beat them as hard as I possibly can come Saturday, but after the game, I want to be able to shake their hand and tell them how proud I am of them of where they've come.
Q. Kirby, just talking a little bit about how much the Bulldog Nation can help the team on Saturday, and getting back to Georgia, are you pretty excited about the support of the fans and what they can do, as Auburn proved when you all had to go over there, what that 12th man can do for the team?
KIRBY SMART: Yeah, we're excited to be playing in our home state in a brand new venue that is kind of the Mecca for college football right now. You think about it, it's played host to one of the opening games of the season that was one of the best, and now it's going to play host to the close of the season, the regular season anyway, of one of the biggest games, and it's right in our own backyard.
Our fan base has got a chance to impact this game, and we certainly want them to come out and turn out and do as they have done this year but to a higher degree and be there for us and support us.
You never know what kind of impact a crowd, crowd noise can have on a game, but we'll certainly need their help.
CHUCK DUNLAP: That's going to wrap you up, Coach. Thank you. We'll see you Friday in Atlanta.
********************************************
Gus Malzahn
CHUCK DUNLAP: We'll switch over. I believe we have Coach Malzahn with us now. Thanks for being with us on a Sunday afternoon. Congratulations on capturing the West yesterday and advancing to Atlanta.
GUS MALZAHN: Thank you.
CHUCK DUNLAP: While we take questions, could you talk about just the season, what led to this point, and your team as you enter the turnaround in Atlanta next week.
GUS MALZAHN: First of all, I'm extremely proud of our team to get to this point. We battled adversity at the first of the season and the middle of the season, and we won five in a row. Of course, last night was a big win for our team, beating Alabama and winning the SEC West at home then beating another No. 1 team. Real happy for our team.
We've got to put that behind us now and move forward to the SEC Championship against a very, very talented Georgia team and one of the top teams in the country. The challenge of playing them for the second time in four weeks.
Q. I guess could you address playing a team for the second time in a four-week period. How do you evaluate looking at that game tape, and how do you evaluate the matchups you should watch?
GUS MALZAHN: You know, thinking back to 2010, when I was the coordinator, we played South Carolina twice that year. The unique thing about this is it's a four-week turnaround. It's been very recent. That makes it a little more unique and challenging.
Q. What is it about film preparation that you can do? Do you try to not overanalyze that? How do you go about that?
GUS MALZAHN: I think you try to analyze everything, not just the last game you played them, but you've got to analyze the whole year and the last two games in between the time we played.
Q. Gus, is there — I guess from an intangible standpoint, the fact that there's a revenge factor on their side, the fact that Georgia had kind of a three-week jump as far as knowing when they had clinched the east compared to you guys clinching the West, as far as their fans gobbling up tickets, are there a couple of concerns from the intangible standpoint, or is that too overblown as far as revenge factor and the fact that they could have a crowd?
GUS MALZAHN: Yeah, of course they're going to have a crowd. There's no doubt as far as that goes. This being for the SEC Championship, it's as big as it gets, no matter revenge or not and all that. We're expecting their best. You're talking about one of the more talented teams in all of college football and very talented on both sides of the football. I think they've got excellent staff, and their head coach has won a lot of games.
Q. And then as far as No. 4 for Georgia, Mecole Hardman, I think he had 140-something yards in kickoff returns, 40-something yards in punt returns. How important is it to kind of scheme for him and maybe try to stay away from him given what he's been able to do lately?
GUS MALZAHN: He's a weapon, there's no doubt. He's electric. He's got that ability. We didn't do a very good job containing him last time.
Q. Wanted to see if there's an update with Kerryon Johnson's status with his shoulder.
GUS MALZAHN: I'm not for sure if he's going to be able to practice tonight or not. We'll see. I think we'll check on him daily and see what his status is. Right now it's really hard to say.
Q. Just for clarity on the timing of when it happened, Gus, because on the play itself when he went down, was it injured before the touchdown run in the third and then it got like aggravated? It looked like somebody may have tugged on his arm on the play that he went down on. Do you know exactly what happened?
GUS MALZAHN: Yeah, I think so. I think it was a culmination.
Q. Got you. Going back to the kickoffs you were just addressing where it was an issue against Georgia, you had another long return allowed last night. Is this becoming a point of frustration where you've addressed it, you thought you were making progress, and yet there seems to be a long return almost in each game now?
GUS MALZAHN: Yes, that was one of the more negative things that happened last night, when we kicked it to the right and it was kind of a line drive and they bounced it back and all that. We've got to solve that, and we've been talking about it a couple weeks now.
Q. Gus, one of the videos that surfaced after last night's game was you pointed to the final five games of the season and how you guys were able to turn it around and get to the point you are now. What do you feel like was key to you guys being able to circle the wagons, if you will?
GUS MALZAHN: I really think it's our leadership. I think it's our leadership for our team because, I mean, we were in a real tough spot after that LSU loss and the challenge of having to win five in a row against the teams that we played to get to this point. They just rolled up their sleeves. They didn't let the distractions bother them. We stayed pretty insulated and isolated and just took it one game at a time and started playing really good football.
Q. And the followup on that, just how much has Jarrett meant to you guys this year?
GUS MALZAHN: Yeah, he's been a big shot in the arm, there's no doubt with that. You've seen a guy that's really gotten better each game before our eyes, and of course, last night he was very good running the football and really got some key first downs running. He was diving forward and just showing a lot of courage.
Q. Coach, I understand that Kerryon Johnson had a jump pass ala Tim Tebow for a touchdown. Is that something he ad-libbed or was it just kind of in the playbook that way?
GUS MALZAHN: That's something that Coach Lindsey had put in way back when, and they just kind of keep it ready, and it just happened to be the right moment, and they executed it.
Q. Coach, I know these are hardly reflective circumstances, but I understand you and Kirby were actually up for this Auburn job at the same time. Are you familiar with — do you remember that, when that was going on? I'm assuming you two guys kind of go back a good ways. You've faced off so many times over the years. Do you know when it all started for you two?
GUS MALZAHN: Well, first of all, I've got a lot of respect for Kirby all the way back when he was a coordinator at Alabama, the job he'd done. He's an excellent coach. He's excellent at adjusting, and we went head to head numerous times. I'm not for sure about all the job stuff and all that. I just know that this is a job that I really wanted and I was real happy to get.
Q. Hey, guys, obviously with Kerryon's injury, if he's not able to practice, how do you kind of split reps with the other running backs? Who among that group do you believe you can count on to run the ball effectively but also protect the football in a big game like this in the SEC Championship?
GUS MALZAHN: Of course, Kam Martin, Malik Miller, and Devan Barrett, those are our guys who have gotten the reps. We've got a lot of confidence in all three of those guys. We'll see later in the week where we're at with everything, but we have confidence in all three of those guys.
Q. Is Kerryon the type of guy that he's going to try to push it as much as he can to get out on the field no matter what?
GUS MALZAHN: I think probably everybody in the country has seen the courage he showed the last five — really ever since he came back from his hamstring injury — his toughness, his courage, and everything that goes with it. So I know that physically, if he can, he will. But I'm just — we're not ready to say that yet. We'll just have to wait later in the week on where he's at.
Q. Hey, guys, got a question about Kam Pettway. It sounds like, when he initially got injured, you said it would take about this long for him to come back. Is he going to be available for this game?
GUS MALZAHN: No, he's not going to be available. He's still out. It was a fracture, so he'll still be out.
Q. And just as a follow on that, totally different direction, tell me what you like about the way Marquel Harrell is playing right now and the different things he's doing there at left guard.
GUS MALZAHN: Yeah, he brings a lot of athleticism to that position and plays with an edge. He's been playing very good football since he's been inserted in the starting lineup.
Q. Early on, you talked about the short passing game kind of an extension of the running game. How important has that been with Jarrett, especially with Ryan Davis, being able to control the ball and not necessarily have to run it every play?
GUS MALZAHN: Yeah, it's been great. The fact that the short passing game with the perimeter bubbles in spots and his little crossing routes and everything that goes with it, you know, to get first downs and keep possession of the balls has really been huge, especially the last five weeks.
Q. And then Ryan Davis, how much have you seen him grow and really, from a confidence standpoint, take his game to another level?
GUS MALZAHN: He's really coming into his own right now, and he's wanting the ball. I know Jarrett's got a real comfort with him, and he's desperate to get open. He's very quick.
Q. Gus, I know you guys obviously had a dominating performance in the first game with Georgia. How would you evaluate how your defense did, in particular, keeping Jake Frommfrom being on top of his game?
GUS MALZAHN: In that particular game, our defense played one of its best games because how talented Georgia is, and those running backs are just unbelievable. Of course, their quarterback has been very efficient too. So we played one of our best games. We're going to have to do it again.
Q. How much do you think the venue plays into this rematch in terms of at Mercedes Benz versus Auburn?
GUS MALZAHN: Yeah, I know there's going to be a whole lot of Georgia fans there, especially the fact they've had a little more time to know that they were playing in the game and getting tickets, and we know it will be loud. That's a great venue. The SEC Championship game is as good as it gets.
Q. Gus, there's a report out there that —
GUS MALZAHN: I can barely hear you.
Q. There's a report that Chip Lindsey might be in the mix for the South Alabama head coaching job. Can you talk to me just basically, in the year that you've been with him, about whether or not he's ready to be a head coach and what that conversation would be like and what it's like for you for your assistant to elevate himself.
GUS MALZAHN: Of course, Chip has done an unbelievable job. I think everybody is seeing that with the balance he's brought. He called an excellent game yesterday. Chip's going to be a head coach at this level, there's no doubt. But I know he likes it here. We've got unfinished business. I expect him to be around here a while. But he will be a head coach. He's going to be a big time one.
Q. Hey, guys. It seemed like this team, maybe it started with the Georgia game, maybe it started before this, has played with a swagger to it, and I mean that in a good way. When did you — do you think that's accurate? When did you start to see that kind of attitude?
GUS MALZAHN: Yeah, I'll tell you, we played very good against Arkansas. We had a lot of positive energy. Probably at Texas A&M, that's when it really started catching steam. Guys just having fun, having fun playing football. I think that's been a big part of it.
Q. Talking about the rematches, you cited the 2010, facing South Carolina twice. You also did it in Tulsa against Central Florida and coming up short both of those. Just what have you learned — what are you able to learn and apply from both experiences, both ways, just preparing again? I know it's a much shorter time window this time for a rematch, but just what can you learn from both of those past experiences to apply to this week?
GUS MALZAHN: I think you're right, James. Any time you have experience, it helps. And the unique thing about this is, like you said, the timeline, just being four weeks removed, you know, as far as that goes. But I think any time you have experience with something, it helps.
Q. And on a separate topic, I spoke with Jay Jacobs last night, and he had said that he'd spoken with you last week and said you were perfectly happy at Auburn and want to stay there. Are you committed to staying at Auburn for the 2018 season?
GUS MALZAHN: I'm perfectly happy being at Auburn. Like I said to James last night, we're playing for the SEC Championship, and I'm excited to be the head coach here.
CHUCK DUNLAP: I think that's going to wrap you up, Coach. Appreciate your time today and look forward to seeing you in Atlanta on Friday.
FastScripts Transcript by ASAP Sports