UGA Football: 'Buying In" Paying Off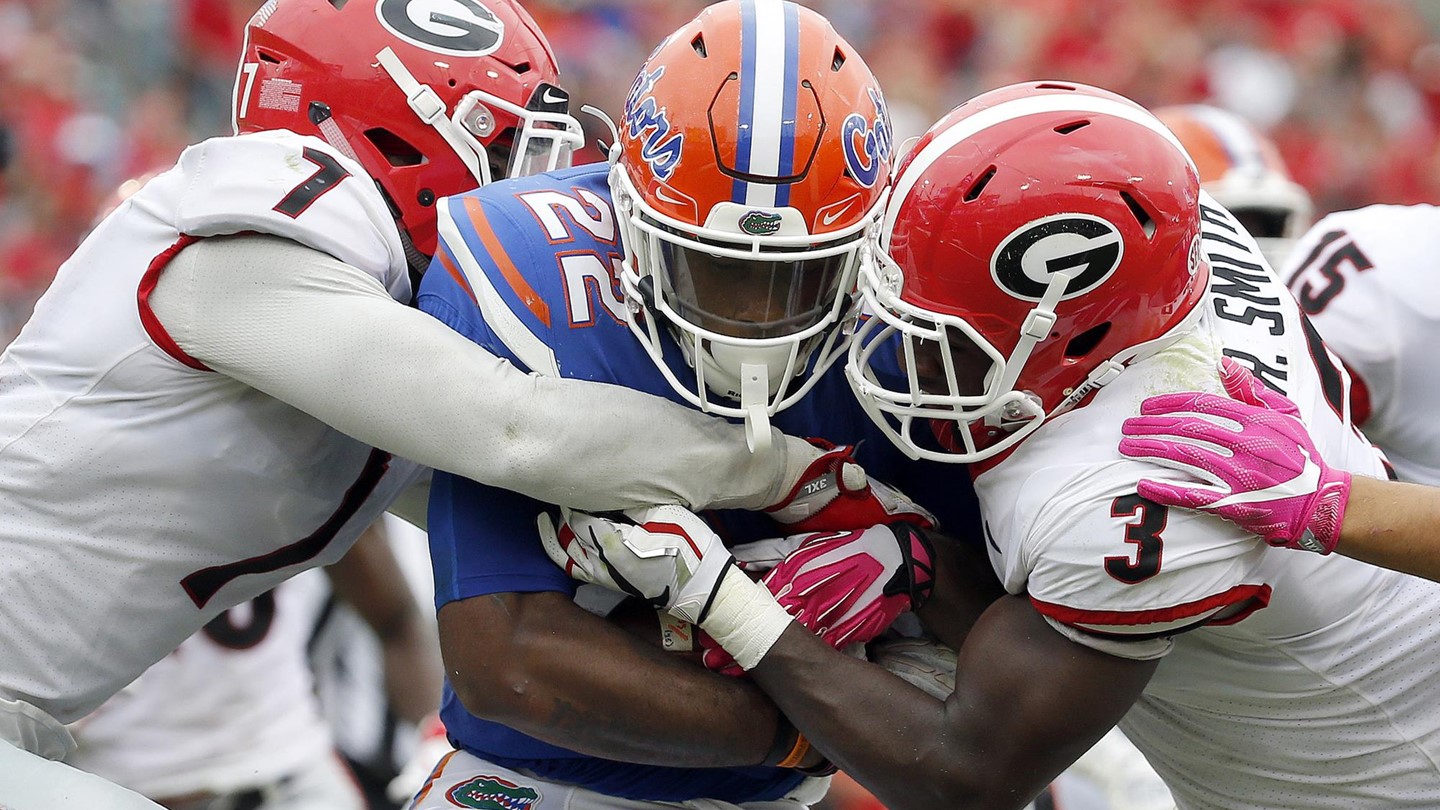 By John Frierson 
UGAAA Staff Writer
ATLANTA — For  several autumn weeks in 2014, most observers of the Southeastern Conference figured sooner or later Georgia would clinch the East Division and the Bulldogs would be playing in the SEC Championship Game in Atlanta.
The Bulldogs had two losses in league play but their only challenger for the division title was Missouri, which Georgia had pummeled, 34-0, in Columbia. It was the Tigers' first league loss, but surely they would lose at least once more, right?
November moved on and Missouri kept winning, though few picked the Tigers to do so. Soon it was the final Saturday of the regular season and Georgia needed Arkansas to knock off Missouri, which had won five straight and needed only one more to earn its spot in Atlanta. Earn it, the Tigers did.
"I remember my freshman year, we're watching Missouri versus Arkansas … and I remember sitting there thinking, well, we were super-close this year and we'll definitely be back next year," senior tight end Jeb Blazevich said. "And I think that shows a lot of immaturity on my part, but it just shows that you never know what's going to happen. … I think guys understand what an opportunity this is, because it's been since 2012 that we've even had a shot at it."
Saturday at the shiny and new Mercedes-Benz Stadium, the No. 6-ranked Bulldogs (11-1) will play No. 2 Auburn (10-2) in Georgia's long-awaited return to the SEC Championship Game — the Dawgs' first appearance since 2012. For the seniors, it's their first time playing in the big game, something they came to Georgia expecting to do.
"It's huge," senior linebacker Lorenzo Carter said. "We came back, the seniors came back and we really wanted to get a chance to play for a championship and now everything's on the table. We know what we had to do to get this far and we've just got to keep working and keep grinding."
When the latest College Football Playoff rankings were released Tuesday night, Auburn was No. 2, Alabama No. 5 and Georgia No. 6. For the Tigers and Bulldogs, Saturday's game is most likely — ultimately the CFP committee will decide the semifinal foursome — a playoff quarterfinal game.
"This is a dream come true," Blazevich said.
The Bulldogs went 8-5 last season, Kirby Smart's first as head coach. It was an up-and-down season, starting with a spirited win over North Carolina at the now-gone Georgia Dome and ending with a solid victory over TCU in the Liberty Bowl. In between was a two-point win over Nicholls and excruciating home losses to Tennessee, Vanderbilt and Georgia Tech.
Most of the central characters in this season's great run to 11-1 — Nick Chubb, Sony Michel, Roquan Smith, Davin Bellamy, Carter and many more — were also part of last season's 8-5 grind, so what changed?
It's a "completely different team," Blazevich said, because the players and the coaches have worked together longer, the strength and conditioning program directed by Scott Sinclair has had more time to pay dividends and because key new players have joined the squad.
"All those things pieced together, as well as guys understanding their roles, switching roles, and it's all really just buying in for another year," Blazevich said. "I think it changes the dynamic completely, so it's hard to compare [to last season] — it's like apples to oranges."
Smart met with the media Friday and talked about Year 2 in Athens.
"For us going into the second season, our goal was to take the next step as an organization and improve across the entire program," he said. "I don't think you can speed up the relationship process or the learning process, it takes time, and I'll be honest with you, I think we learned a lot our first season — a lot about our players and I think they learned a lot about us.
"I don't think we're playing in this game if we don't learn the lessons we learned last year."
Throughout the season, Smart and his players have talked about "buying in" being one key difference from 2016 to this season. Buying in to practicing the way the coaches want them to, buying in to the conditioning program and buying in to everything else that elevates a good team to a great one.
"The whole just buying in to what Coach Smart brought over," junior receiver Terry Godwin said of Georgia's jump to 11 wins this season, "and just being able to be that team that we know we are."
"There are not a lot of ways to get to the top and those lessons that we learned, it takes what it takes to get to the top of your division," Smart said. "You've got to believe that and you've got to believe in the process that it takes to get there."
That process has led Georgia to this moment, a chance at the program's first SEC championship since 2005 (after losses in the title game in 2011-12) — and potentially a whole lot more.
John Frierson is the staff writer for the UGA Athletic Association and curator of the ITA Men's Tennis Hall of Fame. You can find his work at: Frierson Files. He's also on Twitter: @FriersonFiles and @ITAHallofFame.