UGA Football: SEC Championship Guide

2017 SEC Championship
Georgia is making its sixth appearance in the SEC Championship Game and first since 2012. The Bulldogs have won 12 SEC Championships with the most recent one coming in 2005. That tally ranks third in league history behind Alabama (26) and Tennessee (13). A Georgia victory in the SEC Championship would likely give the Bulldogs their fourth appearance in a CFP/BCS-type bowl game.
The winner of the SEC Championship Game automatically qualifies for a spot in the Peach, Cotton or Fiesta Bowls if that team is not selected to participate in the four-team College Football Playoff. This year, the CFP has semifinal games at the Sugar and Rose Bowls and the national championship will be played in Atlanta on Monday, January 8.
This is Georgia's first SEC Championship Game appearance under Kirby Smart (second season).
The Bulldogs are 2-3 in SEC Championship games with wins coming in 2002 over Arkansas and 2005 over LSU.
Georgia is one of only six schools out of 14 to win a SEC championship.
With 11 wins, Georgia is bowl eligible for the 21st consecutive season, the third longest active streak in the nation (Virginia Tech, 23; Florida State, 35).
Another Top-10 Matchup Between The Bulldogs & Tigers
The Bulldogs hold a slim 57-56-8 edge in the series as this will be the 122nd game in the Deep South's Oldest Rivalry. This will be the fifth time that Georgia and Auburn meet where both teams are ranked in the top 10 (1971, 1983, 2004, 2017). Saturday will mark the 122nd meeting between Georgia and Auburn, making it the fourth most played active series in the NCAA FBS (also tied with Oregon-Oregon State). The Bulldogs and Tigers first squared off in 1892 in Atlanta's Piedmont Park. The only event that interrupted the series was a World War as the teams did not play in 1917, 1918 and 1943.
Also of note in the series, the all-time point total differential is 89 with Georgia leading 1,970 to 1,881. The 2012-13 seasons saw the Bulldogs head to Auburn for consecutive years, marking the first time the game had been played at the same site for two years in a row since 1958. The game was played in Columbus during a stretch from 1930-58. The first 10 games were played in Atlanta starting in 1892.
Bulldogs in the SEC Championship
Dec. 7, 2002 • W, 30-3 vs. Arkansas
Dec. 6, 2003 • L, 34-13 vs. LSU
Dec. 3, 2005 • W, 34-14 vs. LSU
Dec. 3, 2011 • L, 42-10 vs. LSU
Dec. 1, 2012 • L, 32-28 vs. Alabama
About the Tigers
Auburn has won eight SEC titles since joining the league in 1933. Championship seasons for the Tigers were 1957, 1983, 1987, 1988, 1989, 2004, 2010 and 2013.
This is Auburn's sixth appearance in the SEC Championship game; the Tigers are 3-2 in previous contests, all played in the Georgia Dome
This is the fifth time Auburn has played a team twice in a season. The four previous times, the team that won the first meeting also won the second meeting: 1893 vs. Alabama; 2000 vs. Florida; 2004 vs. Tennessee; 2010 vs. South Carolina. The last three of those rematches also occurred in the SEC championship game.
Kerryon Johnson's 17 touchdowns in SEC play are three more than any other SEC player. A Doak Walker Award semifinalist, Johnson is the ninth different Auburn player to rush for 1,000 yards in a season since 2009
Auburn's 327 points scored in SEC action are a program best, and just the second time an Auburn team has topped 300 points in SEC play (306 points in 2010)
Auburn has set a school record for most SEC wins in a season scoring 40 points or more with six such victories this season
Senior kicker Daniel Carlson, now a threetime Lou Groza Award finalist, Carlson is the SEC career leader in scoring (470), FG made (90) and consecutive PAT made (194)
Kerryon Johnson is third in the FBS averaging 11.4 points per game this season (114 total points). He and Daniel Carlson (116 total points) are the only teammates ranked in the Top 10 nationally in total points scored
Quarterback Jarrett Stidham leads the SEC in completion percentage (.685) and is third in the SEC in passing efficiency (160.0)
Auburn is one of eight FBS teams with both a 2,600-yard passer and a 1,200-yard rusher this season
Five different teams have represented the SEC East in the SEC championship game; Auburn will be the first team from the SEC West to play all five in the title game
Season Recap
11-1 overall • 7-1 SEC • SEC East Champions
How The East Was Won
Georgia enters the SEC Championship Game with an 11-1 record, including a 7-1 mark in the conference. Georgia's 31-member senior class has a record of 39-12 in their career. The Bulldogs outscored their SEC Eastern Division opponents 247-72 or by an average 41-12 this season. Georgia went 1-1 against the Western Division, beating No. 17 Mississippi State 31-3 in Athens and falling 40-17 at No. 10 Auburn.
This will be the second time in school history that Georgia will have a rematch in an SEC Championship Game versus a regular season opponent. In 2003, No. 7 Georgia lost to No. 11 LSU 17-10 in Baton Rouge and then the teams squared off at the Georgia Dome for the SEC title. No. 3 LSU beat No. 5 Georgia 34-13.
There have been only three other times in school history where Georgia has faced the same team twice in the same season. In 1895, the Bulldogs went 0-2 against North Carolina (both games in Atlanta). In 1943, Georgia lost twice to LSU, once in Baton Rouge and the second time in Columbus, Ga. Also during the 1943 season, the Bulldogs beat Presbyterian twice in Athens.
Georgia 31, Appalachian State 10
A solid debut from true freshman quarterback Jake Fromm and a stout defensive effort led the 15th-ranked Georgia Bulldogs to a 31-10 season-opening victory in front of 92,746 at Sanford Stadium
Georgia 20, Notre Dame 19
A stifling defensive effort and an established ground attack by the 15th-ranked Georgia Bulldogs paved the path for a 20-19 victory over No. 24 Notre Dame in front of a crowd of 77,622 at Notre Dame Stadium.
Georgia 42, Samford 14
Senior running back Nick Chubb rushed for 131 yards and two scores, freshman quarterback Jake Fromm hit 8-of-13 passes for 165 through the air and the Bulldogs from Athens moved to 3-0 with a 42-14 victory against Samford.
Georgia 31, Mississippi State 3
The 11th-ranked Georgia Bulldogs were impressive in nearly every phase of the game as they took down No. 17 Mississippi State, 31-3.
Georgia 41, Tennessee 0
The seventh-ranked Georgia Bulldogs dominated the Tennessee Volunteers 41-0 on Saturday at Neyland Stadium, recording their 800th win in school history in front of a sell-out crowd.
Georgia 45, Vanderbilt 14
The fifth-ranked Georgia Bulldogs used a prolific ground attack and a limiting defense to sink the Vanderbilt Commodores 45-14.
Georgia 52, Missouri 28
A 696-yard explosion by the Georgia offense lifted the No. 4-ranked and undefeated Bulldogs past Missouri.
Georgia 42, Florida 7
The third-ranked Georgia Bulldogs overwhelmed the Florida Gators 42-7 at EverBank Field, improving to 8-0 for just the eighth time in school history.
Georgia 24, South Carolina 10
Senior tailback Nick Chubb rushed for over 100 yards and freshman quarterback Jake Fromm hit 16-of-22 passes for 196 yards and two touchdowns to lead the No. 1 Georgia Bulldogs past South Carolina, 24-10.
Auburn 40, Georgia 17
The No. 2 Georgia Bulldogs had their unblemished season snapped with a 40-17 loss to 10th-ranked Auburn Tigers at Jordan-Hare Stadium.
Georgia 42, Kentucky 13
Senior running backs Nick Chubb and Sony Michel combined for 238 yards and five touchdowns to lead the seventh-ranked Georgia Bulldogs to a 42-13 win against Kentucky in the 2017 home finale.
Georgia 38, Georgia Tech 7
The seventh-ranked Georgia Bulldogs overmatched the Georgia Tech Yellow Jackets 38-7 in the battle for the Governor's Cup Trophy.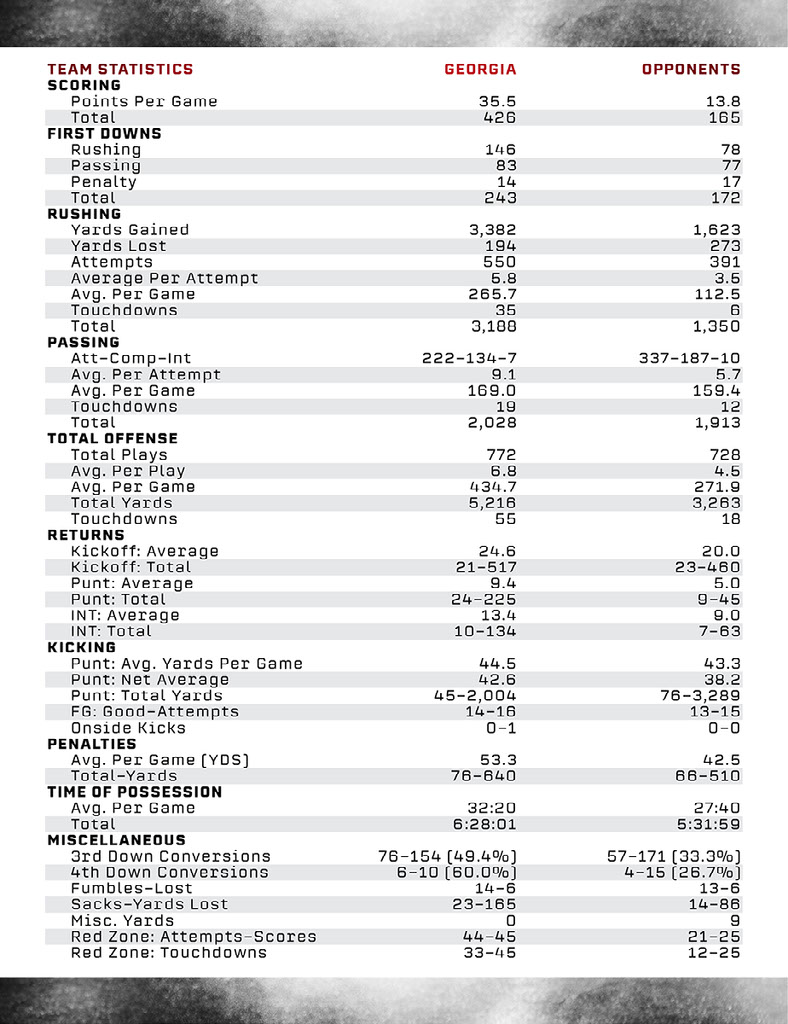 Head Coach Kirby Smart
When Georgia looked for a new head football coach after the 2015 season, the arrows all pointed to Kirby Smart, longtime University of Alabama defensive coordinator and former Bulldog player and assistant coach.
On Dec. 6, 2015, Smart officially came home to Georgia. But he had unfinished business at Alabama, which was still chasing a national title. He juggled two jobs for a month until January 11, 2016, when the Crimson Tide won its fourth national championship in a 7-year span. Twelve hours later, he was in Athens ready to go to work. Smart is one of nine head coaches at schools from Power 5 conferences that are coaching at their alma mater.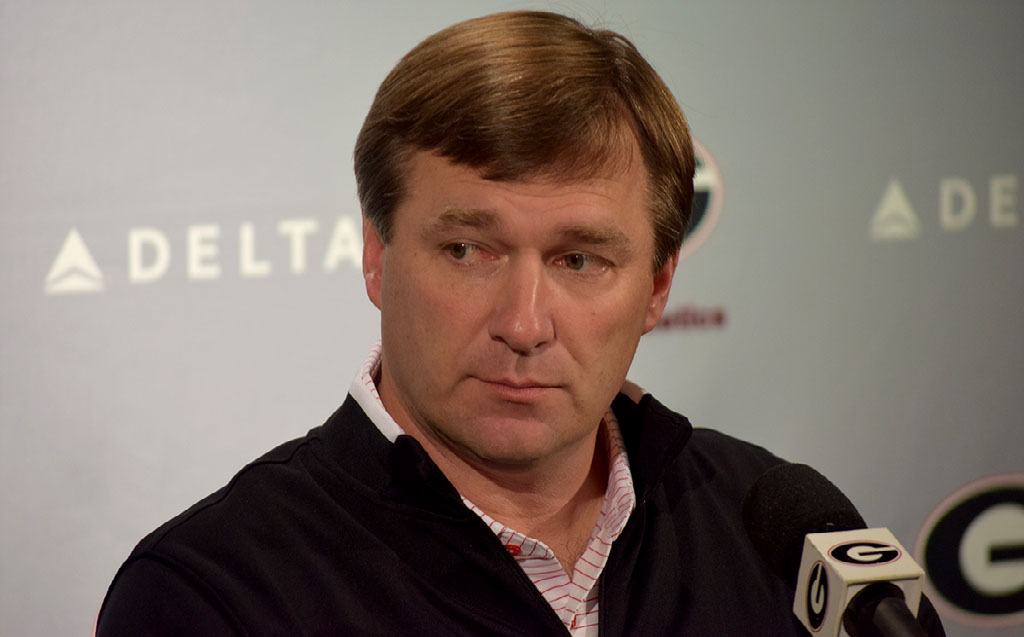 Coaching Experience: 1999, Georgia (Administrative Assistant); 2000, Valdosta State (Defensive Backs); 2001, Valdosta State (Defensive Coordinator); 2002-03, Florida State (Graduate Assistant); 2004, LSU (Defensive Backs); 2005, Georgia (Running Backs); 2006, Miami Dolphins (Safeties); 2007, Alabama (Assistant Head Coach/Defensive Backs); 2008-13 & 2015, Alabama (Defensive Coordinator/Inside Linebackers); 2014, Alabama (Assistant Head Coach/Defensive Coordinator/Safeties); 2016-present, Georgia (Head Coach)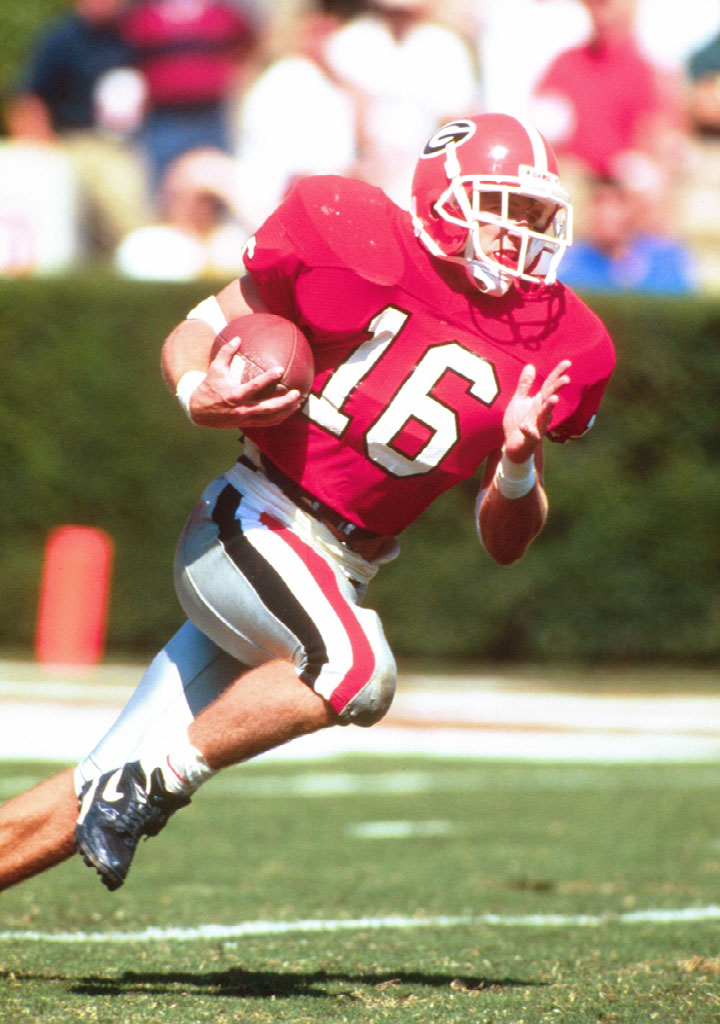 Playing Experience: University of Georgia — Four-year letterman at defensive back (1995-98) … 1998 All-SEC first team … finance major and 1998 second team Academic All-America … 13 career interceptions … Bainbridge (Ga.) High School — Three sport letterman (football, baseball, basketball) … Class AAAA All-State as senior … 16 career interceptions.
Consensus National Champions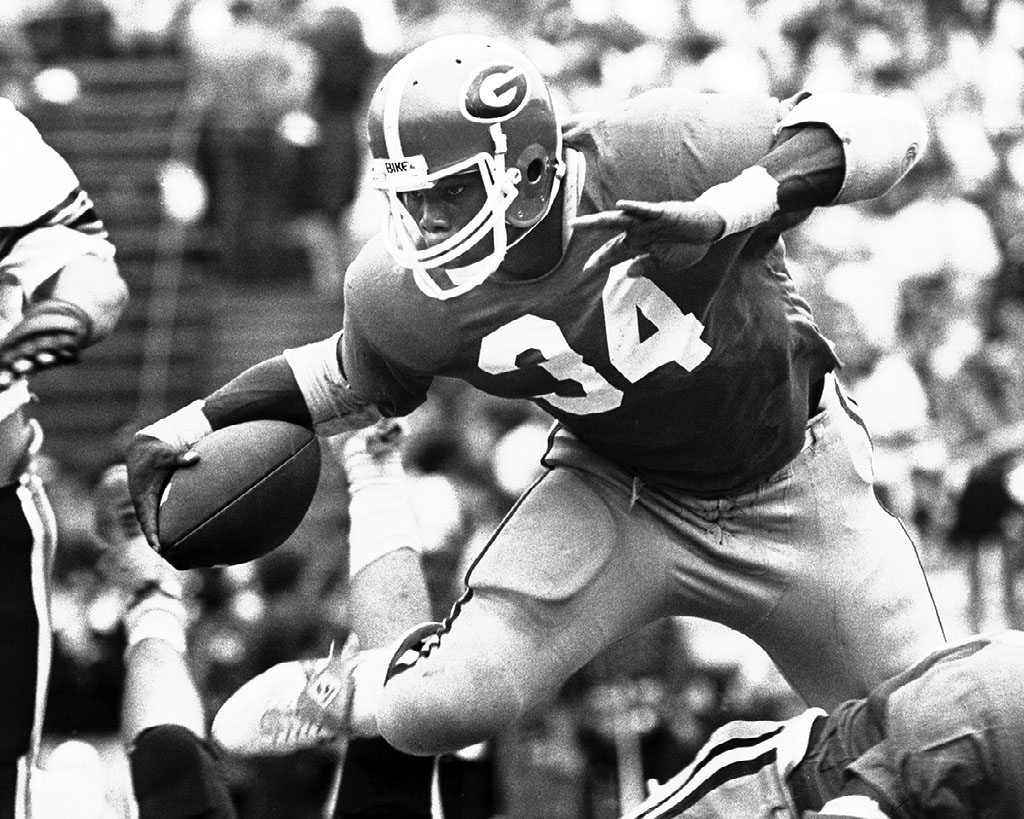 1980
Vince Dooley's 1980 national championship team was the most compelling after a perfect 12-0 record, including a 17-10 victory over Notre Dame in the Sugar Bowl. Freshman sensation Herschel Walker helped the Bulldogs ascend the polls after being virtually unranked before to the season.
Georgia had moved up to number two after defeating South Carolina, 13-10, in a battle of top 10 teams in the season's eighth game. The next week, it appeared Georgia's run was over when Florida led the 'Dogs, 21-20, with 90 seconds to play and UGA set for a final possession on its own seven yard line. But quarterback Buck Belue, on third down and 10, hit receiver Lindsay Scott on a 93-yard TD pass with 1:04 to play to lift the 'Dogs to a 26-21 victory. The next day, Georgia was elevated to number one in the polls.
After victories over Auburn and Georgia Tech in the final two regular season games, Georgia met perhaps the most storied program in college football history—Notre Dame—in the Sugar Bowl. Led by Walker's two touchdowns, Georgia defeated the Irish, 17-10, to lay claim to its undisputed national crown. Virtually every major poll declared the Bulldogs No. 1 after a season in which Georgia was the only undefeated, untied Division 1-A team in the country.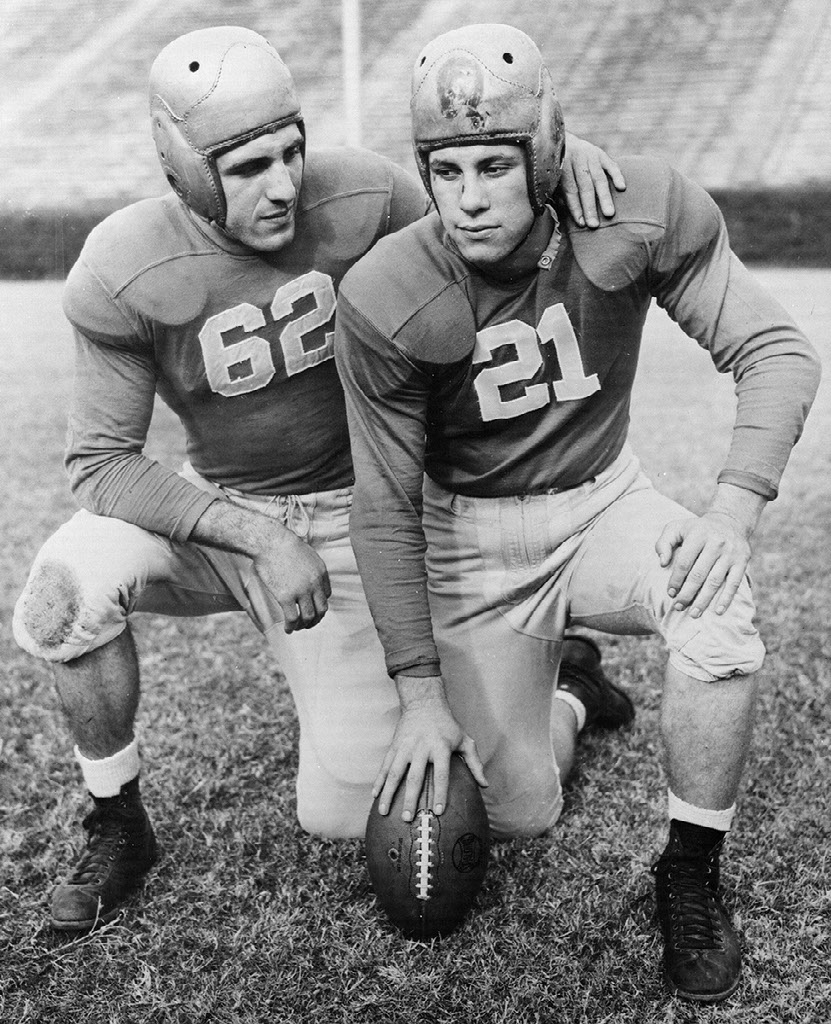 1942
In 1942, James Wallace Butts of Milledgeville, Ga., molded what was regarded as the Bulldogs' most powerful team in the first 50 years of Georgia football. Georgia was led by All-Americans Frank Sinkwich, who would win the Heisman Trophy following the season, and end George Poschner, along with a young back named Charley Trippi, who would years later be called perhaps the greatest all-around athlete ever to play for the Bulldogs.
Georgia knocked off nine consecutive opponents and ranked No. 1 in the nation. But Auburn ambushed the 'Dogs in Columbus, 27-13. Georgia, however, came back to win a Rose Bowl bid by blanking previously unbeaten Georgia Tech in Athens, 34-0, in the regular season finale. Georgia then edged UCLA, 9-0, in the Rose Bowl to finish the season 11-1. In the final polls, Georgia was declared national champion in six polls recognized by the NCAA—DeVold, Houlgate, Litkenhous, Williamson, Poling, and Berryman.
The other three …
1927
Georgia's famous "dream and wonder team" of Coach George "Kid" Woodruff won its first nine games, including the Bulldogs'first win ever over Yale, a college football power of the 1920's, in New Haven, Conn. It ranked No. 1 in the nation with one regular season game remaining. However, Georgia Tech spoiled the perfect season by upsetting the 'Dogs in the rain, 12-0, in Atlanta. But the '27 'Dogs were still voted number one in two final recognized polls — Boand and Poling. This team marked the culmination of five year's work by Woodruff who had brought in several Knute Rockne proteges to install the Notre Dame box formation: line coach Harry Mehre; Jim Crowley, one of the four horsemen; and Frank Thomas. All later became great head coaches (Mehre at Georgia and Ole Miss, Crowley at Fordham, and Thomas at Alabama).
1946
The 1942 juggernaut was dismantled by the events of World War II. But Charley Trippi and several of his Rose Bowl teammates returned to school in 1946 and led Georgia to a perfect 10-0 regular season and 20-10 victory over North Carolina in the Sugar Bowl. But despite Georgia's perfect record, Notre Dame was declared national champion by the majority of the polls; however, the Bulldogs were voted No. 1 in the final Williamson poll.
1968
In 1968, another of Vince Dooley's teams went through the regular season undefeated, but tied twice, finishing 8-0-2 and earning an invitation to the Sugar Bowl. Despite suffering a 16-2 loss in the bowl game to Arkansas, Georgia was still voted No. 1 in the Litkenhous poll.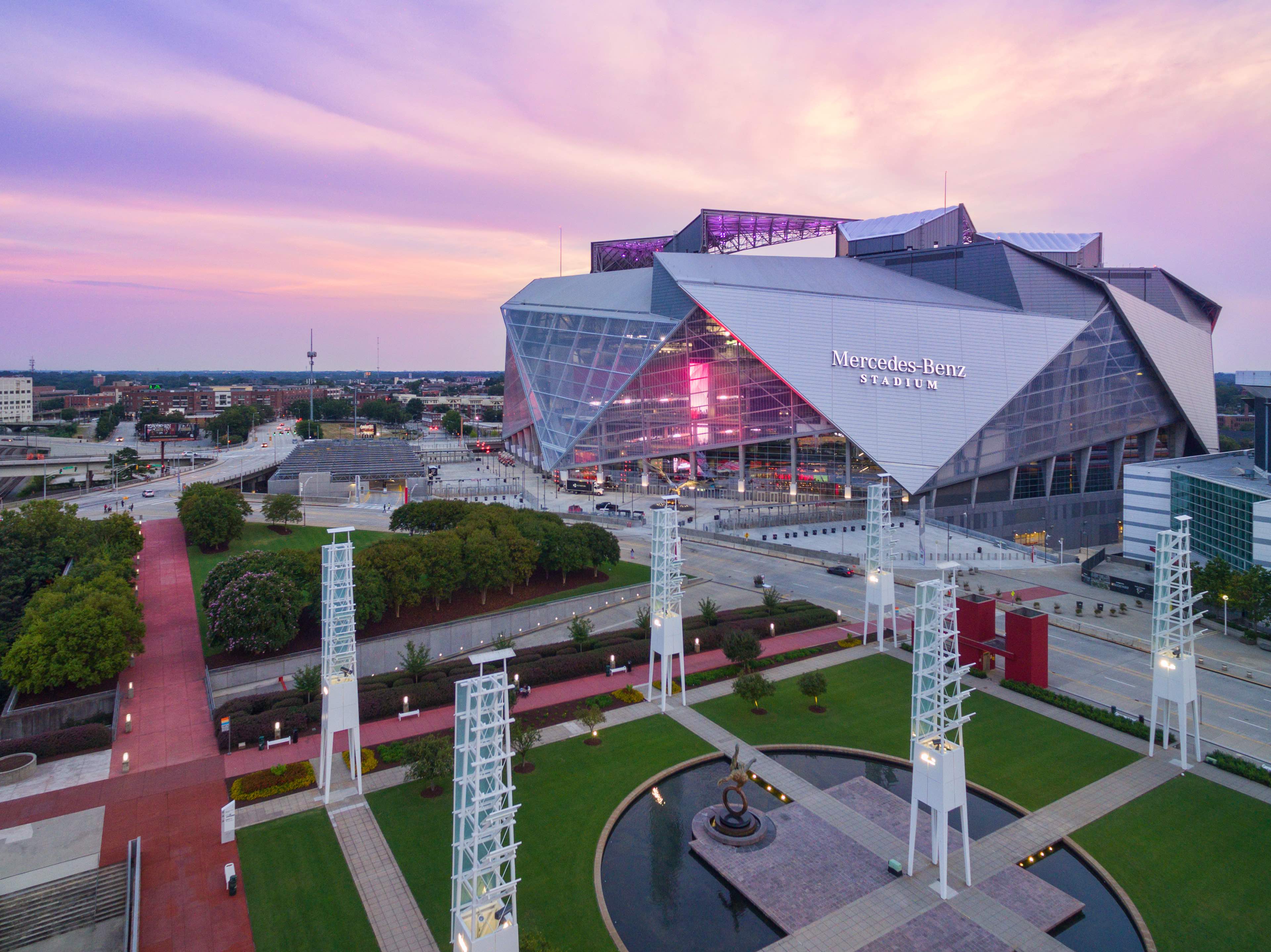 The 2017 SEC Championship Game will be played in Atlanta's new Mercedes-Benz Stadium for the first time ever. From 1994-2016, the conference title game had been played in the Georgia Dome, which was recently demolished. The SEC signed a 10-year deal to keep its championship game at the new Mercedes-Benz Stadium through 2027.
Mercedes-Benz Stadium
The SEC's Eastern and Western Division winners will meet in Atlanta's Mercedes-Benz Stadium for the first time to battle for the league championship.
From conception, Mercedes-Benz Stadium was designed for the fan and event-goer. Mercedes-Benz Stadium is creating an unparalleled fan experience by elevating and enhancing the downtown landscape and leading the industry in design, technology and sustainability. The stadium will contribute to the long-term growth and success of the city, state and region.
Every stadium feature is designed to provide the ultimate guest experience. Mercedes-Benz Stadium features Fan First food and beverage options, which includes more variety, affordable pricing, more points of sale and high quality items; best-in-class service; state-of-the-art audio and visual systems; 673 points of sale for concessions; expanded concourses allowing increased access and walkability; 20 elevators; 25 escalators; 190 suites; 7,600 club seats; seven exclusive dining and entertainment club areas and standing only gathering places and social destinations.
From the eight-petal oculus roof to the world's largest 360-degree videoboard, Mercedes-Benz Stadium is taking the fan experience to another level through an innovative, cutting-edge design and architectural approach. Signature design features include:
Roof: the eight-petal retractable roof opens and closes like the aperture of a camera lens and is constructed of ETFE fabric allowing translucent light to come into the stadium when closed.
Window to the City: The unique, floor-to-ceiling Window to the City offers both interior and exterior views of the downtown landscape and skyline which lets fans connect the experience with the city of Atlanta.
Outdoor Fan Plaza: The 100,000+ square feet open gathering spaces provides fans the opportunity to blend the indoor/outdoor in-stadium experience and features live pre and post event entertainment.
Halo Board: The one-of-a-kind five-story (58ft tall) and 360-dgree HD video halo board is the largest in the world. Hanging from the circumference of the roof opening, this truly cutting-edge piece of technology will create an immersive game presentation.
Mercedes-Benz Stadium is the first professional sports venue to receive LEED Platinum certification. The stadium meets and exceeds LEED requirements for water conservation using an advanced rainwater recapture/reuse system and energy optimization through solar panels, EV charging stations, LED lighting and open air and natural light options.
Mercedes-Benz Stadium features a "smarter stadium" system with an advanced fiber-based optical network to ensure connectivity for fast, reliable WiFi; 1700 wireless access points across the stadium to accommodate 75,000 people; a 360-degree, 63,000-square foot HD Video Halo Board– the only one of its kind in size and scale; a 100-ft mega column for a richer event experience; more than 2,000 video displays throughout the building; an all glass network– allowing quicker and more timely upgrades to the system as needs change and technology evolves and an integrated mobile approach, driveway to driveway.
Mercedes-Benz Stadium is serving as a catalyst for positive, transformational change in Atlanta's historic Westside communities — which are underserved neighborhoods longing for progress. Through a long-term investment and public commitment in 2013 by the Arthur M. Blank Family Foundation to invest $15 million in transformational community development for Atlanta's historic Westside neighborhoods, many other like-minded organizations, including Invest Atlanta have since committed to investments in these communities. This bold vision of increased connectivity, transformation of people and place, and overall enrichment, is a long-term investment that will continue well past opening day.
Policies & Procedures
The SEC and Mercedes-Benz Stadium are eager to provide efficient service to the patrons of Mercedes-Benz Stadium during the SEC Championship Game. For your comfort and safety, please acquaint yourself with the following information.
Smoking: Smoking is prohibited in all areas of the stadium. This includes all smoking tobacco, e-cigarettes and vaporizers.
Noisemakers: Noisemakers of any type will not be permitted inside Mercedes-Benz Stadium.
Children & Ticketing: All children who enter Mercedes-Benz Stadium for the SEC Football Championship Game must have a ticket.
Refunds/Ticketing: There are no refunds or exchanges to Mercedes-Benz Stadium events.
Clear Bag Policy: Fans will be asked to enter with permissible clear bags and should be prepared to arrive early and see enhanced law enforcement presence in and around Mercedes-Benz Stadium. To be allowed into either the championship game or SEC Fanfare, bags must be clear and cannot exceed 12" x 6" x 12" or otherwise a small clutch bag that does not exceed 4.5" x 6.5". Bags will be monitored at a secondary security perimeter set up around Mercedes-Benz Stadium and the Georgia World Congress Center. An increased law enforcement presence and K-9 patrols will be prevalent throughout the area. Bags will be inspected before entry at both locations.
Lost and Found: Guests looking to claim or report lost items should do so at the nearest Guest Service Center located at Sections 116, 201, 244, 301 and at both Gate 1 and Gate 2. Guests inquiring about lost items at previous events should call the Guest Services Hotline at 470-341-5678 for information or notify us via email at LostandFound@mercedesbenzstadium.com.
Any fan who witnesses suspicious activity at Mercedes-Benz Stadium or Georgia World Congress Center should notify uniformed security personnel, or call (470) 341-5673. Also, in Mercedes-Benz Stadium fans may text "Respect" and a description of the suspicious activity to 69050.
Log on to mercedesbenzstadium.com for more information on Mercedes-Benz Stadium.