UGA Men's Basketball: Dawgs' Offense Picks Up Defense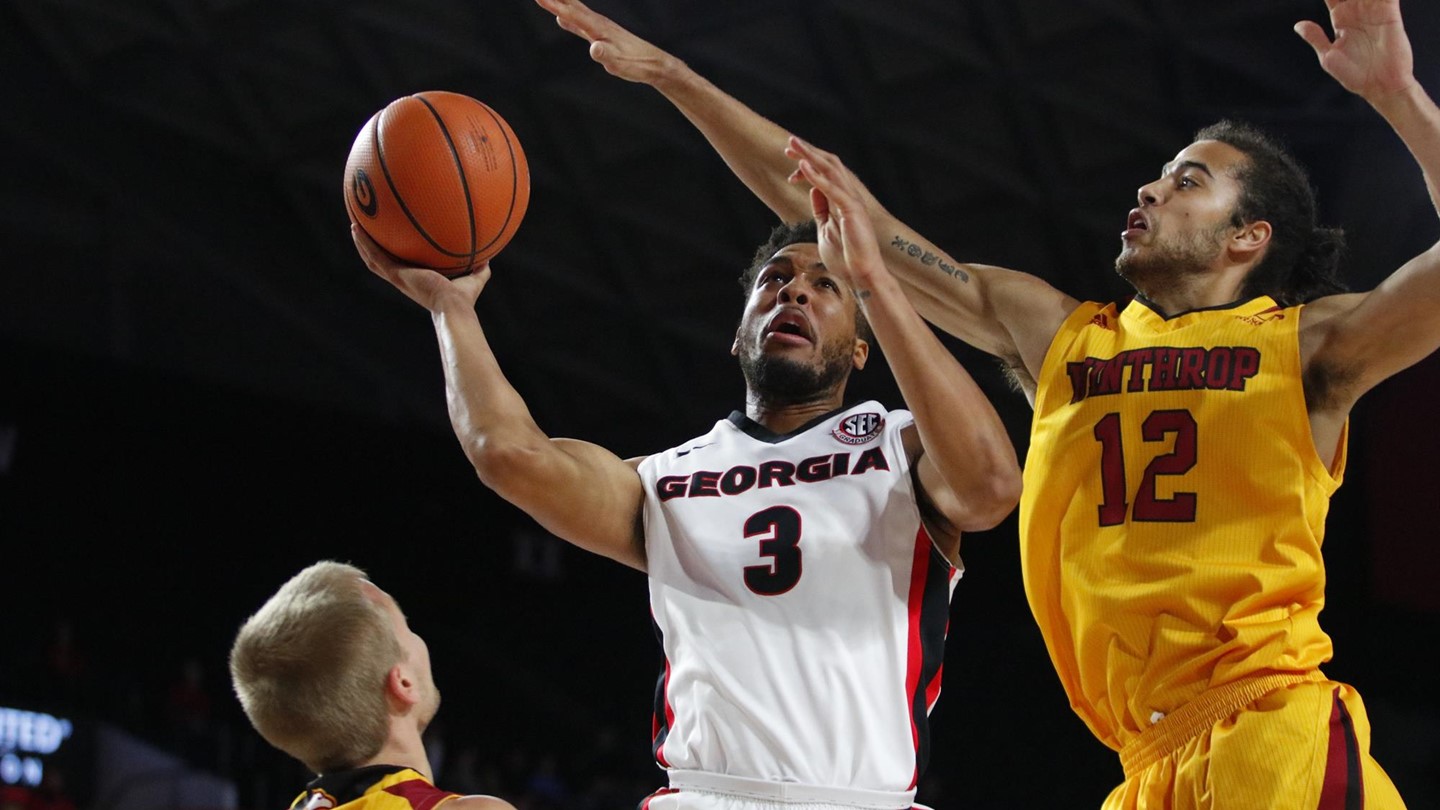 By John Frierson 
UGAAA Staff Writer
The second-half shooting was superb, 15-for-20. The rebounding advantage in the game was dramatic, 40-24. So why was the Georgia men's basketball team trailing Winthrop, 69-68, with 5:23 to play Tuesday night at Stegeman Coliseum?
It wasn't a great night for Georgia's defense, not by a long shot, and 16 turnovers led to 22 Eagles points. But the Bulldogs' offense came through again and again in a back-and-forth 87-82 win.
"We found a way to win versus a terrific offensive team in Winthrop," Georgia coach Mark Fox said. "We knew they were going to score it. We leave here very disappointed in our defense, even though we were playing a very good offensive team."
Yante Maten led five Bulldogs in double figures, scoring a season-high 25 points. The rest of Georgia's offensive attack was balanced, with William Jackson II scoring 14, Rayshaun Hammondsand Derek Ogbeide scoring 10 each, and Mike Edwards scored a season-high 11 in 22 effective minutes off the bench. Juwan Parker also hit some big shots and finished with nine points.
The Georgia (7-1) offense needed to produce a season-high 87 points because the Eagles were lighting it up at the other end, led by Xavier Cooks' game-high 31 points.
"It was a little frustrating because most of their points were coming from my man [Cooks], and he's a great player, but defensively I wasn't doing what I needed to do," said Maten, who picked up his fourth foul with 7:43 remaining. "I try to take pride in my defense like a player should, just wasn't getting it done tonight. "
Winthrop (5-4) came in as one of the highest-scoring teams in the country at 90.4 points per game, with three games (against smaller schools) scoring 104 points or more. The Eagles put up 85 in a loss at Auburn last month, so they'd shown they could score against bigger teams in the SEC.
The Eagles like to shoot 3-pointers, they've now attempted 253 this season, so Georgia tried to guard closely out on the perimeter. But doing so opens up driving lanes.
"There were a lot of driving lanes to be had and they took advantage of them," Fox said.
Georgia led 17-5 less than seven minutes in, but this wasn't going to be a runaway win. Winthrop eventually got going offensively and by halftime the Bulldogs' lead was 40-38.
Cooks, who scored 22 of his 31 in the second half, sparked the Eagles in the final 20 minutes. A Cooks dunk tied the game at 42 and he hit a jumper to give Winthrop its first lead, 44-42, with 17:17 to play.
What followed, for both teams, was some highly efficient offense — the Eagles shot 53.1 percent in the second half — made possible by some not-so-stellar defense, at least from Georgia's perspective.
"We tried to separate and get some stops, but we didn't end up getting them, so the score kept going back and forth forever," Maten said.
Edwards, who hadn't scored more than six points in a game this season, provided an offensive boost down low.
"When you have a deep team, eventually someone is going to give you a spark," said Fox, who used 12 players, with 10 playing at least seven minutes.
With Georgia down 49-47 early in the second half, the 6-foot-9 junior cut toward the basket, catching a pass from Tyree Crump, dropping a basket off the glass and drawing a foul. He converted the three-point play to put Georgia up one.
After Cooks scored at the other end, Jackson drove and dished to Edwards on the left side for a dunk.
"I felt really good playing out there and I felt like I was really productive," Edwards said, adding, "I just had the mentality of trying to beat these dudes."
Winthrop's largest lead was six, 58-52, with 13:08 to play. In the final 10 minutes the teams traded baskets and leads.
With 1:45 remaining the score was tied, 79-79. That's when Georgia went on a 6-0 surge that proved to be the difference.
Maten hit a soft jump hook on the left side to give the Dogs the lead, followed by a Winthrop miss. Next time down for Georgia, Jackson saw an opening on the right side of the lane and drove for a layup off the glass, with 48 seconds left.
After a Winthrop timeout, the Eagles missed a tough 3-point attempt and Hammonds was fouled. The freshman hit both free throws, pushing Georgia's lead to 85-79, with 28.2 seconds left.
"We all played poorly on defense, but we got a victory," Hammonds said. "You've got to find ways to win. Every game's not given to you, so you've got to work hard."
In the end, a rough defensive night didn't end with a loss. Instead, Georgia showed that it can win a tight game, just like it did last Saturday at Marquette, and it can win a high-scoring affair. The defense wasn't there, Fox said, but there were still plenty of positives to take away from Tuesday night.
"It's great to be tested and have adversity and find a way to win the game," he said. "These games are so important because ultimately you have to learn how to win games that are hard fought, and we've had a lot of those."
The Bulldogs don't play again until a trip to UMass on Dec. 16. There are exams to take and there also will be time to get in the gym for some intense practices, something Fox said Georgia hasn't been able to do much lately due to road trips to California over Thanksgiving and up to Marquette last weekend.
John Frierson is the staff writer for the UGA Athletic Association and curator of the ITA Men's Tennis Hall of Fame. You can find his work at: Frierson Files. He's also on Twitter:@FriersonFiles and @ITAHallofFame.