UGA Men's Basketball: Georgia Tops Winthrop In Offensive Battle 87-82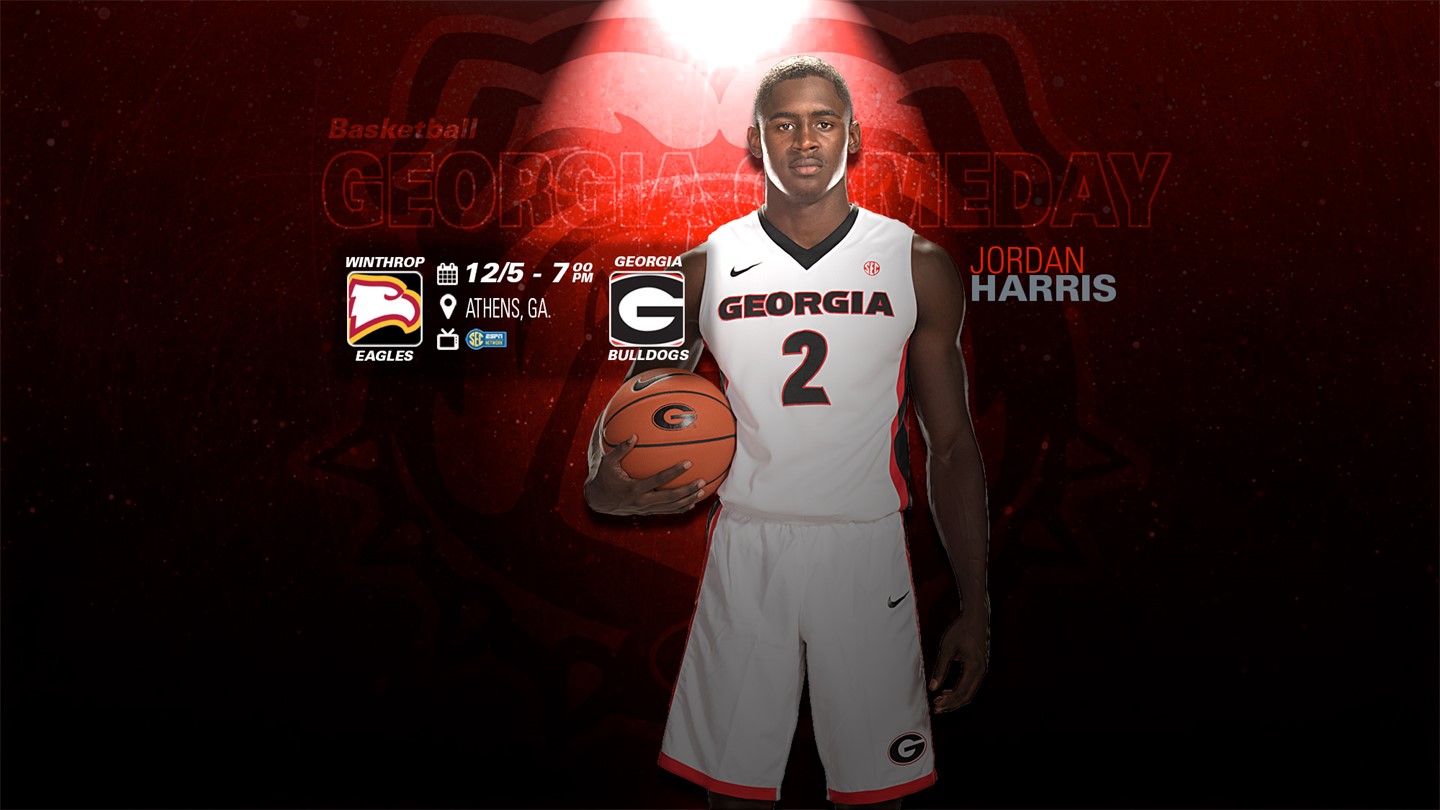 82
 5-4
87
 7-1
Score By Periods

| Team | 1 | 2 | F |
| --- | --- | --- | --- |
| | 38 | 44 | 82 |
| | 40 | 47 | 87 |
ATHENS, Ga. — In a high scoring back-and-forth game, the Georgia Bulldogs (7-1) prevailed over the Winthrop Eagles 87-82 in the final minutes at Stegeman Coliseum on Tuesday night.
The Georgia defense held Winthrop to its third lowest scored points of the season. The Bulldogs snapped Winthrop's streak of at least 85 points in six-straight contests. Entering the game the Eagles were averaging 90.4 points per game, which was ranked 13th nationally.
The Bulldog offense scored a season high of 87 points, led by senior forward Yante Maten. He had his eighth consecutive double-digit scoring game, and his fourth double-double of the season with 11 rebounds and a game-high 25 points, also his season-high. Maten also banked 14 points in the first half, his highest first-half output of the season.
Junior forward Derek Ogbeide, freshman forward Rayshaun Hammonds, junior guard William "Turtle" Jackson, and junior forward Mike Edwards all contributed 10 or more points.
"Winthrop is a good offensive team," said head coach Mark Fox. "We had a difficult time getting stops so it was important for us to find guys who could make plays."
Georgia established the lead with Maten posting the first three points on the board. He and freshman guard Teshaun Hightower had back to back three's, which started a 12-1 run. This contributed to maintaining the lead for the entirety of the half. The run shifted momentum in Georgia's favor, and the Bulldogs procured a 12-point lead, their largest of the game. The Eagles (5-4) nearly closed the gap at 40-38 but were two points short of tying the half.
In the second half the Eagles tied the game twice within the first three minutes and took the lead for the first time at the 17-minute mark. Georgia answered by tying the score again with a lay-up from Ogbeide.
Winthrop continued to push forward regaining the lead 47-44. The Bulldogs took back the edge with a free throw and a dunk from Edwards, assisted by Jackson. Senior forward Xavier Cooks brought the Eagles back on top, but a 3-pointer by Maten tied the game 62 with 8:54 remaining.
The margin changed five more times in the last six minutes of the game. Tied at 79, a defensive rebound from Ogbeide enabled Maten to tip-in a lay-up. This secured the advantage for the remainder of the game. A free throw by Jackson locked in the final points for Georgia with six seconds remaining.
Jackson also tied his career high assists with seven and freshman forward Nicolas Claxton secured his first career assist. As a team, the Bulldogs shot 71.9 percent from the line.
The Bulldogs take on the University of Massachusetts at Amherst Minutemen on Saturday, December 16th at 3 p.m. at UMass.
Head coach Mark Fox
On the upcoming 10-day break, where this team is at currently:
"Well we are 7-1 and all seven of those wins are important. What's important during the break now is we finish up the semester strong and practice. We need practice time desperately and we put our hard hats on and we go work at the gym, and that's going to be important for us in the next 10-days to get better."
Senior forward Yante Maten
On stopping Winthrop 3-pointers…
"Coach told us to be careful of the rim. We were trying to make sure the 3-pointers were taken away. We got beat to the rim a couple of times because of it. Also a lack of discipline and chopping our feet before closing out so we would be able to move. It really just comes down to us."
On playing with four fouls…
"You don't want to take a backseat or play less aggressive. You want to play smarter. So, if you see something that you think you could steal or make a play you might not want to go for it as much. Just want to be in a position you can stop them on defense"
Junior forward Mike Edwards 
Factors that got the offense in rhythm…
"Our bench really played for us and encouraged us to work hard out there. Everyone on the court was doing pretty good."
Freshman forward Rayshaun Hammonds
On winning close game…
"You got to find ways to win. Not every game is given to you. You just [have] to work hard."
Value of finding ways to win…
"Mainly we were hitting shots, but defense they were scoring on us. We don't like other teams scoring on us. Our main focus is defense. We played badly today, but we are going to pick it back up."