UGA Football: Gut-Wrenching End to Magical Ride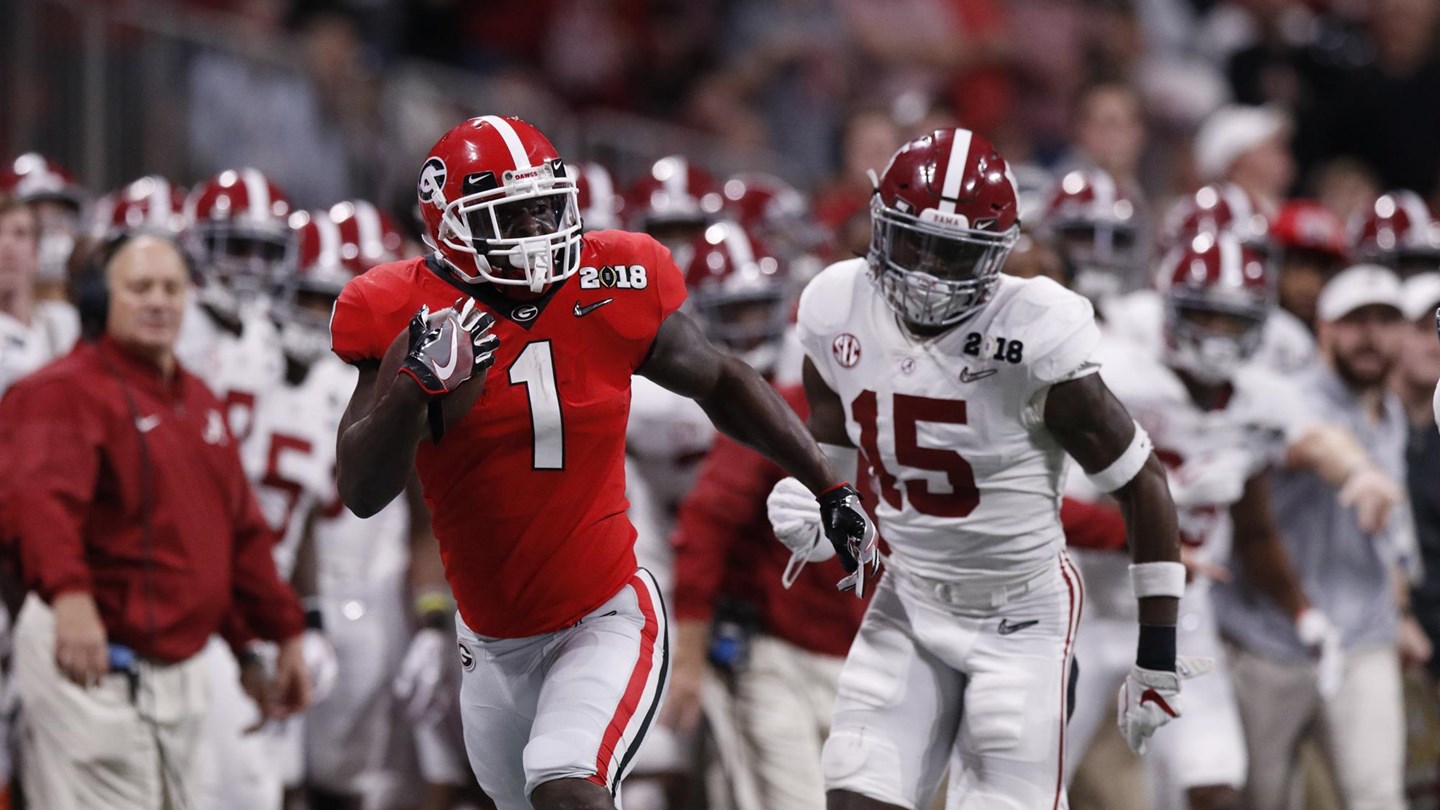 By John Frierson
Staff Writer
ATLANTA — Along the Georgia sideline, like most everywhere else on the field at Mercedes-Benz Stadium, the red and white confetti fell. But there was no joy to be found.
Two of the greatest Bulldogs the football program will ever have, running backs Nick Chubb and Sony Michel, sat side by side as the confetti fell on and around them. Over their shoulder pads a scoreboard flashed the cruel numbers: Alabama 26, Georgia 23.
It's one thing to watch the College Football Playoff national championship game, see Georgia take a 20-7 lead midway through the third quarter and then watch as Alabama stormed back and prevailed in overtime, winning on a 41-yard touchdown pass that sent the crimson-toned confetti raining down.
It's quite another to see a very real and human side, like two good and noble and distinguished seniors in Michel and Chubb overwhelmed after a gut-punch of an ending. Soon, junior wideout Terry Godwin came over to give his two teammates hugs, and then coach Kirby Smart joined in.
It was a moving scene, beautiful and brutal. Seeing that kind of anguish, you wonder if all that work and effort and struggle to get here is worth the risk of a painful moment like the Bulldogs were experiencing on the sport's biggest stage.
That made me think of something Georgia newspaper legend Lewis Grizzard once wrote: "Losing hurts worse than winning feels good." I don't know if that's really true, but when you're feeling crushed after a brutal ending, it seems right.
A few minutes later, when the locker room was opened to the media, tight end Jeb Blazevich was asked about the pain and whether it's all worth it. Teary-eyed and torn up, the senior didn't hesitate to say yes.
"Oh, there's no doubt," he said after his final game in red and black. "We're so blessed to be here, we're so blessed to be sad, we're so blessed to watch this film and understand that we had more than a fair chance to win that game and we played a heck of a team. Yeah, the emotions are hard, but it is what it is."
Senior defensive back Aaron Davis, after such a roller-coaster second half and beyond, on what he was feeling: "Empty, emptiness — not much at this moment."
Davis said the high points of the ride that carried them to the national championship game will be with him for the rest of his life.
"The joy comes in being with your teammates, all your brothers, stuff like that, all the things that are going to last, when the games start to fade from your memory," he said. "It's about the relationships you make with your brothers, that's why you play the game and why you continue to play when stuff like this happens."
There was a moment of post-game warmth to be had, and hopefully it brought some small comfort to Georgia's players and coaches. It came when the players, many leaning on each other for support, started walking off the field.
That's when the chant began, certainly hundreds strong, from a hearty bunch of the 77,430 that packed the Benz to watch the Bulldogs and Crimson Tide go at it. The Georgia fans were clearly gutted, too, but a lot of them had the energy to give these Bulldogs the sendoff they'd earned: "U-G-A! U-G-A! U-G-A!"
Beautiful. Brutal.
Remember the Hollywood ending that came a week ago, by the San Gabriel Mountains in Pasadena, Calif., when Georgia's magical season was saved with a 17-point rally in the Rose Bowl, beating Oklahoma in double overtime on Lorenzo Carter's blocked field goal and Michel's 27-yard touchdown run.
It was a glorious win in perhaps the grandest setting in collegiate sports. A pure Hollywood moment, seemingly written and directed by Spielberg or some other master.
But it wasn't the end, though it's the moment that every other great thing I experience around Georgia football will be measured against.
No, the ending was written much closer to home. It was written late Monday night — technically, Tuesday morning — inside the still shiny and new stadium where five weeks before the Bulldogs had won the SEC championship and earned their spot in the College Football Playoff with a 28-7 dismantling of Auburn.
Auburn, which beat both Georgia and Alabama during the regular season. In Georgia's case, that 40-17 thumping on the Plains seemed to be the best thing that could have happened to the Bulldogs, who were No. 1 in the CFP rankings at the time.
Refocused and probably a little humbled, and now with no margin for error if they wanted a shot at the program's first national championship since 1980, Georgia blasted Kentucky, wrecked Tech and got sweet revenge against Auburn.
Then came the hair-raising New Year's Day in Pasadena. Then came Monday night against mighty Alabama, which has set the standard in college football for the past decade. Was there still enough magic left in this season for one more win, for one more incredible moment?
You thought so when Alabama's Alex Pappanastos missed a 36-yard field goal as time expired, sending the game to OT tied at 20. You thought so when Rodrigo Blankenship made a 51-yard field goal on Georgia's possession in overtime. You thought so when on first down of Bama's drive, Davin Bellamy and Jonathan Ledbetter combined to sack Tagovailoa for a 16-yard loss to the 41-yard line.
But in the blink of an eye it was gone, over. Tagovailoa hit DeVonta Smith on a bomb down the left side and the confetti fell.
This was it for seniors Chubb and Michel, Bellamy and Carter and many others, and possibly junior Roquan Smith, who was the best player on the field all game long and finished with a game-high 13 tackles and 2.5 tackles for loss.
Beautiful. Brutal.
As Davis said, the joys from this season will last far longer than the pain of the fourth quarter and overtime. There was the triumph at Notre Dame, the rise of Fromm, the extraordinary and dominating play of Smith, one more season of watching Chubb and Michel share the stage; there was the stumble at Auburn and the fun and exciting game days that followed.
"All of it," said Godwin, who managed a smile. "I'll never forget this season, no matter the outcome, none of that. This is a great team and I love to be a part of it."
The magic might have run out a bit before Georgia could get across the finish line, but what magic it was. It was a weekly thrill to be near it, to see it firsthand, to collect a big pile of SEC championship confetti and to see all the Bulldogs running around like mad after Michel's game-winner in Pasadena.
It's why we're all here, for those moments of magic that aren't guaranteed to anyone but were there often on a four-month ride with the Georgia Bulldogs in 2017.
John Frierson is the staff writer for the UGA Athletic Association and curator of the ITA Men's Tennis Hall of Fame. You can find his work at: Frierson Files. He's also on Twitter:@FriersonFiles and @ITAHallofFame.