UGA Men's Basketball: Dawgs Venture to Mizzou for Mid Week Matchup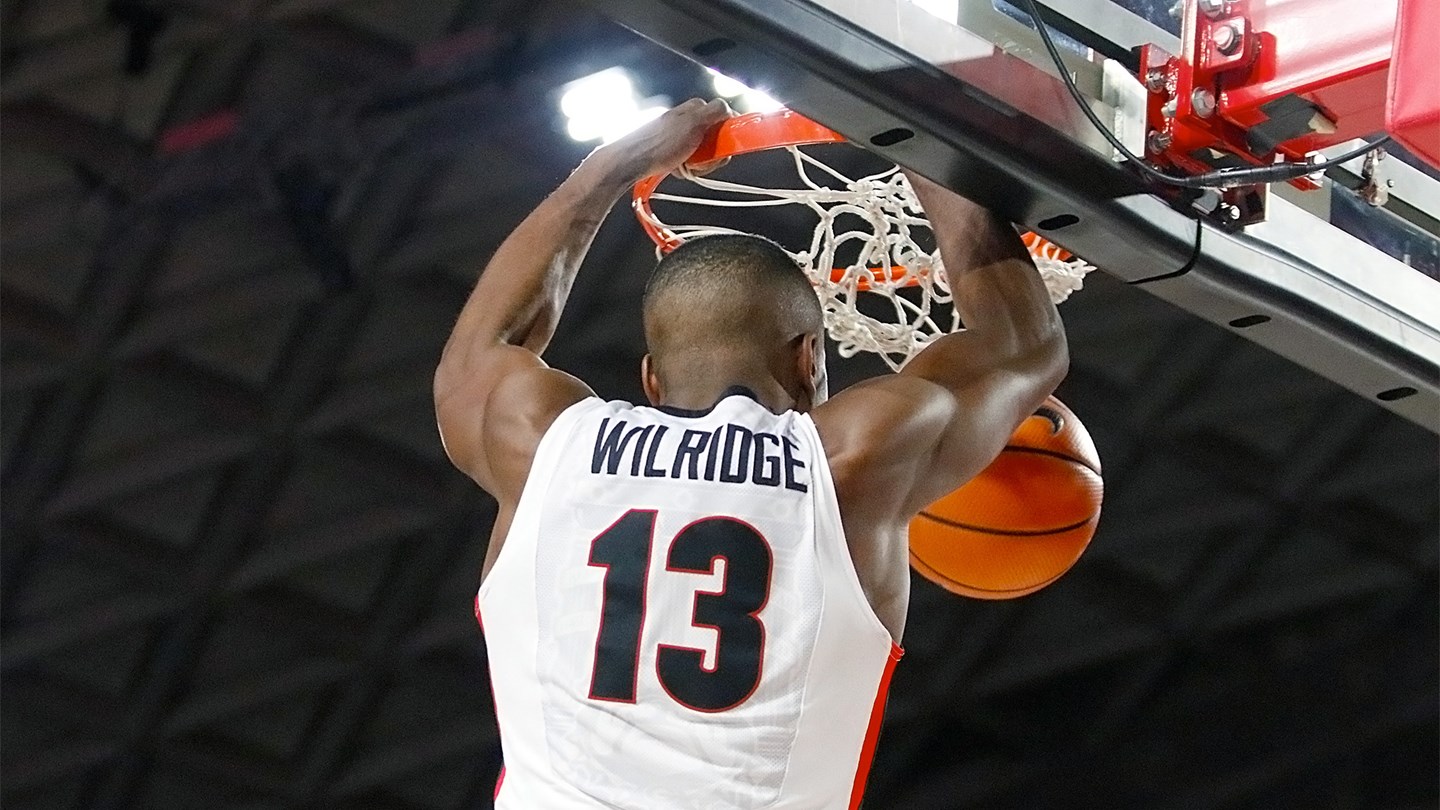 Georgia Basketball Game Notes
Georgia (11-3, 2-1) vs. Missouri (11-4, 1-1)
Wednesday, January 10, 2018 at 9:00 p.m. ET
Mizzou Arena (15,061) in Columbia, Mo.
Listen: Georgia Bulldog Sports Network. (Flagship: WSB AM 750 Atlanta (Scott Howard, play-by-play; Chuck Dowdle, analyst; Tony Schiavone, Producer)
TV: ESPN2 (Tom Hart, play-by-play; Sean Farnham, analyst)
Video: SECN+
Missouri Tigers
Coach: Cuonzo Martin
11-4 (1st season at MU)
197-125 (10th season overall
Pos
No.
Name
PPG
RPG
G
3
Kassius Robertson
15.4
1.7
6-3; 180; Gr.; Toronto, Ontario
G
15
Jordan Geist
7.1
3.7
6-2; 180; Jr.; Fort Wayne, Ind.
F
21
Jordan Barnett
15.9
6.1
6-7; 215; Sr.; St Louis, Mo.
F
24
Kevin Puryear
9.6
4.9
6-7; 238; Jr.; Blue Springs, Mo.
F
23
Jeremaiah Tilmon
9.0
4.7
6-10; 252; Fr.; East St. Louis, Mo.
TEAM COMPARISON
| | | |
| --- | --- | --- |
| GEORGIA | | MISSOURI |
| 72.8 | Points per game | 78.7 |
| +7.5 | Scoring margin | +11.3 |
| 44.3 | FG pct. | 48.3 |
| 38.2 | FG defense | 39.7 |
| 32.5 | 3FG pct. | 40.3 |
| 30.7 | 3FG defense | 32.0 |
| 6.1 | 3FGs per game | 9.9 |
| 71.1 | FT pct. | 74.2 |
| 17.4 | FTs per game | 16.1 |
| +7.3 | Rebound Margin | +8.2 |
| 14.3 | Assists per game | 15.3 |
| 1.06 | Assists-to-TOs | 1.03 |
| 4.8 | Blocks per game | 5.1 |
| 4.9 | Steals per game | 6.0 |
Game Promotion
First 1250 UGA students receive a Yante Maten t-shirt
The Starting 5…
In stats for SEC games, UGA leads the league in scoring defense (57.3) and FG percentage defense (.326).
Derek Ogbeide is averaging 11,7 ppg in SEC play while shooting 75.0 percent from the floor.
Yante Maten joined UGA's career top-10 rebounders vs. GT and career top-10 scorers vs. Temple.
Juwan Parker, the only DI MBB player with a master's, is 3rd on UGA's career FT pct. leaders list.
Rayshaun Hammonds has scored in double digits in two of three SEC outings.
Georgia Ventures To Mizzou For Mid-Week Matchup
The Georgia Bulldogs, winners of four of their last five outings by double-digit margins, will trek to Columbia, Mo., on Wednesday evening to face Missouri.
Georgia sports a 17.3-point average margin of victory in that quartet of victories over Georgia Tech (21 points), Temple (18), Ole Miss (11) and Alabama (19). The lone blip during that stretch was a five-point setback at No. 16 Kentucky on New Year's Eve when the Bulldogs owned an eight-point edge on multiple occasions in the second half.
While postseason play is months away, the Bulldogs and the Tigers are among a slew of SEC teams with serious NCAA Tournament aspirations. And those hopes are well warranted. The league is extremely well represented in the NCAA's RPI. Through last weekend's action, no less than six SEC teams were included in the top-30 of the RPI. Another five are featured in the top-66, including Missouri at No. 30 and Georgia at No. 38.
Georgia arrives in Columbia at 11-3 overall and 2-1 in the SEC on the year.
Yante Maten, a National Player of the Year candidate and preseason SEC Player of the Year honoree, leads Georgia with averages of 20.0 points and 9.4 rebounds per game. Those efforts rank second and first, respectively, among league leaders.
Maten has been a picture of consistency for the Bulldogs since the beginning of his sophomore year. Over the 77 games during that span, Maten has produced 70 double-digit scoring performances, with 29 20-point and five 30-point outings and 22 double-doubles.
Turtle Jackson provides a second a double-figure scoring average at 10.1 ppg. Jackson entered the season with two double-digit productions in 66 games but has scored 10-plus points in nine of Georgia's first 14 outings.
Mizzou is currently 11-4 overall and 1-1 in SEC play.
Jordan Barnett and Kassius Robertson provide the Tigers with a potent 1-2 scoring punch. Barnett averages a team-most 15.9 ppg, while Robertson is chipping in 15.4.
Entering Today's Game Among UGA's Career Leaders
Yante Maten is…
98 points from No. 7 J.J. Frazier
1 rebound from No. 8 Carlos Strong
25 rebounds from No. 7 Chris Daniels
45 FTs from No. 4 J.J. Frazier
16 FTAs from No. 5 Charles Claxton
2 blocks from No. 3 Terrell Bell
81 blocks from No. 2 Charles Claxton
Series History With Mizzou
Georgia sports a 6-4 advantage in the all-time series with Missouri, including a 2-2 mark in contests in Columbia.
The Bulldogs have a six-game winning streak in matchups with the Tigers.
In the most recent meeting last Jan. 7 in Athens, Yante Maten scored 17 points and Georgia posted 51 second-half points in defeating Missouri, 71-66.
After trailing 26-20 at the half, Georgia opened the second stanza with an 11-2 run that gave the Bulldogs a lead they held most of the rest of the game.
Missouri led briefly 52-51 and 54-53, before Georgia went on a 12-0 run to make it 65-54. Five Bulldogs scored during that stretch as Georgia took a lead with 7:04 left it would not surrender the rest of the way.
Missouri put up 36 3-pointers in the game, tying the third-most ever by a Georgia foe.
In the last meeting in Columbia on Jan. 20, 2016, Georgia secured a 60-57 victory. The Bulldogs used a 17-0 run midway through the second half to earn the win.
After scoring only 22 points on 31.3-percent shooting in the first half, the Bulldogs exploded for 38 points in the second half shooting 48.3 percent in the final 20 minutes.
Maten led all scorers with 21 points and finished with 12 rebounds. J.J. Frazier and Kenny Gaines added 16 and 11 points, respectively, while Houston Kessler ripped down a career-high 10 rebounds.
Following a 22-22 tie at halftime and an even first five minutes in the second stanza, the Bulldogs went on their 17-0 run highlighted by several 3-pointers and a big dunk by Maten leading to a 50-34 Georgia advantage.
The Tigers were able to cut the lead to as little as three, but the Bulldogs fought off Missouri's comeback attempt with Frazier connecting both ends of two one-and-one situations in the final 26 seconds.
Last Time Out
A stifling defense and another 20-point performance from Yante Maten powered Georgia Bulldogs past Alabama 65-46 on Saturday.
Maten scored 26 points, contributing to his 14th consecutive double-digit scoring game, and grabbed 11 rebounds, notching his seventh double-double of the season. Freshman Rayshaun Hammonds had his seventh double-digit scoring game with 13.
The 19-point win margin is Georgia's largest in the series since 1969-70, which was a 21-point Bulldog win in Athens. The Bulldogs' defense held Alabama to a season-low in total points as well as its lowest point total for the first and second halves, individually.
A pair of free throws from guard Jordan Harris gave the Bulldogs a 17-7 lead at the 11:46 mark fo the first half, and Georgia maintained a comfortable lead the rest of the way.
The Bulldogs enjoyed their most productive first-half of the season with 44 points and led 44-24 at the break.
Alabama never got closer than 16 points following the intermission.
Ratin' Maten A Popular Task
Preseason recognition was consistent and plentiful for Yante Maten.
Maten was ranked as one of the nation's top-25 players by three different online ledgers. CBSsports.com put him at No. 22, ESPN.com listed him at No. 23 and NBCsports.com tabbed him at No. 24.
Maten was tabbed preseason SEC Player of the Year by the Blue Ribbon College Basketball Yearbook and a panel of SEC and national media. The media named Maten, Texas A&M's Robert Williams and Missouri's Michael Porter, Jr. as co-player of the year.
Maten was included on watch lists for the Wooden Award, Oscar Robertson Trophy and the Naismith Trophy. In addition, he was on the list for the Karl Malone Power Forward of the Year Award and the Lute Olson Award, which is awarded to the top Division I player who has played at least two seasons.
He also received preseason All-America recognition. Jay Bilas, in an obvious plot to prove he's the wisest college hoops analyst in the nation, included Maten on his first-team All-America ledger. Among others, Maten also earned All-America props from the Blue Ribbon Yearbook (third team), www.collegesportsmadness.com (fourth team) and NBCsports.com (honorable mention).
Dogs Turning Up The 'D'
Georgia has traditionally been one of the SEC's – if not the nation's – most consistent defensive teams during Mark Fox's tenure with the Bulldogs.
Georgia finished in the SEC's top-3 in field goal percentage defense – both overall and in SEC action – during five of Fox's first eight seasons in Athens. The Bulldogs led the league in stats for SEC games only during both 2013-14 and 2015-16.
Early this season, Georgia was certainly not living up to those lofty standards. In non-conference play, the Bulldogs ranked sixth in the SEC in scoring defense (67.5 ppg) and field goal percentage (.397).
Though a small sample size, Georgia currenly leads the SEC in scoring defense (57.3) and field goal defense (.326) in stats for league games only.
The Bulldogs held No. 16 Kentucky to 66 points and Ole Miss to 60. Those tallies represented the second-lowest point production of the season for each team. Georgia then held Alabama to a season-low 46 points.
UGA's SEC stats were even more impressive when placed in relation to the overall performances of the Wildcats, Rebels and Tide.
Kentucky, Ole Miss and Alabama entered this week averaging 79.1 points per game in outings against foes other than Georgia. That's an eye-catching 21.8 points more per contest than they produced against the Dogs.
That trio also was shooting 47.2 percent from the floor in games not versus the Bulldogs, 11.8 percent better than they connected on against Georgia.
Parker Checks Off Another Item
Juwan Parker has enjoyed an extremely productive five years in Athens.
The redshirt senior from Tulsa earned his bachelor's degree in two and a half years, received his master's last summer and – perhaps most importantly – became engaged to Aliyah Johnson, an All-American jumper for the UGA track & field team, last fall.
Parker produced the best outing of his 96-game at Georgia career last Wednesday against Ole Miss, when career-high outputs of 18 points and 11 boards supplied him with his first career double-double.
Parker did much of his damage from 3-point range. He made more 3s against the Rebels (four) than he did in the first 12 games combined (three). Parker was 4-of-4 from behind the arc and scored three more points after being fouled on another attempt there.
Harris, Ogbeide Tally Too
In addition to Juwan Parker's career-high 18 points against Ole Miss, Derek Ogbeide and Jordan Harrisnotched season-high outputs of 14 and 12 points, respectively.
Ogbeide posted his second-straight season-best performance, following a 13-point outing at No. 16 Kentucky. He is averaging 11.7 ppg in SEC play at an extremely efficient pace, shooting 75.0 percent (15-of-20) from the floor.
Harris has been solid in each of Georgia's last four home outings. Harris averaged 10.6 ppg while shooting 70.6 percent (12-of-17) from the field against Tech, Temple and Ole Miss. He grabbed a career-high six rebounds versus Alabama.
Bulldogs' Bench Producing
Last season, Georgia's bench outscored its opponents' reserves nine times in 34 games.
This season, the Bulldogs' non-starters have produced more points than their counterparts in 10 of 14 outings.
Georgia's bench finished 2016-17 with a -95 scoring margin.
This year, the Bulldogs are +60, a massive swing of 155 points.
Dogs Flip Script With Starting 5
Four-guard lineups are a relatively common fixture in college basketball. Georgia has utilized a four-forward starting quintet for nine games this season…the first five and the last four.
William "Turtle" Jackson was the only starter in those outings labeled as a "G" on the Bulldogs' roster.
In addition, Georgia started 6-6 E'Torrion Wilridge at the '2,' 6-8 Rayshaun Hammonds at the '3,' 6-8 Yante Maten at the '4' and 6-8 Derek Ogbeide at the '5.'
SEC Hoops Moving Forward
The SEC has certainly continued its upwardly trending national reputation. That increased respect was front and center at the end of last season.
The SEC received five bids to the 2017 NCAA Tournament, the fifth-most of any conference. The league then proceeded to tie the ACC (which had nine teams receive NCAA bids) for the most wins during "March Madness" with 11.
Three league schools reached the "Elite Eight" round of the tournament, including an All-SEC East Regional final between South Carolina and Florida.
In the Jan. 8 edition of the NCAA RPI, six SEC teams were featured in the top 30 and 11 were included in the top 66.
As on Monday, the SEC led the nation in:
Top-30 RPI teams (6 – tied with ACC)
Top-70 RPI teams (11)
Top-50 SOS's (9)
"Q1" + "Q2" wins (47)
"Q4" losses (0)
In addition, the league was second with eight top-50 RPI teams.
This Turtle Starting Quickly
William "Turtle" Jackson entered the season with two double-digit scoring performances in 66 games played at Georgia.
He has done so in nine of the Bulldogs' first 14 outings of 2017-18.
Jackson produced a quartet of career-high scoring outputs in the first five games (from 10 points entering the season to 11 to 13 to 16 to 17). In fact, he reached double figures in the scoring column in the first half alone of the first two games.
Jackson had 11 points – all in the first half – against Bryant. Against USC Upstate, Jackson scored first-half 10 points and added three more following the break.
That mark lasted two games until Jackson knocked down 16 points versus Cal State Fullerton in the Wooden Legacy…and then topped that with 17 points less than 24 hours later against San Diego State.
While his scoring has increased from 2.8 ppg entering the season to 10.1 ppg, Jackson continues to do much of his damage from behind the 3-point arc.
This season, 26 of his 46 made field goals (56.5 percent) have been 3-pointers. For his career, 57.9 percent (62-of-107) of Jackson's makes from the floor have been 3s.
Maten Earns SEC Accolade
Yante Maten was named the SEC Player of the Week on Dec. 26, after leading Georgia to decisive victories over Georgia Tech and Temple. The senior forward from Pontiac, Mich., averaged 27.0 points and 9.0 rebounds while connecting on 56.7 percent of his shots from the floor in those contests.
Those performances had historic implications. Maten joined Georgia's top-10 career rebounding leaders in the outing against Tech and then ascended into the Bulldogs' top-10 career scoring leaders versus the Owls. Maten is one of only four Bulldogs included on both of UGA's career top-10 ledgers for points and rebounds.
The performance against Temple represented Maten's third 30-point, 10+ rebound outing of his career. Since 1996-97, Bulldogs have posted six such performances – three by Maten and one each by Trey Thompkins, Kentavious Caldwell-Pope and Jumaine Jones.
The SEC Player of the Week recognition is Maten's second of his career. He also was honored on Jan. 2 last season.
Crump's Career Night Lifts Dogs
Tyree Crump's career-high 17 points against No. 21 Saint Mary's all came during the second half and overtime.
Crump had struggled mightily up until that point, connecting on just 8-of-32 (.250) shots from the floor and 5-of-24 (.208) from 3-point range through the first five and a half games.
Crump knocked down back-to-back 3s in a 37-second span early in the second half and went on to connect on 6-of-10 shots overall and 4-of-6 3-pointers the rest of the way.
Much like Turtle Jackson, Crump has done most of his damage from 3-point range. This season, 15 of his 22 makes (68.2 percent) from the floor have been 3-pointers. In his career at Georgia, 34-of-55 field goals (61.8 percent) are trifectas.
Dogs Go Viral…In A Bad Way
Georgia played through a stomach ailment that plagued 11 of 15 players on the Bulldogs' roster during the Wooden Legacy.
The illness originally hit around 2:00 a.m. PT on Friday, Nov. 24 following the win over Cal State Fullerton. About half the team, including multiple starters, were among the original group. Even more became ill after the San Diego State game.
Georgia entered its matchup with Saint Mary's with five unaffected players; however, Turtle Jackson, one of those, became ill in the first half and was forced to the locker room.
Still, the Bulldogs battled to force overtime against the Gaels and eventually win.
"It was a team win," Mark Fox said. "We've had a tough couple of days. We had 10 guys get the stomach flu up until tip time today, and we turn around in the first half and our point guard, who hadn't had it, gets sick. To battle through that the last couple of days and to compete tonight like a unit like we did and beat a very good Saint Mary's team, I'm extremely proud of our players."
Parker Heats Up In Cali
Redshirt senior Juwan Parker put together three solid outings over the Thanksgiving holiday at the Wooden Legacy.
In Georgia's first three games of the season, Parker averaged just 2.3 points, 1.7 rebounds and 12.0 minutes while shooting 20.0 percent from the floor.
In California, Parker averaged 12.0 points, 3.3 boards and 20.3 minutes and connected on 52.6 percent of his field goal attempts.
Hammonds Gets Nod For Opener
Rayshaun Hammonds became the first freshman to start the opener for Georgia since Kentavious Caldwell-Pope in 2011-12.
Hammonds was expected to do so after he got the nod for both of the Bulldogs' exhibitions, including a double-double of 17 points and 11 rebounds versus Valdosta State.
Hammonds also enjoyed an impressive "official" debut versus Bryant, scoring 17 points on 7-of-9 shooting from the floor.
That was the highest output by a UGA freshman in an opener in a decade and a day – since Jeremy Price scored 18 points against Jacksonville State on Nov. 9, 2007.
FYI, Caldwell-Pope, who signed an $18- million contract to play for the Lakers this season, had 15 points in his debut vs. Wofford.
While Hammonds became the first freshman to start an opener in six years, freshman starters is nothing new under Mark Fox.
Six members of 10 returning letterwinners also started as freshmen – seniors Yante Maten and Juwan Parker; juniors Mike Edwards and Derek Ogbeide; and sophomores Tyree Crump and Jordan Harris.
Foxes Donate Almost $20K
Head coach Mark Fox and his wife Cindy donated $1 to charity for every fan who attended the Bulldogs' three November home games. The amount was split equally between the Boys and Girls Club of Athens and the Clarke County Mentor Program.
The Foxes contributed $18,976 to those groups ($9,488 to each). Georgia drew 7,387 fans for the opener against Bryant – UGA's biggest crowd for a season opener in a decade – as well as 5,369 for the Upstate date and 6,220 against Texas A&M-Corpus Christi.
Mark Fox announced their effort in an Oct. 12 tweet.
Cindy Fox is on the board for Clarke Mentors, which recruits community volunteers to mentor children who attend the Clarke County School District. Derrick Floyd, director of operations for the Athens Boys and Girls Club, was a letterwinner for the Bulldogs from 1980-83 and today serves as the official scorer for Georgia basketball games and the SEC Tourney.
"Those groups are working to try and make the next generation better and to make society better," Mark Fox said. "If we can give them a little help, that's great."
Bulldogs Are HomeGrown
More than half of Georgia's ros­ter played high school hoops in the Peach State – Tyree Crump(Bainbridge High School), Rayshaun Hammonds (Norcross High School), Jordan Harriss (Seminole County High School), Christian Harri­son (Woodward Academy), Teshaun Hightower (Collins Hill High School), "Turtle" Jack­son (Athens Christian), Connor O'Neill (Blessed Trinity High School) and Derek Ogbeide(Pebblebrook High School).
More In-State Dogs On The Way
Amanze Ngumezi and JoJo Toppin signed letters-of-intent to play for Georgia, Mark Fox announced on Thursday, Nov. 16.
"We are excited to add Amanze and JoJo to our team as they add legitimate SEC size and athleticism for their respective positions," Fox said. "Amanze provides us a big and explosive front line player who also has great ability to shoot the ball from the perimeter. JoJo is a quick slasher who is very athletic at the rim. Together, they address the needs that will be created when this senior class departs.".
Ngumezi (whose name is pronounced "Uh-mahn-zay In-goo-meh-zay), a 6-9, 235-pound power forward from Savannah, averaged a double-double of 12.8 points and 11.6 rebounds last season. He led Johnson High School to a 19-10 finish and the second round of the Georgia 3A State Tournament. The Atom Smashers, who finished the season ranked No. 9 in the state, lost to eventual state champion Pace Academy, 49-41, in the tourney's round of 16.
Toppin, a 6-6, 180-pound small forward from Norcross, posted averages of 10.0 points, 7.0 rebounds and 2.0 steals per game as a junior at Norcross High School. Toppin – and current Bulldog freshman Rayshaun Hammonds – helped lead the Blue Devils to a runner-up showing in the 7A State Tournament and a final record of 26-6.
Dogs Debut Renewed Stegeman
Stegeman has undergone thorough renovations in the last few years, receiving a 21st Century face lift of at a cost of more than $20-million.
This summer, the arena received a massive center-hung scoreboard, new black seats, an improved LED lighting system, a state-of-the-art sound system and graphics above the horseshoe end celebrating past teams and retired jerseys. All told, the Coliseum went from having roughly 1,000-square feet of HD/LED signage to more than 4,000-square feet as broken out below.
The renovations in 2017 followed work in the summer of 2016 which provided a dramatic mural covering the Coliseum's distinctive end wall.
"Obviously, we're extremely excited about Stegeman not only for our fans, but also for our players," head coach Mark Fox said. "This is going to have a tremendous impact on our program and our university. It's beautiful inside. It's very well done. I have to compliment the architects and the construction companies. They did a terrific job. I think it will change the energy in the building because we have more tools to create atmosphere. I was in there with Dominique Wilkins and his statement was pretty good. This is now an arena, and it feels like an arena."
In 2010, Stegeman's concourses received a similar makeover, upgrading the graphics, enhancing spectator access to concessions and restrooms and adding 5,000-square feet of concourse space on each side of the arena. That work won awards from the American Institute of Architects and the Illuminating Engineering Society of North America.
Center-hung scoreboard
1008 square feet of HD video
1054 square feet of LED sections
Additional LED features
800 square feet on 3 ribbon boards
500 square feet over the 12 entry portals
50 square feet over 2 tunnels
375 square feet on 1 auxiliary board
Additional HD video
275 square feet on pre-existing board