UGA Men's Tennis: #4 Georgia Heads to Florida for USTA College Match Day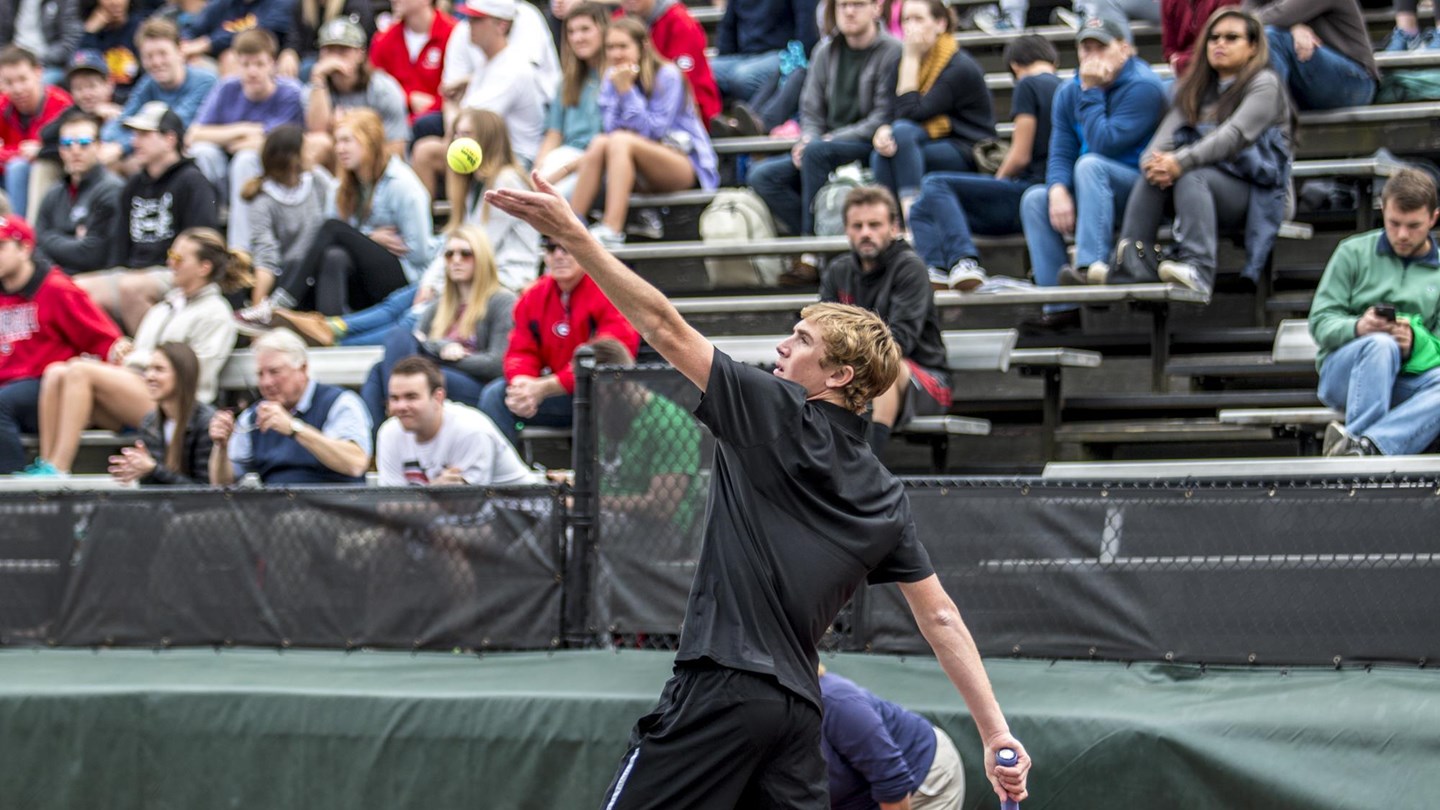 Dates: Thursday (2 p.m.) and Friday (7 p.m. ET), Feb. 8 and 9
Location: USTA National Campus in Lake Nona, Fla.
Live Stats: http://gado.gs/8fm
Watch (Feb. 9): Tennis Channel
ATHENS, Ga. – As part of the USTA College MatchDay series, the fourth-ranked Georgia Bulldog men's tennis team travels to Lake Nona, Fla. to play at the USTA National Campus on Thursday and Friday.
On Friday at 7 p.m. ET, the Georgia-Georgia Tech matchup, one of six College MatchDay events, will take place in front of national audience on the Tennis Channel. The half-dozen matches are the first series of live college tennis programming that the Tennis Channel has ever aired. Veteran tennis broadcaster Leif Shiras and Tracy Austin will be on call for the broadcast, alongside former world No. 5 Jimmy Arias, who will serve as the sideline reporter.
Before the College MatchDay event, Georgia will face Florida Atlantic on Feb. 8 at 2 p.m. ET, also at the USTA National Campus, which is the only off-campus arena in the nation primarily devoted to college tennis.
Live scoring will be available for both matches: http://gado.gs/8fm. For the latest on men's tennis, follow the team on Twitter (@UGAtennis), Instagram (@ugatennis) and Facebook (UGA Men's Tennis).
——
USTA COLLEGE MATCHDAY
College MatchDay serves as one of USTA's vehicles to promote collegiate tennis. College MatchDay will play host to 14 teams at the 12-court USTA National Campus at Lake Nona in Orlando, Fla – which is the only off-campus arena in the nation primarily devoted to college tennis. Last year, the Florida-Florida State match was the most highly attended regular season match in college tennis.This year, College MatchDay features Florida-Florida State, Georgia-Georgia Tech, Oklahoma-Texas A&M, UCF-Michigan, Florida-Texas and UCF-South Florida matchups.
TECH REMATCH
Georgia and Georgia Tech players will face off for the second time in 2018, this time between Florida state lines. The first time, Georgia participated in the MLK/Georgia Tech Invitational from Jan. 13-15, winning nine contests over the Yellow Jackets, which did not count as a dual match. The Bulldogs started the day with two 6-0 wins in doubles from the tandems of Jan Zielinski and Robert Loeb (15-5) and Nathan Ponwith and Alex Diaz (1-1), followed by a 6-2 victory from Walker Duncan and Wayne Montgomery (10-4).  In singles, Paul Oosterbaan recorded his third consecutive win since overcoming an injury last season, while Diaz won his second-straight match in the first action of his career. Ponwith, Zielinski and Loeb also posted singles victories.
GEORGIA-FLORIDA TIES
Florida Atlantic University head coach Ricardo Gonzalez is a 2007 graduate of the University of Georgia, where he played tennis under current Georgia head coach Manuel Diaz. Gonzalez was a senior captain of the 2007 national championship team, which also included first-year associate head coach Jamie Hunt. Along with the national title, he FAU head coach collected three SEC Championships and an NCAA final appearance in his tenure at Georgia. This is the first time he has faced his alma mader as head coach.
2017 FALL HIGHLIGHTS
Walker Duncan led the Bulldogs in the fall with 15 singles wins, followed by Wayne Montgomery and Jan Zielinski, who had 14 and 12, respectively. Duncan posted a team-best seven wins over ranked opponents, while Zielinski had six. At the ITA Southeast Regional, the four semifinal spots featured three Bulldogs for the second year in a row: Duncan, Montgomery, and Zielinski. Duncan was the ultimate victor in the final with a 6-2, 6-3 win against Montgomery.
SAME RETURNING SQUAD
Georgia returns each letter winner from a team that went 22-8 en route to a SEC regular season and tournament championship as well as a berth in the NCAA semifinals for the second-straight season. In 2018, the Bulldogs seek their sixth-straight SEC title. Among the returners are five All-SEC players, including 2017 SEC Freshman of the Year Nathan Ponwith, three-time All-SEC member Wayne Montgomery and 2017 ITA All-Americans Robert Loeb and Jan Zielinski. Redshirt senior Paul Oosterbaan also returns to the Georgia roster after missing most of last season due to injury.
SIX STRAIGHT?
Georgia, winners of the last five SEC titles, will look to make it six in a row for the first time in program history. The Bulldogs have won five-straight twice, from 1971-1975, and 2013-2017. In the preseason poll, the league coaches chose Texas A&M to win the title.
Year   Record     SEC Record          Final ITA Rank 
2013   26-5                11-1                            3          
2014   18-8                10-2                            9          
2015   24-5                10-2                            8          
2016   24-5                12-0                            7          
2017   22-8                11-1                            7          
DIAZ ENTERS 30TH SEASON
Georgia head coach Manuel Diaz enters his 30th season at the helm of the program. In addition to four National Championships, two National Indoor Titles and 41 total SEC crowns, Diaz's teams have finished ranked in the top-10 in 26 of 29 seasons, including the last seven years.