UGA Women's Tennis: Quest for National Team Indoor Championship Starts Friday for Bulldogs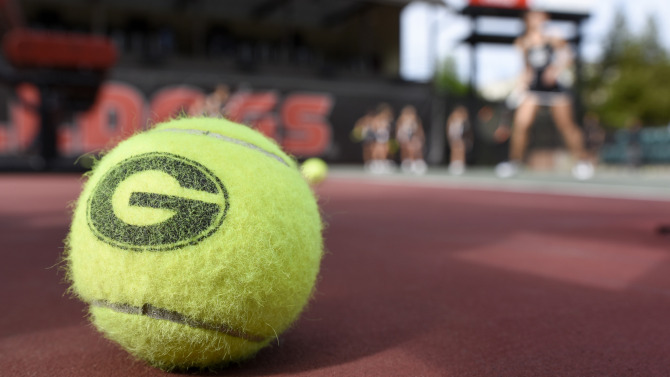 MADISON, Wis. – The fourth-ranked Georgia women's tennis team begins its run for the program's fourth ITA National Team Indoor Championship Friday at 9 a.m. against No. 11 Texas Longhorns in Nielsen Tennis Stadium.
The Bulldogs (3-0) grabbed the No. 2-seed in the bracket released Tuesday evening. Victories against Michigan State and Penn in the ITA Kick-Off Weekend secured Georgia's spot in the National Indoors. The 16-team field consists of the other 14 ITA Kick-Off Weekend winners and the host school, Wisconsin.
"It is always fun at this time of the year – it's still early in the season –, but it's an opportunity to go see the other top teams in the country and see what the whole nation looks like at this point in time," Georgia head coach Jeff Wallace said. "It gives us a chance to see where we are at and to see where we need to be."
Texas (5-1) earned its spot in the National Indoors by beating Mississippi State and No. 11 California in the ITA Kick-Off Weekend. Leading the Longhorns is sophomore Bianca Turati, the top-ranked singles player in the country. Turati showcases a 17-1 overall record including a 5-0 dual record.
Combating Turati on the No. 1 singles court is Georgia freshman Katarina Jokic who earned SEC Freshman of the Week honors after the wins against the Spartans and the Quakers. Jokic, ranked No. 8 in ITA Singles, contains a 3-0 dual record and a team-best 22-3 overall mark.
The National Indoors stretches until Monday, Feb. 12 with each day representing the next round. Live scoring will be supplied by Tennis-Ticker ScoreBoard : http://gado.gs/8gc . The event homepage came be found here: http://gado.gs/8gd .
For the latest on Georgia women's tennis, follow the team on Twitter (@UGAWomensTennis), Instagram (@ugawomenstennis) and on Facebook (UGA Women's Tennis).
———-
Dawgs in the House
»In 28 total appearances in the ITA National Team Indoors, the Bulldogs hold the second most wins of any program. Georgia won the title four times ('94, '95, and '02), finished second four times ('01, '04, '09 and '15) and has reached at least the semifinals 18 times.
»With last year's trip, Georgia established a claim as one of only two programs (North Carolina) to reach at least the semifinals in each of the last three years.
This marks the Bulldogs' seventh straight trips to the event.