UGA Women's Basketball: Top 25 Teams Clash in Knoxville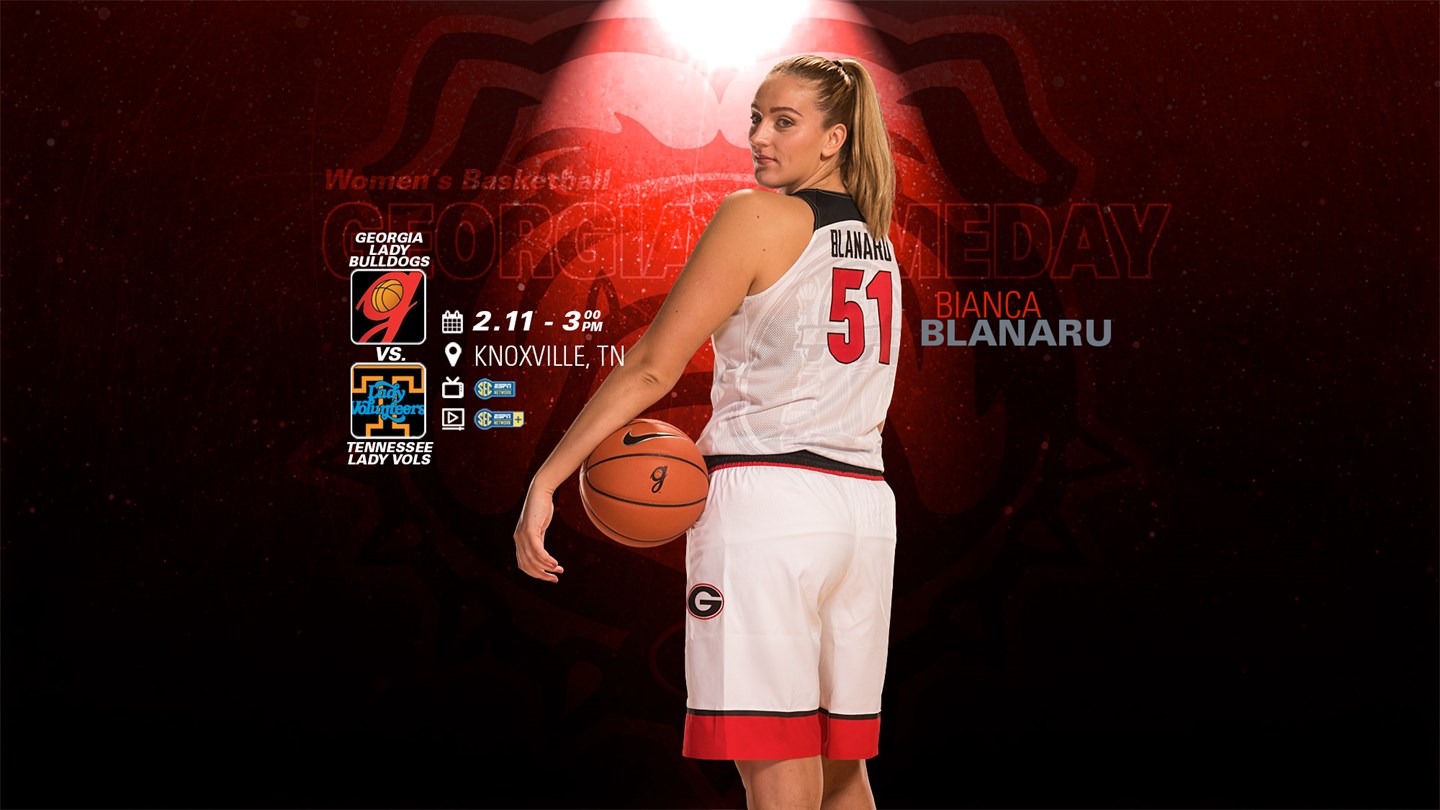 Georgia Lady Bulldog Basketball Game Notes
#18 Georgia Lady Bulldogs (21-3, 9-2 SEC) vs. #11 Tennessee Lady Vols (20-4, 8-3 SEC)
Sunday, Feb. 11, 2018 // 3 pm ET
Thompson-Boling Arena // Knoxville, Tenn.
Radio: Georgia Bulldog Network by IMG // Jeff Dantzler (play-by-play) In Athens: 960 AM and 103.7 FM
TV: SEC Network (Tom Hart – play-by-play; Debbie Antonelli – analyst)
Video: SEC Network +
Probable Starters
Georgia Bulldogs
Coach: Joni Taylor
58-28 (3rd year) at UGA
58-28 (3rd year) overall
Pos
No.
Name
PPG
RPG
G
0
Taja Cole
7.6
3.0
5-7; RS-So.; TR; Richmond, Va./Louisville
G
12
Haley Clark
4.5
3.2
5-9; Sr.; 3L; Orlando, Fla./Edgewater HS
G
23
Que Morrison
8.6
4.7
5-7; Fr.; HS; Riverdale, Ga./McEachern HS
F
33
Mackenzie Engram
13.1
6.2
6-2; Sr.; 3L; Powder Springs, Ga./Hillgrove HS
F
4
Caliya Robinson
12.8
7.6
6-3; Jr.; 2L; Marietta, Ga./McEachern HS
Tennessee Lady Vols
Coach: Holly Warlick
148-50 (6th year at UT)
148-50 (6th year overall)
Pos
No.
Name
PPG
RPG
G
2
Evina Westbrook
9.2
3.0
6-0; Fr.; Salem, Ore.
G
10
Meme Jackson
7.7
4.3
5-11; Jr.; Murphreesboro, Tenn.
F
31
Jaimie Nared
17.5
8.2
6-2; Sr.; Portland, Ore.
F
0
Rennia Davis
10.9
7.2
6-2; Fr.; Jacksonville, Fla.
C
21
Mercedes Russel
16.8
8.7
6-6; R-Sr.; Springfield, Ore.
TEAM COMPARISON
| | | |
| --- | --- | --- |
| GEORGIA | | TENNESSEE |
| 71.2 | Scoring | 81.0 |
| 43.5% | FG% | 46.9% |
| 33.0% | 3FG% | 31.7% |
| 40.5 | Rebounds | 45.0 |
| 16.6 | Assists | 17.1 |
| 6.3 | Blocks | 4.7 |
| 8.6 | Steals | 8.2 |
| 57.7 | Scoring Def. | 65.8 |
| 34.9% | FG% Def. | 37.3% |
| 29.2% | 3FG% Def. | 28.5% |
| +3.1 | Reb. Margin | +9.0 |
| +3.5 | T/O Margin | -1.5 |
| 1.1 | Ast-T/O Ratio | 1.0 |
Opening Tip – Notes To Know Heading Into The Game
Two top-25 teams that are neck-and-neck in the SEC standings meet Sunday afternoon in Knoxville when 11th-ranked Tennessee hosts 18th-ranked Georgia at 3 p.m. ET. The contest will air nationally on the SEC Network.
Sunday's matchup is Tennessee's Pink Game. The Lady Bulldogs will wear pink accents and pink shoes.
With a 9-2 league record, the Lady Bulldogs sit in second place in the SEC standings. Tennessee, South Carolina and Texas A&M are all in third with identical 8-3 conference marks.
Georgia will look to improve on its 8-1 road record. The Lady Bulldogs began the year 8-0 on the road for the first time since Georgia's 1994-95 NCAA Final Four squad began the year 11-0 away from home.
Georgia has not won in Knoxville since Dec. 8, 1996 — a 94-93 overtime victory. Seven players on the Lady Bulldogs' current roster were born after that date.
The Lady Bulldogs' combo of Mackenzie Engram and Caliya Robinson has played a large part in Georgia's success. Engram leads the team in scoring, while Robinson enters Sunday as the only player in the SEC to rank in the top-10 in three major defensive categories — blocks (78), steals (42) and defensive rebounds (143 total, 6.0 per game).
Robinson, who is one of 10 finalists for the 2018 Katrina McClain Award for America's top power forward, is second in the SEC in blocked shots, just one block away from first with 78 and 3.3 per game.
Another difference maker for the Lady Bulldogs this season has been redshirt-sophomore point guard Taja Cole. She ranks fourth in the SEC in assists (4.7 per game) and fifth in assist-to-turnover ratio (1.9).
Series Information
Overall: Tennessee leads, 49-16
In Athens: Tennessee leads, 14-9
In Knoxville: Tennessee leads, 21-4
Neutral Sites: Tennessee leads, 14-3
Current Streak: Tennessee has won 10 of last 11
Last Meeting: Georgia 81, Tenn. 78 (20T) (2/5/17)
Largest Margin of Victory: Georgia 78, Tenn. 51 (1/17/00)
Largest Defeat: Tenn. 102, Georgia 43 (1/28/98)
Last Time Out
A balanced scoring effort from 10 different Lady Bulldogs led the 18th-ranked Georgia basketball team past the Vanderbilt Commodores, 67-55, Thursday evening at Stegeman Coliseum.
"We talked a lot about movement," Georgia head coach Joni Taylor said. "We didn't think that they would handle movement very well so we needed to keep cutting and moving. I was pleased with how we ran it forward, our pace, and our overall offensive performance."
Three Lady Bulldogs supplied double-digit scoring efforts: redshirt sophomore guard Taja Cole (11), senior forward Mackenzie Engram (11) and freshman guard Que Morrison (10). Engram was honored before the game for reaching the 1,000-point milestone during the second quarter of the LSU game, becoming one of just 38 Lady Bulldogs on the all-time list.
Alongside Engram was Cole, who also scored 11 points, while adding a team-leading seven assists and a career-high five steals.
Clark Leading In Senior Season
While veterans Mackenzie Engram and Caliya Robinson lead the team in most statistical categories, senior Haley Clark has also been a consistent leader for the Lady Bulldogs. Clark has started every game the last two seasons — a string of 55-straight contests. Clark, who already has a bachelor's degree in finance and is working on a master's in financial planning, is a nominee for the CoSIDA Academic All-District Team and will be a nominee for the SEC Scholar Athlete of the Year award.
Another 20-Win Season For The Lady Bulldogs
Georgia is currently 21-3, which marks the team's best start in nearly 20 years. The last time a Georgia team began the year with a 21-3 record was the 1999-2000 squad that went on to win the Southeastern Conference Championship. A 20-win season is nothing new for the Lady Bulldogs basketball program. In the last 38 years (since 1980-81), Georgia has recorded 20 or more wins 31 times.
It Starts With Defense Under Taylor
Georgia prides itself on defense, and that has paid off this season. The Lady Bulldogs lead the conference in field-goal percentage defense (34.9 percent) — a mark that ranks ninth nationally. In all, the Lady Bulldogs are 22-0 in three seasons under Coach Taylor when holding an opponent to 50 points or less and are 18-0 when an opponent shoots less than 40 percent this season.
Undefeated January For Only Fifth Time
Georgia finished the month of January with a perfect 7-0 record. It marked only the fifth time in program history the Lady Bulldogs have gone undefeated in January. Three of those previous four teams (1985-86, 1990-91 and 1995-96) all won the SEC title that same season.
Taylor's Team Exceeding Expectations … A Three-Year Trend
Georgia currently sits in second place in the SEC standings, with still a lot of basketball to be played. But this year's performance marks a trend for the Lady Bulldogs under head coach Joni Taylor. Georgia was picked eighth in the SEC's preseason poll, and so far it looks like the Lady Bulldogs will once again exceed expectations. In Coach Taylor's first year, Georgia was picked ninth and finished sixth (one game out of fourth). In her second season, the Lady Bulldogs were picked 12th and finished eighth.
Georgia's Road Streak The Best In Over 20 Years
The Lady Bulldogs began the year with a perfect 8-0 mark away from home — their best start away from home since the 1994-95 NCAA Final Four team began the year 11-0 away from Stegeman Coliseum. Georgia's current streak came to an end on Feb. 1, when LSU defeated the Lady Bulldogs, 71-60.
Robinson A Top-10 Finalist For Katrina McClain Award
Georgia junior forward Caliya Robinson has been named a finalist for the 2018 Katrina McClain Award, which goes to the nation's top power forward. The honor is named for the former Lady Bulldog, who as a two-time All-American and the 1987 National Player of the Year.
Connally Sets Georgia Freshman Record
Georgia freshman guard Gabby Connally put together one of the best single-game freshman performances in school history during her homecoming trip to Texas A&M.
The San Antonio, Texas native scored 37 points, marking the best game by a Georgia rookie against an SEC opponent in the program's illustrious history. Not only was it the best against a league opponent, but it is tied for the third-best game by a Georgia freshman overall only behind Coco Miller's 45 points against Charleston Southern in 1997 and Janet Harris' 39-point effort versus Valdosta State in 1981. Connally scored 15 of her points in the overtime period, knocking in 11-fo-12 free throws during that five-minute stretch.
What A Turnaround
It took just 18 games into the season for the Lady Bulldogs to reach last year's win total of 16 games. It took 30 games for Georgia to reach the 16-win total a season ago, with that victory coming at the SEC Tournament against Auburn.
Georgia's Clark Already A College Graduate
A three-time selection to the SEC Academic Honor Roll, Haley Clark graduated in just three years and received her diploma from UGA during graduation ceremonies this past May. Clark received her bachelor's degree in business and finance and is pursuing a master's in financial planning. One of her career goals is to work in corporate finance and help other athletes with financial planning.
A native of Orlando, Florida, Clark was Georgia's starting point guard in each of the team's 31 games last season. She ranked in the top-5 in the Southeastern Conference in assists per game during league play, averaging 4.7 per contest, with 122 total for the season. On a roster that featured just eight scholarship players, Clark played close to 33 minutes per game after starting just four contests in her previous two seasons combined.
FOLLOW THE LADY BULLDOGS
For more information on the Georgia Lady Bulldogs, follow the team on Twitter (@UGA_WBB), Instagram (@uga_wbb) and Facebook (Facebook.com/UGAWomensBasketball).