UGA Football: Dawgs Continued Preseason Workouts Tuesday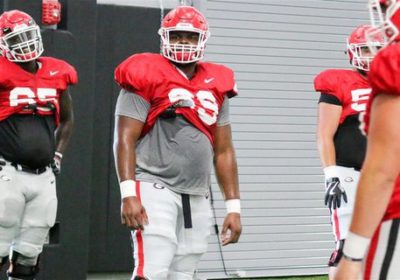 ATHENS — The Georgia Bulldogs staged their fifth practice of the 2018 preseason Tuesday afternoon, splitting their time between indoors and outdoors because of nearby thunderstorms.
Following are excerpts from head coach Kirby Smart's post-practice press briefing on Tuesday:
"We were looking forward to going outside today for our fifth practice, but we got some lightning that forced us inside.  We got to go outside for about half of it, which was good.  Our hopes were to have another hot day today, but it didn't play out that way.  It was kinda cool outside, nice and breezy.  Guys did well, pushed through it.  It was easier today because of the cooler temperatures.  I feel like we've had three really good padded practices. We're gonna have off tomorrow due to the new rules, giving the players a day off.  So I'm excited.  I want to get to the scrimmage on Saturday so I can make judgments on some of these kids because a lot of them are swimming, as far as mentally, but that's to be expected."
"It's not like it's unexpected.  There are some really good competitors out there.  There are some guys in the young group that are competing hard.  Some leaders are starting to show up.  The biggest concern I have is that the best players play the best.  That probably hasn't happened so far in camp.  We've got some guys that I consider to be really good players that aren't playing up to their potential.  But we've also got a lot of players that were twos and threes last year that, I think, I are playing pretty well.  So we've got some good competition going on out there.  I'm excited about that."
How do you explain the fact that these players aren't playing up to their potential?
"I don't know.  Call it what it is, but as I look out there, there are a couple of guys that you'd say, 'OK, this is a guy that played really well last year.' and he's not playing at the level that I think he can play to.  That's probably one of the scariest things that can happen to our team.  But the good news is, at a lot of those positions, there's a guy just as talented behind him that's scratching and clawing, or maybe he just got here, that's fighting for playing time.  That excites me because they're really eager to learn and they're fighting to learn, whereas sometimes you get a casual nature about you if you think you know everything, or you think you kind of understand everything.  So we've had to have some talks about that with some guys.
Think about it.  There are only a few spots where you can say, 'that guy's a pretty solid starter.' Some of those guys aren't practicing the right way.  We've done as much as we can to encourage them to practice better because the competition level that's out there is way more increased.  It's more intense.  There are more good players across the board.  Now a lot of them don't know what they're doing.  They've gotta figure that out, but they flash, which in the time I've been coaching, what you see is flashes.  When you see a guy flash, you say that he's got it in him if he knows what to do.  We've just got to coach 'em up to the point where it's simple enough so the best players can play."
Are you doing as much "cross-training" on the offensive line as you did during your first two years?
"Yeah.  We've got a lot of different rotations.  By period we change guys on the field.  We've got tackles playing guard. Guards playing tackles.  Certainly some of our guards, we don't feel can play tackle.  But we've got some guards switching and going out.  I don't think you guys get to see all those combinations to find the best depth we can find."
Speaking of rotating players, how will the the rotating of defensive linemen help with the depth there?
"I think any defensive line in the SEC has to play a lot of guys.  You have to be able to play a lot of players on the defensive line.  They get worn down.  They're second-effort players.  They cover down.  They run so much more than offensive linemen.  So to be able to switch those guys out, a lot them are playing double teams.  I think it helps.  I don't know yet who those people are, that are gonna be out 8 or 9 that we rotate in.  There's some really good competition there.  Obviously, Tyler (Clark) is gonna be a guy that has played a lot of football for us.  Julian (Rochester) has played a lot for us.  Jay Hayes is a guy that's picked everything up mentally.  Ledbetter.  After those core guys, what you've got is a group of guys that are fighting for those rotations, and I think in the fastball world we live in, you'd better be able to get guys in and out of the game."
Right after the last game, your message was 'Georgia football is here to stay.'  It seems like that's a thing you've continued since then.  How do you think this group of guys has taken to that theme?
"I don't know that they look at it as what I said, or that message from that game.  I think they've bought into the fact that if they do things the right way, they'll have success.  The biggest thing we've preached to these guys is that pressure is a privilege.  It's not Superman's fault if he can fly and he doesn't take advantage of it.  My whole point is that you have an advantage.  Your advantage is that you're a really good player.  Use all your skill set.  So if Superman can fly, I say 'Fly'.  That's an advantage he has, right?  So our guys, if they can play here, we should play here.  We shouldn't play down to here in practice and then try to go up.  So the standard's been set to where we should go.  The expectation is, if you're whoever…Jonathan Ledbetter, Jake Fromm…it doesn't matter.  You play to the level that you need to play to in order to make yourself better, and the rest will take care of itself.  That's what last year's team did.  They practiced the same way they played in the game, and I think that's hard to find.  So many people want to take it off, take it easy, and you can't do that."
What are the elements that go into sustained success?
"The biggest thing is that everybody understands that it's not going to come because of what you did in the past.  So this year's completely independent of the previous.  We've got to go out there and practice the right way.  We've got to develop talent. We've got to be able to avoid injuries.  But if we have injuries, do we have backups prepared to come in and fight and compete?  That's what camp is about.  Camp is about toughness, physical, striking people.  You may have some injuries in camp, but we've gotta find out what the makeup of this team is.  We're still really early in that process."
On the phrase "Pressure is Privilege" and its origins:
"Billie Jean King said it, she talked about it a long time ago. I probably should've given her credit at the SEC Media Days, but I wasn't thinking about it then. It's certainly a great statement and it's so true that it really is a privilege. She told [Maria] Sharapova that and we even showed the players a tape of that and that message is always there so you can choose to be one of two things: you can say you're the underdog or you can say that being good under pressure is a privilege; and it really is a privilege and I would much rather be in that situation."
On being credited by Chase Elliott mentioning Coach Smart after first NASCAR win Sunday:
"I think it's pretty cool. He's been to some events and he's been to some of our games. I actually have plans to reach out to him and thank him for sharing our message and being a Dawg fan. We sent him a jersey last year and I'm fired up to see his career. He's had a lot of close, close finishes and now for him to push it over the top, that's what we're trying to do as well."
On freshmen following in the steps of Walter Grant's freshman campaign:
"I wouldn't say Walter caught on this early, he did well in camp, but it wasn't the fourth or fifth day. A lot of kids are in the same boat Walter was in then where Walter actually understood some things, he was really well coached in high school, he grasped a lot of the knowledge that we were able to try to impart on him. There's a lot of freshmen out there right now that have done some good things and I'm excited about what they're doing but they've got to do it more consistently just like Walter did this time last year."
On Zamir White coming back from his injury in a timely manner:
"I don't know that in this day and age you would say it's quickly. I kind of think that he's on schedule, a little ahead of schedule. He got injured last year in the football season, so it's not a miracle that he's back going. Now he is pretty special when it comes to rehab, buying in, doing wrestling, doing karate, he does all these extra things, very similar to what Nick [Chubb] did. So that part, his effort and all this work he's done is incredible. If you asked him, he'd want to take the knee brace off; and he can take the knee brace off in practice but it's precautionary, it's to get him more comfortable. It's a little rigid and it's not comfortable for him so he's not out there feeling like he's his old self yet. But he is cleared and he's safe to practice."
On James Cook's performance during Saturday's practice…
"He had a pretty good day that day. … I would say that day was a little special. I mean, when you go back and watch the tape of that practice he had a lot of balls, it just happened that way, it wasn't like it was by design, like it was going to be 'James Cook Feature Day.' He had some plays that he hit and he looked really good and he had really good GPS numbers. … I can't say that's been every practice, it hasn't stuck out like that. … He's an exciting player, he loves football, he's tough, he's not afraid to compete with anybody at 185 pounds. I really like watching the guy play. To say he's more ready than any of those other backs, that's a long stretch, he's got a long way to go."