UGA Football: Smart Family Foundation Giving Back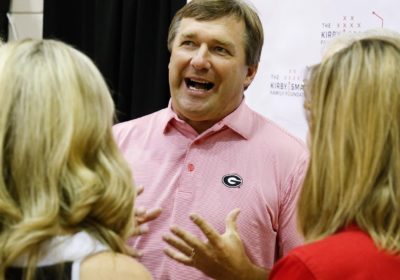 By John Frierson 
Staff Writer
A legacy of winning is one thing, and third-year Georgia football coach Kirby Smart is clearly on his way there.
A legacy of caring and sharing and helping those around you in need, that will remain meaningful and beautiful long after the shine fades from any trophy or award. Kirby and his wife Mary Beth Smart are well on their way there, too.
"Kirby and I have been so blessed, the University of Georgia has blessed us so much, and we're just thankful to have this opportunity to give back," Mary Beth said Wednesday from inside the men's basketball practice gym at the Coliseum Training Facility, where the Smarts hosted a lunch for a gathering of about 100 friends, benefactors and beneficiaries of the Kirby Smart Family Foundation.
It was a chance for everyone to hug and laugh and smile together, pose for photos and even get an autograph from the small group of Bulldogs on hand for the event. Wednesday was the team's first off day of the preseason, which got underway last Friday.
The foundation has been operating for more than a year, but Wednesday's event was in some ways a launch party to get the word out, especially for people in need. On the foundation website, Kirby said, "anybody can apply for those monies and put an application in. That's part of us having this event is to make sure that we make that public."
The intense, laser-focused coach that we all see on the sideline wasn't present at this event. Here was the warm and relaxed Kirby, seemingly without a care in the world except to share a few moments with people who mean a lot to him.
Speaking to the media before lunch was served, Kirby, his voice operating at about 30 percent capacity after five days of practice, said people in his and Mary Beth's positions have a chance and a responsibility to help those in need.
"A lot of head coaches in college football nowadays have foundations, family foundations. It gives us a chance to teach our kids that if you have an opportunity to give back, you certainly want to do that," he said.
Front and center on the foundation website, at KirbySmartFoundation.org, is a declaration of its mission: "To be champions in our community by supporting and giving back to needy children and families facing adversity."
Before walking into the gathering, Kirby had a big hug for former Georgia quarterback and punter David Dukes (1984-87). The two have successfully teamed up in the past two Chick-fil-A Peach Bowl Challenge golf events, earning $75,000 each year, money that is split between the Kirby Smart Family Foundation and an endowed scholarship.
Also there was Mo Thrash, a 1969 Georgia graduate and member of Camp Sunshine's board of directors, who's always waiting to greet the Bulldogs when they visit the camp for children with cancer twice each summer.
Kirby's older brother, Karl, was diagnosed with leukemia when he was a boy and attended Camp Sunshine, and Kirby visited him there. He saw from an early age some of the challenges that so many children and families face, and the impact at a little generosity can have.
The foundation also recently helped someone that all Georgia fans remember, Devon Gales, the Southern University receiver that was paralyzed after a spinal injury sustained against the Bulldogs in 2015.
Gales has spent much of his life since the injury rehabbing at Atlanta's Shepherd Center, and after a lot of false starts, and with help from the foundation and the donation of a lot by former Georgia linebacker Whit Marshall — he and Kirby were teammates in 1995 — the Gales have a chance to build a home in Atlanta.
"That's really important to us," Kirby said. "Devon's part of our family now and we've taken on an opportunity to give back to his family so that they can have a home. They're going to be able to have a home, and of course, Whit Marshall did a tremendous thing, he gave a lot, … and we wanted to be able to help contribute to that as well."
Gales and his family attended the luncheon, as did representatives of Shepherd Center, the Boys & Girls Club, Project Safe, the Salvation Army and numerous others.
"We've got a few special causes that mean a lot to us," Mary Beth said.
For more information, you can go to KirbySmartFoundation.org. There you can learn about the foundation, apply to be a beneficiary, purchase a football signed by Kirby — the money goes to the foundation — or make a donation.
"I feel like we're just kind of getting our feet wet and it is growing, and we're really getting excited about that," Mary Beth said when asked about future plans for the foundation. "I'm excited about where it is now and anything we can do to improve on it in the future will be tremendous."
John Frierson is the staff writer for the UGA Athletic Association and curator of the ITA Men's Tennis Hall of Fame. You can find his work at: Frierson Files. He's also on Twitter: @FriersonFiles and @ITAHallofFame.